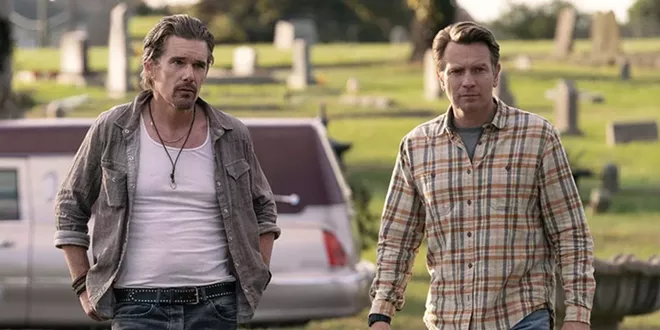 As written and directed by Rodrigo Garcia, Raymond & Ray is a story about revelations, those we discover about others, and those we realize about ourselves. This, of course, is one of the basic tenants of any drama. And while each story requires its share of surprises and switchbacks, Garcia leans on this narrative device so often, we begin to question the credulity of the entire story. We come to feel sorry for the titular brothers, what with all the shocking revelations they have to contend with in such a short time. Not only that, but a feeling of manipulation begins to set in that threatens to undercut the viewer's engagement.
Still, solid work from Ewan McGregor and Ethan Hawke as distant half-brothers reunited by the death of their shared father buoys this effort, their sincere work giving us excuse enough to overlook the film's unsatisfying third act.
Raymond (McGregor) and Ray (Hawke) think their father's influence over them has ended now that he's dead, but he continues to pull their strings from beyond the grave. In his will, he stipulates that he wants his two sons to dig his grave. This bit of news comes after the two have endured a road trip in which they have reluctantly rehashed old experiences in an effort to get to know each other once again.
Psychologically damaged and physically abused by their father, these two have taken decidedly different paths. Raymond is separated from his third wife, has a job that gives him little satisfaction and is estranged from his own son. Insecure and at loose ends, he goes out of his way to please all who cross his path, unaware that in doing so, he's still trying to please his father. Ray, a recovering addict, goes where the wind takes him, not concerned with long-term relationships or employment. His cynical edge gives him the appearance of confidence, though it's nothing but a façade he uses to hide his pain.
As the pair encounter their father's lawyer, pastor, ex-wife and nurse, it's all they can do to keep their eyes from rolling whenever they're told what a great, charming, intelligent man he was. All they know is the abusive parent they had to navigate during their childhood and teen years, an experience that has harmed them in ways they still don't fully comprehend.
It's no surprise that McGregor and Hawke are very good here, their chemistry having a lived-in familiarity that speaks to years of sibling intimacy. These seasoned vets each rise to the opportunity of working with an equally talented peer. There's not a false moment between them, giving the film a solid foundation upon which to build. The fine work of Vondie Curtis-Hall as a liberal man-of-the-cloth, Maribel Verdu as their father's last amour and Sophie Okonedo as his nurse only add to the genuine nature of the characters' interactions.
As I said, Garcia's script contains more than its fair share of surprises, Raymond and Ray's father's past containing quite a few secrets that, once they come to light, knock his sons back on their heels again and again. Unfortunately, the surprises become so frequent they ultimately lack any power. Still, the themes of redemption and forgiveness remain strong despite this fault, primarily due to the two leads; work.
Thanks to McGregor and Hawke, we genuinely empathize with these two damaged men. The genuine characters they create have a familiarity about them we can't help but identify with, especially those who can't forgive themselves for things that aren't their fault.