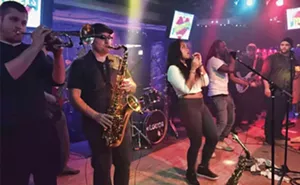 Welcome to the first weekend of June in 2015. If you wish your days be filled with music and your nights too, things appear to be working in your favor.

SOHO 11 is the big music event this weekend. From humble beginnings as a dream shared among friends designed on borrowed money and a shoestring budget, SOHO (now an acronym for Service Organization for Humanitarian Opportunity) began as SoJo (that's another story) and has grown to be a whopper of a show. Eric Welch, founding father and current executive director, still hosts the event with the same goals in mind: expose area original bands, raise money for local charities and make sure everyone has a good time.
Held in downtown Springfield, on Fifth between Jefferson and Adams and on Washington between Fourth and Sixth, SOHO 11 will host some 60 acts on five stages Friday night and all day on Saturday. Only $5 a day (kids under 12 are free), the daytime/nighttime setup with constant music combined with food/drink vendors and a kids' carnival area makes this too much fun. All the information is available online at http://springfieldsoho.org, or visit the SOHO Facebook page. Along with your charitable donations, remember that the bands plus a slew of a crew of volunteers are giving of their time to make the event a success on an altruistic level that's beyond belief. And, at SOHO, they have two stages in each main music area so one group plays as another sets up. You then reap the joyous benefits of nearly continuous music all the livelong day.
In other music news, please give a Mr. Lincoln's hometown welcome to Luca Giordano and Quique Gomez, in town for two shows this week. Luca, an Italian guitarist specializing in Chicago-style blues, plays both here and in Europe. He often supports U.S. blues artists on European tours who then return the favor when he's in the U.S. Luca counted the late Eric "Guitar" Davis as a close friend and music touring partner. Quique Gomez blows the harp (that's blues lingo for a harmonica, for the uninitiated) and hails from Spain and travels the same general road as Luca. Marty Binder, who worked with the likes of Junior Wells, Albert Collins and Buddy Guy, handles the drums and Felix Reys, known for his songwriting prowess ("Wait for Me" by Susan Tedeschi), work with the Dave Herrero Band and many blues-based projects in Chicago and St. Louis, plays the bass.
You can see Luca, Quique, Marty and Felix in action at The Alamo on Thursday for the weekly James Armstrong Presents show from 6 to 9, and at Third Base Sports Bar on Saturday night from 9 to 1. Thanks to Michael Rapier of Tombstone Bullet and the Illinois Central Blues Club for organizing this visit from his good friends to come play the blues in Springfield. I'm guessing some of that interplay we talked about between the bluesmen from Europe and the USA will happen right here on our turf. In more blues news, James Armstrong, the international Ambassador of the Blues and capital city resident, plays Saturday at Casey's Pub inside the K of C Hall on Meadowbrook Road. To top it all off, Michael informed me that American Music Tours, a vacation tour group out of Germany, included ICBC's Blue Monday on their blues tour of the U.S. That means about 35 German blues fans join in the fun with us on June 8 at The Alamo for the Ghost Town Blues Band. Ach du lieber!
Don't forget to check the Pub Crawl for lots of other gigs going on.
Contact Tom Irwin at tirwin@illinoistimes.com.