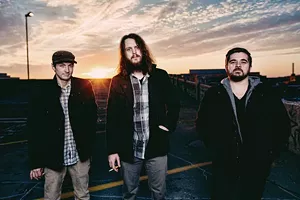 This week, music brings the SOHO Music Festival to downtown. There are also a few other big-time happenings, a bunch of cool regular stuff and a grievous occasion.

We are so sad to tell of the passing of Rusty Koehler, a bassist, musician, singer and all-around wonderful person. A lifelong, vibrant member of our community music scene, Rusty played with several bands including the legendary Starry Eye, Sleepwalker and, most recently, Off the Wall. If you were at the Purple Xperience concert last Saturday night you saw Rusty playing bass with OTW. He was gone the next day.
There are many heartfelt condolences and remembrances on Facebook, lauding Rusty's attributes as a fine human being and family man along with all the wonderful music moments he helped bring to fellow musicians and audience members alike. Probably the most talked about notion is that of how quickly life comes and goes, and how we should never take our time for granted or miss a chance to be good, decent and spread the love we are given to those around us. Our deepest condolences to Rusty's family, friends and fans. He left a mark on us all, and will be most sincerely missed while his memory keeps us company.
Now into its 12th year, the SOHO Music Festival hits the streets of downtown this weekend with more than 60 performers and an anticipated audience of 15,000 onlookers. Considered a big benefit for bands to be heard and charities to be funded, SOHO continues to grow in different ways. This year more out-of-town bands than ever grace the five stages, but our local groups are still the mainstays.
Along with two days of music comes a 10k run and a disc golf tournament all geared to raise money for the 10 charitable organizations that applied and were chosen to receive proceeds from SOHO 2016 activities. Now known as the Springfield Service Organization for Humanitarian Opportunity, or Springfield SOHO for short (the group started as "Sojo" as a way to get local original music heard by creating a benefit concert), the music festival has grown into one of the largest such events in central Illinois. Congrats to the musicians, audiences, volunteers and charities benefitting from the hard work.
Sunday, June 5, is chock-full of wonderful music happenings where music brings the focus on the bettering of our community. In the morning, St. Agnes Music Ministry presents "Inspired," their first concert ever. The event, led by music director Karen Ferguson, features the traditional choir at 9:30 a.m. and the contemporary ensemble at 11:30 a.m. At the Firefighters Postal Lake Club there's a benefit called Battlin' for Barcik, organized for Jessica Barcik, a teacher at Southeast High School struggling to fight cancer and get the needed funds for treatments. Live music starts at noon with Dirty Dogs and ends with the same at 3:30 p.m., with Joel Woehrmann plus Ten Coins filling in the middle. Then, at The Curve Inn from 3 to 7, join Brooke Thomas and the Blue Suns along with Fun DMC to support awareness of Big Brothers Big Sisters and the importance of mentoring kids in our community.
For a last Sunday blast, join the Hard Road Blues Band for an afternoon blowout at Brookhills Golf Course on Old Jacksonville Road at 3 p.m. A special band indeed, but made more special through a performance by a young flautist named Emma who is related to some guy named Bad Bill, the harpist and resident poet of HRBB. Good luck, and have fun.
Take care all and take care of your time.
Contact Tom Irwin at tirwin@illinoistimes.com.