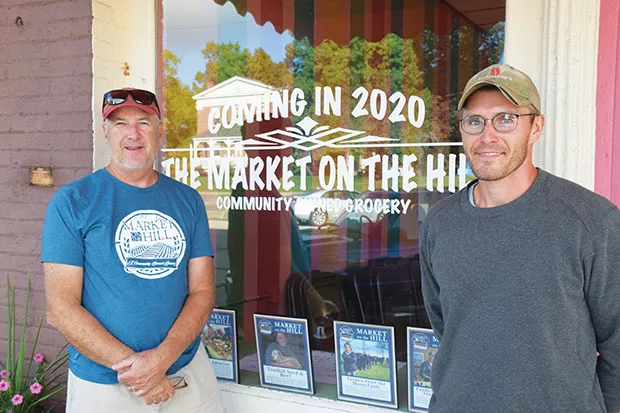 It will be a small grocery store in a small town, but its developers hope it will impact area food production, buying and consumption trends in a big way.
Market on the Hill in downtown Mt. Pulaski will open in the spring of 2020 and will feature locally grown fruits and vegetables, locally produced meats, and staple grocery items to serve consumers in the southern Logan County area. The cooperative store is being developed in an existing corner building on the historic city square and, despite its relatively small footprint, the people behind Market on the Hill envision it having a long reach.

"We want it to become an economic driver for this whole region," said Market on the Hill President Tom Martin. "Our goal is not only to provide food here but to develop a big fresh food producer network in central Illinois. If we could keep 15 to 25 percent of those food dollars in the region it would have a huge economic benefit for us."
Martin said the popularity of farmers markets inspired Market on the Hill planners to take the fresh, local food products concept one step further.

"I love farmers markets but we all compete, everybody brings a lot of the same stuff and it's usually just once a week," Martin said. "We will be selling fresh produce seven days a week. There is the potential of establishing a network of producers who all work together to become suppliers for both our store and the region. They still remain independent, but we can establish a distribution network to help support them."
Market on the Hill is going to be one of its own fresh produce suppliers. They have a three-acre city-owned vegetable and herb garden and a "hoop house" just outside of town where seedlings can be raised over the winter before they are planted in the spring. The hoop house will also supply some fresh produce during the winter months.

"We will have an email and text network, so when one of our producers knows they will be harvesting something on a certain day, we can send a message to our customers to let them know the date and time that it will be arriving," Martin said.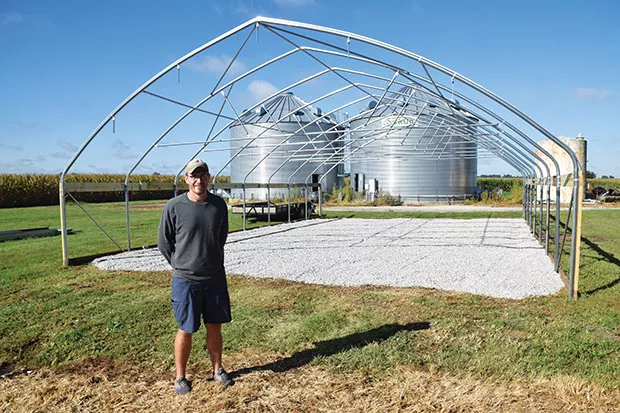 Fresh produce is just one of the items on Market on the Hill's sale menu. Another is meat, including pork, beef, chicken, lamb and eggs raised by producers within a 10-mile radius. The meat will initially be available frozen until the store can gauge customer demand for fresh meat.

"If the demand is there we will probably work with a butcher in the area where they would process the meat for us and we would do the cuts here," Martin said. "Long-term, if we are really successful, we'd love to have our own butcher shop and do everything in-house."

Locally grown and produced food products will also help with pricing. Having food come from just a few miles away means there are no transportation costs, and vegetables that are hours old when they arrive will stay fresher longer, so they will have a longer shelf life, Martin said. Market on the Hill will also "load share" so trucks bringing things such as canned goods to a bigger grocery store can also carry items for the Mt. Pulaski store.

The Market on the Hill concept started approximately three years ago when Mt. Pulaski's local grocery store closed and forced residents to travel to Lincoln, Springfield or Decatur for most of their grocery shopping. That was about the same time that Mt. Pulaski formed a new economic development board, of which Martin is a member, and one of the board's first priorities was to bring a grocery store to the community. The board soon discovered that Mt. Pulaski was too small for grocery store chains to consider, so the community would be on its own if they wanted local food access.
Market on the Hill organizers did their homework and consulted with other communities that had developed similar grocery operations, the closest being the Great Scott! Market in the Scott County town of Winchester.
Market on the Hill is a cooperative and memberships are being sold for a one-time fee of $100, but you won't need to be a member to shop there, Martin said. There will be members-only discounts and coupons and people can also buy stock to become shareholders in the store. The operation will employ one full-time manager and three part-time employees when it opens in April, Martin said.
An open house in September raised $56,000 in pledges from 19 citizens to become owners of the store. The Mt. Pulaski Economic Development and Planning Board committed $5,000 in startup funds, of which $2,500 came from area wind power developer Enel Green Energy, Martin said.

Kyl Reed is the field manager for the Hilltop Community Garden, the fresh food production arm of Market on the Hill. Reed will use local volunteers to raise the vegetables, fruits and herbs that store customers want.
"We'll be growing just about every vegetable you can think of to start and we will then narrow it from there based on the demand we see," Reed said. "People are going to want onions, potatoes, heads of lettuce, cut greens, spinach, radishes, tomatoes, sweet corn, things like that."
"Some of those things are very labor-intensive so on the very small scale that we are doing I don't plan to produce those things," Reed said. "I will be reaching out to other producers who might have a little more capital and equipment to produce that more efficiently and cheaply. It would be great to see produce from all over Logan County in here."
Reed said Market on the Hill is working with an area hospital to educate area residents about fresh food and nutrition, and that partnership will likely include cooking classes at the store once it's open. Reed is also talking to area restaurants, schools and institutions about supplying them with fresh, local food products, where he said there has been a lot of interest.

Those who advocate healthy eating habits are also very interested in what Market on the Hill is planning. Erin Zepp is a registered dietitian and the program coordinator with Memorial Diabetes Services, part of the Memorial Weight Loss and Wellness Center at Memorial Medical Center.
"Nutritionally speaking, locally raised food options are higher in nutrients that get lost in other foods that are harvested before they are fully ripe and have to travel long distances to market," Zepp said. "Eating local foods is also a great way to increase variety in your diet, which can help alleviate nutrient deficiencies and get people excited about eating healthy foods.
"The fewer people there are between you and your food also means there are fewer opportunities for cross-contamination which could result in food-borne illness," Zepp said. "The person in the community who receives locally produced foods benefits greatly."