As a reporter, I've been hearing repeatedly that social distance is one of our best ways to stop the spread of coronavirus. Social distance was defined in the governor's stay-at-home order as keeping six feet away from people while attending to necessary shopping trips, or going outside for exercise. Otherwise, the message is: stay home. The order also suggests that businesses staying open provide "sanitizing products" for employees and customers.

While I prefer to speak with people I interview in person, the fact is, I can manage my job from home. Especially under circumstances like these. I've been talking with people through texts, phone calls and social media. But there is one thing I can't avoid, and that's the need for food. My most recent trip took me to three small businesses on Wabash Avenue. So here's my latest report from the field:

On the morning of Friday, March 20, I ventured out before the stay-at-home order was announced. The first place I stopped was Asian Market (1330 Wabash Ave.). There were disinfectant wipes right at the door, and the staff was in gloves and masks. There were only two or three other customers I noticed. I picked up noodles, sauces, frozen dumplings and more snacks than I care to admit. (The array of Pocky flavors is truly a beauty to behold). I also got some broccoli, and noted other fresh produce, as well as an array of meats. Everything seemed to be well-stocked.

Then I headed to the Country Market (1610 Wabash Ave.). A sign asking sick customers to stay away greeted me. There were disinfectant wipes for carts, and I noticed the woman at the cash register had Lysol spray for the air. She wore gloves. There I got meat, cheese, spinach, Brussels sprouts, canned peaches, eggs and bread.

Last on my journey for the day was Food Fantasies (1512 Wabash Ave.), which specializes in organic goods. More snacks, produce, drinks and some staples like rice were purchased there. The person checking me out wore gloves, and other workers were swiftly stocking a recent drop-off.

In all, my shopping trip was uneventful, and my family is now stocked for at least the next week. I'm used to hitting up grocery stores multiple times per week. Now, I'm trying to limit trips.

The stay-at-home order is planned to last at least through April 7, and experts say the need for social distancing might be even longer. Meanwhile, we've all heard about the people out there hoarding goods.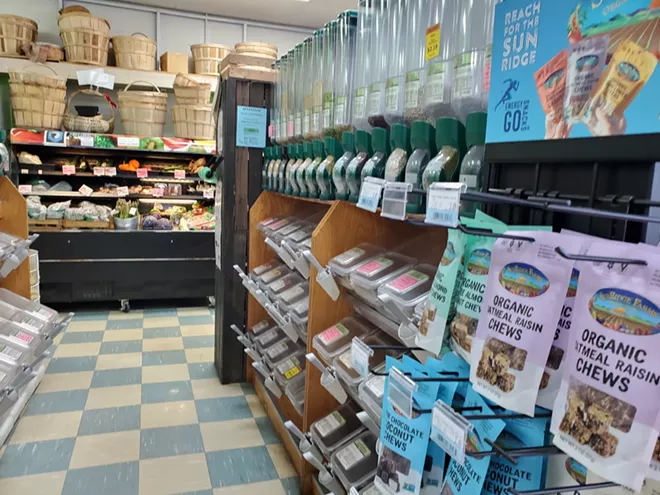 Food Fantasies has not been immune, and has been limiting certain products, said general manager Lyndsay Grawey. For certain products, "we're just limiting one item or two items per person. I see a lot of other grocery stores are also doing that. I think that's great," said Grawey. "It sucks when that's something that somebody really, really needed, and then somebody that didn't need it as much decided to stock up on it." The store does sell items like toilet paper, which can be a hot commodity. It's also trying to find a new supplier of hand sanitizer, said Grawey.

Business is definitely up. "We're having more shipments come in than usual. We've probably tripled the order," said Grawey.

Keeping staples like meat and eggs on the shelves has been largely possible. "We work with a lot of local farmers who have been really awesome," said Grawey. Milk has been a little tougher to keep in stock, she said. "I will say we have a lot more plant-based milk on the shelf, because I feel like the people that didn't usually drink it are kind of scared about it," she said. But even nut and plant-based milk has been popular. "We're doing our best to keep things stocked and keep the staff healthy and our customers healthy."

Country Market is just blocks away from Food Fantasies, also on Wabash Avenue. Liz Cavens owns it, and it's a family affair. "My dad had this business for 49 years," she said.

While these are unprecedented times, the small grocer is well positioned to keep a steady supply going. Similar to Food Fantasies, items can be more expensive than what you would see at the chains, but the source of the food sets it apart. "The majority of (suppliers) are local. That's why we've been able to keep up on our eggs and milk and things like that," said Cavens.

Some of the produce and baked items come from St. Louis. Chicken comes from Amish farms, and Boar's Head deli products have been especially popular. "Because you have your kids home, you're feeding them breakfast, lunch and dinner. Sandwiches are a staple," said Cavens.

Supply has been keeping up with demand, she said. "I do believe so. We've been super busy, like double or triple our business," she said. People are being kind. "It's been a pretty good experience, other than we're all just a little tired."

Country Market has been able to keep its own supply of hand sanitizer going through a local manufacturer, though it's not selling any. Disinfectant wipes and sanitizer dispensers are available for customers. Cavens is also keeping the front door open to limit the amount people are touching handles. Like Food Fantasies, she said she's taking orders over the phone and running purchases out to the cars of the elderly and immunocompromised to help limit their exposure. It's an example of the way grocery store employees truly have become front-line pandemic workers.

While Asian Market on Wabash Avenue is operating and being cognizant of hygiene, less than a mile away, Little World International Food Market (2936 S. MacArthur Blvd.), is closed for the time being.

"We've been closed for about two weeks now," said co-owner Dinah Hu. The market sources much of its goods from Chicago, with about 20 places to stop per visit. "We worry about it," said Hu. She said it's possible the store will find a way to re-open in the coming weeks, but plans are still tentative.
Bigger grocers have changed hours in light of the coronavirus. For example, Hy-Vee is now open 8 a.m.-8 p.m. instead of 24 hours. Some of the chains are also setting aside certain hours for the elderly to shop. And officials continue to tell residents not to hoard or panic buy.
Got grocery tips? Contact Rachel Otwell at rotwell@illinoistimes.com and follow her on Twitter: @MsOtwell.