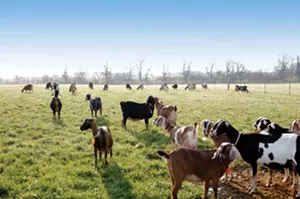 Eating dinner has never been more complicated in the 21st century. What's affordable may not be healthy, and what's healthy may not taste good.
However, one Springfield group aims to make dinner simpler.
Slow Food Springfield started in 2006 as a local branch of the Slow Food movement, an international organization that promotes "good, clean and fairly priced food" without sacrificing the quality of a meal.
Slow Food proposes "that the quality of product, strengthening of local economy, and superior nutritional content makes it well worth breaking away from chains like Applebee's, McDonald's and Papa John's," said Karen Hine, leader of Springfield's Slow Food chapter.
"Our goal is to educate Springfield about the importance of biodiversity and preserving heritage," Hine said. "This involves supporting a network of local farmers, restaurants, educators and other volunteer organizations that have a similar cause."
The slow food movement encourages everyone to take time to use fresh ingredients, grown by local farms, when cooking dinner at home. If you would rather go out for dinner, support the efforts of local restaurants that incorporate the healthier options in their menus. Slow Food members throughout Springfield know fast food is not always the healthiest option for dinner.
Word of mouth is their number one way of reaching out to new members. Currently, the Slow Food chapter partners with Lincoln Land Community College's culinary arts program, and the chapter's members come from a variety of local restaurants, artisan shops, the beverage industry and farms.
"The slow food movement has helped to raise the awareness of locally produced food items and championing the individual, artisan producers who raise fresh produce, livestock without hormones added, and who make cheeses, breads and preserves," said Geoff Bland, owner of The Corkscrew, a Springfield wine shop. "In addition they have challenged locally owned restaurants to incorporate many of these items into their menus."
Hine's group educates communities across central Illinois by hosting monthly events like dinner parties, farm tours and cooking classes.
On Jan. 30, the local chapter's eighth annual Slow Food Film Festival will feature a film called A Farmer's Road, followed by a question and answer session with the director and featured farmers. John Murray, a digital media arts professional, directed the film.
Deborah Cavanaugh-Grant, a retired local food systems and small farms educator, organized the event to coincide with the Real Food Media Contest. In addition to Murray's film, 10 short films in the final round of the contest will celebrate sustainable food and farming.
"These films tell the stories behind our food and can increase awareness and interest in our food system," Cavanaugh-Grant said.
The organization recognizes that change is difficult to embrace, but "this is why it's more important than ever to educate youth on nutrition and fresh food," Hine said.
To aid in that mission, Slow Food Springfield donated $200 to the nonprofit organization Grow Springfield to support the Butler School Garden, which teaches children how to grow vegetables.
"They become hands on – digging in the dirt, taking pride in watching the seeds grow into something they can actually eat," Hine explained.
Longtime Slow Food affiliate Michael Higgins, chef and owner of Maldaner's Restaurant, believes that the slow food movement is only one part of educating people on how to eat healthy.
"We tend to get caught up in talk about the absence of access to fresh food in lower-income communities, but there is a way to promote healthy eating without forcing people to buy pricey food," Higgins said.
"The local Slow Food chapter has potential to be around for a long time once they incorporate sessions that teach people to shop for food within their income structure that's available."
To get involved with the slow food movement, Hine encourages people to eat locally and look for the Snail of Approval sign at restaurants.
"This indicates that if you're looking for the option to eat good, clean and fairly priced food, you're in the right place," she said.
For more information, or to view the list of all locations with a Snail of Approval, visit
www.slowfoodspringfield.org
.
Contact Brittany Hilderbrand at
intern@Illinoistimes.com
.
This article has been updated to correct John Murray's title.
---
Upcoming events:

Slow Food Film Festival – 5-9 p.m. on Jan. 30 at Foundation Hall in Old State Capitol State Historic Site (Level 2). Admission $7 for general public or $5 for Slow Food Springfield members. Students with a student ID are free.

Mardi Gras celebration – 6 p.m. on Feb. 9 at American Harvest Eatery, 3241 W. Iles Ave.

Morel Dinner – April 29 and May 6 at Maldaner's Restaurant.

For information on the Slow Food movement, visit www.slowfoodusa.org. Contact Slow Food Springfield at slowfoodspringfield@gmail.com.