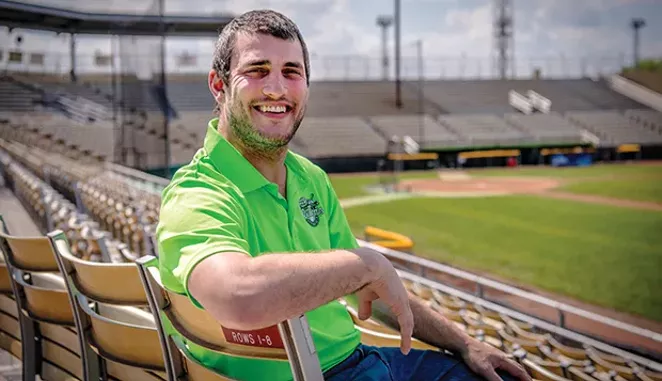 "You can't beat fun at the old ballpark" was the trademark mantra of legendary announcer Harry Caray. While Harry was correct, the modern problem is one of affording fun at the ballpark. The Fan Cost Index measures the price for a hypothetical family of four to attend a major league baseball game. It includes the prices of four adult tickets, two small beers, four small soft drinks, four regular-size hot dogs, parking, two game programs and two souvenirs. Costs run from $336 in Boston to $151 in Arizona. The Cubs, Cardinals and White Sox all price out above $200 for a family. It is not an inexpensive adventure, although in baseball's defense it is cheaper than tickets to Hamilton or to any other major professional sporting event.
Baseball fans in Springfield have an inexpensive option for some good quality baseball entertainment during the summer. Take in a Springfield Sliders game at Robin Roberts Stadium.
A baseball game is different from any other sporting event. Baseball parks are more beautiful than other sports venues. Baseball players come in all shapes, sizes and personalities. The baseball season is a journey from day to day and no single event in any sport compares to a baseball home run. I have attended baseball games for six decades and still nothing compares to walking into a ballpark. Here in Springfield and in many other smaller communities across America your baseball appetite can be satisfied in a far less costly endeavor than a trip to a major league city. Springfield is home to the Springfield Sliders, a team in the Prospect League, appropriately named because its players are college athletes playing for the love of the game and the hope that perhaps one day their baseball adventure will find them on a major league roster. Sliders owner Todd Miller likes to point out that for the cost of one visit to a major league park a baseball fan can purchase a Sliders season ticket. Food and souvenirs are reasonably priced and the cozy ballpark makes you part of the game ambiance. The Sliders play a 60-game season with 30 home games. Their first home game this year is May 30 against the Hannibal Hoots.
The league consists of 12 teams – five in Illinois, two each in Indiana, Ohio and Missouri and one in West Virginia. It is known as a wood bat league because players are allowed to use wooden bats rather than the aluminum bats used in college. Initially controversy reigned in baseball over the use of aluminum bats. While aluminum bats were cost efficient because they rarely broke, they created greater bat speed and ball velocity, resulting in increased scoring at the college level. Since 2011, when the NCAA implemented a new standard effectively requiring non-wood bats to produce batted ball speeds no greater than wood, batting averages, college home runs per game and earned-run averages are the lowest they've been in more than 30 years. But baseball purists still want to see how hitters handle the wooden bat. Several dozen "wood bat" leagues play every summer for collegiate players with remaining college eligibility. Major league scouts are often in attendance. Nearly 200 alumni of the Prospect League have appeared in the major leagues with many playing for the Cubs, Cardinals and White Sox. Hall of Fame player Mike Schmidt, Lincoln native Dennis Werth and Lebanon native Neal Cotts, who pitched for the 2015 World Champion Chicago White Sox, all spent a summer in the Prospect League or its predecessor the CICL.
Todd Miller is both owner and general manager of the Sliders. Over the winter he and manager Jeremiah Knackstedt keep in contact with college coaches to build a roster of 32 players. When I mentioned that 32 is a large number of players, Miller responded that the team employs extra pitchers. League rules enforce pitch counts, hoping to avoid arm problems. Miller understands that the players are only borrowed from their college programs. In past years some summer leagues would earn a reputation for overworking pitchers, causing harmful injuries that destroyed careers. Prospect League rules are in place to minimize arm problems.
Miller is a Springfield version of White Sox owner Jerry Reinsdorf. Like Reinsdorf, Miller's first sports franchise was a basketball team, the Carolina Cougars. But baseball was Miller's dream. He took on ownership of the Sliders when they became available because he wanted to own a team. His enthusiasm is obvious. Check out the Sliders website at www.springfieldsliders.com and you will find schedules, ticket information, promotions and a list of summer camps and events for that aspiring young baseball player in your family. Two years ago I took my grandson to his first baseball game to see the Sliders. I wanted to be certain he had the patience to sit through a game and enjoy the experience. He had a great time and his grandfather had a memory he will never forget. Because Harry was right – "You can't beat fun at the old ballpark."

Stuart Shiffman is a frequent contributor to the book section of Illinois Times. This is the first of an occasional column on baseball.