After a six-year term as the executive director for Downtown Springfield Inc. (DSI) Lisa Clemmons Stott is setting her sights on new ways to help Springfield grow. "I was always interested in relationships and therefore politics," Clemmons Stott told Illinois Times. She graduated from University of Illinois at Urbana-Champaign in 1994 with a journalism degree. "I grew up reading Mike Royko in the paper. I was one of those geeky kids who read the paper front to back, every single day." She grew up in Chenoa, a small town between Bloomington and Joliet. She landed in Springfield after taking a legislative internship to explore the "underbelly of politics."
Her past positions include development director for the Springfield public radio station, director of marketing and communications for the Illinois Department of Commerce and Economic Opportunity and a communications role with the Illinois Secretary of State, among others. Clemmons Stott lives in Springfield with husband Sean and son Ethan, who recently graduated from Springfield High School.
Illinois Times invited her to reflect on her tenure leading the city's downtown development nonprofit and to share what's next. The following has been edited for length and clarity.
What does downtown represent to you?
Downtown is the face of Sangamon County. The majority of people who come to Springfield visit our downtown and judge us based on the quality of their experience. It is the only mixed-use neighborhood in our community, which means there are shops and there are places to live all intermixed. That provides great opportunities and great challenges. It's a very special place. It's our history. It's also our future.
What was the status of DSI when you took over in December of 2015? What did you choose to keep? What did you choose to change?
When I took over, DSI had experienced almost going under because the organization was reliant on two weather-dependent street festivals. The festivals had been wildly successful for years. They showed downtown was safe and fun. But there were bad-weather incidents and DSI lost a lot of money.
When they hired me I had a mandate to make the organization fiscally sustainable. Also, DSI is a Main Street organization, which means it's part of the National Main Street network. There are four pillars that Main Street believes create community and economic development: organization, design, promotion and economic vitality. Economic vitality is always the most complicated part, and I came in with the charge to focus on it.
I inherited an organization that was strong as far as our volunteer corps and people who care. When I started making my first visits to some of our corporate sponsors it was clear they looked at DSI as just a party planner. That intensified my belief that we needed to focus on the economic development issues and have that come to the forefront.
How does city leadership help or hinder development plans for downtown? Is there too much bureaucracy?
As far as too much bureaucracy – actually, it's the opposite problem. I have never been in a situation where a decision involving downtown didn't have to involve one person – that person being the mayor. It seems common sense that it would be difficult for one person to have a finger on every single thing that needs to happen in a city. I've worked in large bureaucracies. Top-down management is not always the way to go. You want a clear vision from leadership but you really need to enable people in directorships and other positions to do their work. Waiting for the approval from one person can slow down progress. There are only 24 hours in the day, no matter how amazing one person is.
For example, early on in my tenure, I was lucky enough to have an urban planner with DSI who did an analysis of downtown's public spaces. He saw that the Old State Capitol Plaza is one of the few spaces of its kind left in the U.S. So how do you maximize that? One of the things we kept hearing about was how unsafe it felt. Lighting wasn't robust. There were people lounging around day and night.
That's a central hub in the downtown district. So we put together a plan to activate it. We raised private donations to add lights, colorful tables and chairs like you would see in New York City, games and a ping-pong table.
It took nine months to get the city to okay it. It is now one of the number one spots where people take pictures. When I see people having lunch out there, it brings me so much joy. It's such a simple thing that the heart of a city should have.
The pandemic, terrible as it has been, added momentum to some creative problem solving, for example shutting down a portion of Adams Street during the weekends to better allow for social distance. Street performances are popular there, as is the outdoor seating for bar patrons. But the city decided it will open the street back up after installing parklets – outdoor seating areas in former parking spaces. What are your reflections over this debate?
What's happening with Adams Street is a growth problem. Maybe some people don't realize that downtown is having growth problems. We are having conversations about the nightlife versus living in an apartment. That is amazing. That is where we need to be. It's all about how you have the conversations. The specific decision to close down Adams Street and then to not keep it closed was probably more nuanced than what was publicized.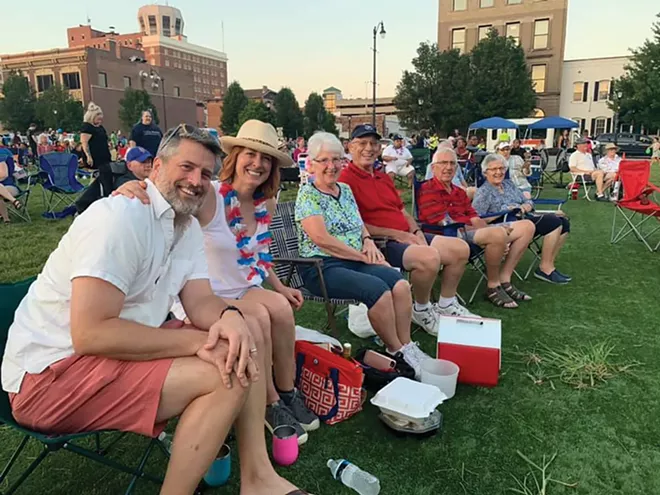 What are some other ways that we could tackle the need for a street that wants to be very pedestrian-friendly? There are a lot of different ways that one can approach the issue. How about making the sidewalks huge on that street, so that businesses can have seating out all the time, without closing down any of the street?
I was glad that people were excited to see the things we were trying to pilot and were embracing them. There are real-world issues sometimes after you pilot something that need to be worked through. I hope the conversation continues because I think there's a lot of other creative solutions that would address the needs, get people excited and make a great experience.
The Levitt AMP music festival has seemed to see an explosion this summer. The stage is larger than it was in 2019, during the first round. The turnouts have seemed great this year. The Y Block – the land near the Governor's Mansion that is currently vacant but once was home to a YWCA – where the festival is located remains a point of contention. What does Levitt signify in terms of cultural needs?
We got this grant in late 2018 and we were able to start looking at a public event through a diversity lens. We were thinking about how to create both a diverse stage and a diverse audience. So it's not just about bringing diverse performers, it's doing the work to invite people who haven't gotten invitations before. That has been really exciting. Julio Barrenzuela teaches salsa dancing. He's been involved from day one and tells the story about how he dreamed about this when he moved here and now it's real. That's because we now have this huge network of people working on this idea that if we are diverse and we come together on common ground we will move forward. It's so simple but it's really exciting.
As far as the space goes, DSI was always on record that the block was purchased by the city with tax increment financing, which means it is supposed to have some economic development outcome. As a community, we've been wrestling with that a lot over the last couple of years.
One of the problems with previous proposals was a lack community input. What Levitt allowed us to do is ask the people coming to the performances what they want to see in that space in the future. One of the things that came up the most were outdoor performances – that's what we are piloting, so that's what people are experiencing. A dog park and a space for food trucks are other ideas. So we have good data about what people want.
The farmers market is outgrowing the space on Adams Street. We've been talking about building a space for a year-round farmers market. That is very complicated. I envision a small, prairie-style building for the market on the Y Block for the winter. In the summer it could be located inside the building, but it could also spill out onto the Y Block.
I think that working with the city and the state, and lots of other people, we could come up with a four-year implementation plan. So we could have a vision and then we could have the plan implemented. I still want to be involved with it and see it made into reality.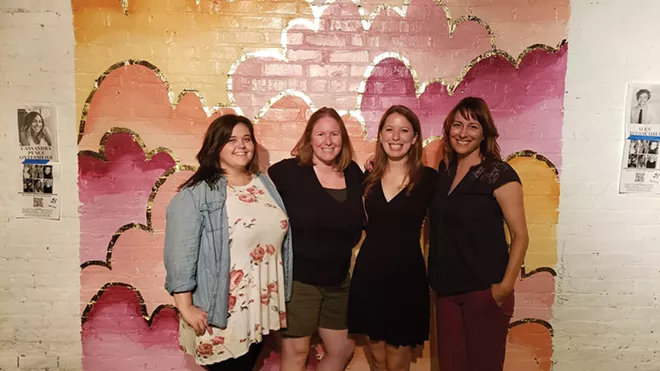 As you mentioned, during your tenure with DSI you oversaw the growth of the Old State Capitol Farmers Market. It seems for years we have talked about ways to increase its profile and keep it going throughout the year. Can you tell us more about its growth?
When I first came to DSI, I asked the Illinois Stewardship Alliance (ISA) to take over the day-to-day management of the market. Thankfully they did that for the first three years of my tenure. It was a great partnership. I think it showed a new generation of farmers the benefits of coming into our specific market.
With COVID, we changed the foot traffic in a way that works out well for safety and social distance, which also happens to be better for the visibility of the businesses along Adams Street. But it also means we have fewer spaces for vendors.
The market gets 6,000 people on any given Saturday. More farmers are getting interested but there's barely room for any artisans at this point. It's been growing rapidly in the last three or four years. The other part that's been growing is our outreach to people who use SNAP benefits. So we've done a lot of things to increase access.
Redeveloping historic, older buildings has been one of your passions. How have you worked to get developers to invest?
The question is how do you get to the point where large building developers are attracted to your community. So we started working on the philosophy that if we get all the small buildings renovated and turned into apartments, then we will attract a larger business. Until we have more residents, there's no way a Whole Foods is coming downtown, for instance. So that's why we started the Momentum on Main Street program.
The mission of that program is to attract the next generation of property developers, investors and entrepreneurs. During COVID, some property owners realized it was now or never and lowered their prices. About a dozen buildings changed hands during COVID, which was a real sign of future life. A lot of the new owners are coming out of that Momentum on Main Street program and that philosophy.
DSI has been focusing on smaller buildings and on local people investing in them, and trying to demystify the process for how to do that. That's why we went after and received a Johanna Favrot Grant from the National Trust. It means we can bring in experts to do analysis on different types of buildings and share information about downtown development that includes a deep dive into financing, which is the puzzle.
The thing about downtown Springfield is that our cost of living is so good – it's not like Denver where you're going to flip a historic building and make a bunch of money right away. It is a long-term investment, which is we why need families and younger people who want to plant their flag here. We're trying to give them all the tools they need and the network to do that.
What do you hear about rent prices – are they generally fair for those seeking space to live or run a business?
On the residential side, it's really about what type of lifestyle that you want. If you want to walk to the train station and the farmers market as part of your lifestyle, then our rent prices are in line. A lot of people make decisions about proximity to work – prices are in line.
On the business side, downtown has a reputation for being expensive. But I've heard from numerous people who own property downtown as well as out west that downtown prices are actually under the prices on the west side. Downtown space is usually between $10 to $12 a square foot – probably a little less in some places. And downtown is starting to attract more property owners who are willing to make a deal in order to have a vacancy be filled.
What have been your overall biggest successes with DSI? On the other side, what were some of the biggest challenges?
I feel really proud of the vision, stability and partnerships I brought to DSI and of making the organization financially sustainable. I'm grateful and proud of the partnership with the city council, which approved to fund DSI with $50,000 per year. It was a huge part of making the income streams diverse and creating a strong mix of funding.
I'm proud of Momentum on Main Street and the younger people who've gotten involved in downtown revitalization – buying buildings, getting their hands dirty, demolishing floors and rebuilding.
I am proud of how we handled ourselves as an organization to help businesses through COVID. DSI found out early on that micro-businesses were being left behind when it came to relief funding. So we asked the city for money specifically for sole proprietors and smaller retailers. And in general we helped businesses with daily technical assistance. The city pivoted quickly with us to pilot those outdoor spaces and that's translated now to the parklet program where the city is helping to support the costs of permanent parklets for businesses that want them.
I do think that DSI has a new level of relevance today. However, I also think that sometimes people do not acknowledge that we truly are the issue experts on downtown revitalization. Sometimes we're not at the table when we should be.
Parking is unfinished business. We've done a lot of work in the last three or four years to get feedback from the businesses about what they want. We have looked at other cities. We have given that information to the mayor. I think we are close to a solution that's good for everyone.
Another issue is homelessness. It started out at the beginning of my tenure as panhandling concerns. With COVID, there are more people experiencing homelessness. I have faith in the professionals at the Heartland Continuum of Care to map our way forward. They should be considered the issue experts on this, and should be given political and monetary support to move toward a housing model. That'll make a huge difference downtown.
You've worked closely with the new DSI executive director, Kayla Graven, who took your place in the beginning of July. She was previously DSI's assistant director. You've promised to remain a volunteer. What will you most be looking forward to in this new chapter for DSI?
I am excited for Kayla to bring her energy, excitement and enthusiasm to the role. I have done a lot of hard work to get the organization where it is, and now it's time for someone who hasn't been through all of that to take the reins and benefit from the position we're in now. We all had a sense that the sky was the limit before COVID. And I truly still believe that. We've had several businesses open in the last month. I think people are going to continue to get a responsive, enthusiastic and strategic organization through DSI.
What's next for you? Can you tell us more about why you left DSI and whether you plan to stay in Springfield?
Throughout my career I have specialized in change management – a leadership practice where you have to significantly change an organization. And I spent six years doing change management at DSI. When you look at the history of organizations, change managers aren't the people who stay forever. I accomplished a lot of what I was asked to accomplish, and felt some of the other things that I want to accomplish wouldn't best be served by my serving as DSI's director.
I am exploring my options. I'll be getting my son to college in September. The Illinois Public Health Association is running our region's community navigator grant, to help inform small businesses about relief funds available to them through the state, and I have a consulting contract to help with that through December. After that I will drill down and figure out what's next for me.
Springfield is a great place to raise a family. If you want to travel or work with clients across the country, the cost of living is low here and we are centrally located. I believe so much in the people here. There are so many amazing people in this town who have great ideas. Being a part of unleashing people's abilities is something that's very fun for me. I'm very interested in getting involved in other neighborhoods and helping them as well. I have lived in Springfield longer than I have lived anywhere else. It is my home now.
Contact Rachel Otwell at rotwell@illinoistimes.com.