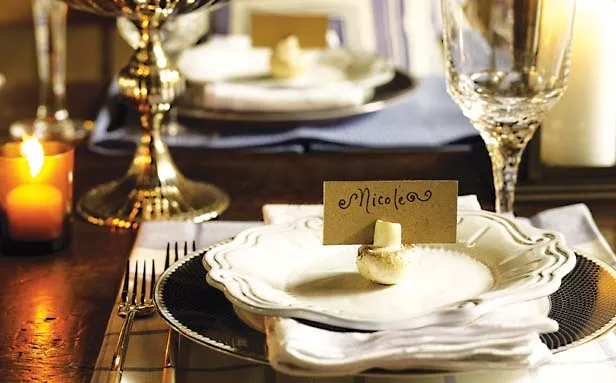 1. Stock a 'Holiday Party Pantry'
Find a place in your home (a cupboard, closet, or a few shelves) where you can collect basic elements to help you pull together a great celebration, even at the last minute. Think platters and large serving bowls for a start, often on sale before the season. Then add colorful table accents in your favorite holiday palette – place mats, a table runner, and napkins, along with seasonal touches like a box or two of ornaments you can use as napkin rings or to create a quick centerpiece. I recommend keeping non-perishable food items on hand too, like spiced nuts, olives, dips, flatbreads and crackers, holiday cookies, even a great pancake mix or Panettone (fluffy Italian holiday fruitcake, available at good grocery stores) for an impromptu holiday brunch.

2. Buy wines in bulk
Instead of running out at the last minute for Champagne and wine, stock up early. Most local retailers will offer a discount on a case of wine (sometimes even a mixed case) so consider buying in bulk at the beginning of the season and you'll be ready to toast on a moment's notice. If you're looking for a bargain, choose Prosecco or Cava over fancier Champagnes – they are party-friendly wines at a great price point.

3. Raise the bar
It is always a good idea to keep bar basics on hand – one good vodka and a single malt scotch, plus a seasonal microbrew, and maybe a fun mixer or two (think Pomegranate martinis) are all you need to host a great holiday get-together.

4. Limit menu and drink offerings
You don't have to serve eight hors d'oeuvres and a four-course meal. Focus on quality ingredients and a few delicious dishes. For drinks, serve a white and a red, a sparkling wine, and a signature cocktail that matches your color scheme. I suggest mixing up two pitchers of your chosen libation, setting one out in a pretty pitcher, then keeping the other in the refrigerator for instant replenishment. This way, you're not playing bartender during the party.

5. Clear the clutter
Look at your space with an eye for mingling and flow. Reposition any chairs or tables that might create a bottleneck during the gathering. Get delicate objects out of the way before your guests arrive. And place food and drinks in several places to avoid crowding.

6. Glow for it
Tis the season of light, and candles add instant magic to any holiday party – no flowers required! I recommend keeping unscented white votives and pillars on hand as they coordinate with any kind of décor and make a room feel warm and welcoming. Also, pick up a few holiday-scented candles – pine or pumpkin, for example, to use as accents in a foyer or powder room.