Everyone's been cooped up since March. The nation is in economic distress not seen since the Great Depression. The weather is nice. Something horrible happens.
Few rise in perfect storms. Mostly, everybody sinks. But not necessarily in Springfield, at least, not always.
Springfield is among the nation's most segregated cities, according to a 2019 report published by
Governing
magazine, and has the greatest income disparity between blacks and whites of any U.S. metropolitan region. That's never good, especially now. "I think we all have a little uneasiness in our gut tonight," police chief Kenny Winslow told the media after nightfall on Sunday, the day after riots elsewhere turned serious, with looting, if not burning, in cities as big as Chicago and as small as Champaign. Around suppertime, Channel 20 reported that the residents of the Sherwood subdivision had received a text from the homeowner association's president: Stay inside and keep your doors locked, we've received reports of plans to loot the west side of town.
At that point, the only looting that had happened was some sort of incident at Dick's Sporting Goods, where a group of perhaps 20 people gathered in the parking lot yelling insults at five cops standing a safe distance away at the store's entrance. That's what a video posted on Springfield Leaks showed. The chief said that some stuff, negligible in value, may have been swiped, but there was no property damage.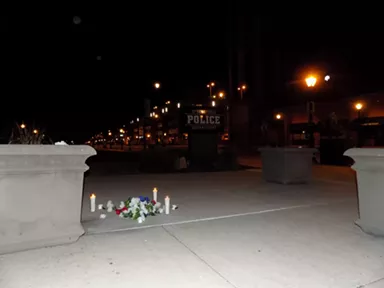 These did not seem particularly adept looters. At one point, they started shouting "Best Buy!" then got into their cars and drove off. "How do we get to Best Buy?" the driver and videomaker asked his passengers. At one point, he appears to be running from police, at other points, he takes off his protective mask to reveal his face, but, what the heck: We'd already seen plenty of tattoos. Cops were stationed at the entrance when I got to Best Buy. Not so at Barnes and Noble, a few storefronts away. Before long, roads leading into White Oaks Mall, Sherwood and the strip mall that includes Binny's Beverage Depot were closed and barricaded.
It was a stomach-churn turn from hours earlier, when people of all shapes, sizes, colors and ages showed up for a Black Lives Matter processional of vehicles past the Sangamon County courthouse and through neighborhoods. Organizers printed 300 maps. The cops pegged the number of vehicles at 3,000 – the line of arriving cars stretched down Ninth Street as far as the eye could see. It wasn't
Field of Dreams
but it felt no less magical, after all that had gone on in other places.
Amid too many Altamonts, this was Woodstock. Officers and organizers stood together in intersections, directing traffic. People brought children. Folks wore masks and maintained social distance. Are you registered to vote, smiling people with clipboards asked at the entrance to the overflowing courthouse parking lot. Would you like a donut, organizers offered. It lasted more than two hours, with the thirsty provided bottles of water by procession-goers who'd brought extra. Smiles were obvious even beneath masks. It was, easily, the best parade I've seen since moving to Springfield more than a dozen years ago, maybe the best parade ever. Marching bands come and go, spirit and purpose come tougher.
"Honestly, I wasn't able to process it," recalled Sunshine Clemons, cofounder and president of the local chapter of Black Lives Matter, when it was finished. Based on Facebook hits, she'd expected a few hundred folks — it is fair to say, she told me, that her mind was blown. "There are people who want to be more vocal than they have been before," Clemons said. "Other people are speaking up more than they have before. People are ready for change. People know that something has to give."
Why, I asked, has Springfield so far been spared carnage visited in the cities? We still suffer from racism, and it can still happen here, Clemons told me: One afternoon of good vibrations doesn't fix our problems. Maybe it's a matter of closeness, she guessed – it's harder to get away with things in a place where everyone seems to know everyone. "I can see you, and I know where you live because I run into you all the time," Clemons said. "It's still a small town, good and bad."
After sundown, a few dozen protesters marched through downtown and demonstrated at the Capitol, but the dispatch scanner was mostly quiet. A few buildings were spray-painted, but nothing major. A couple windows were broken on the PNC Building. Someone spray-painted the f-word on the "Springfield Police Department" sign outside police headquarters. Cops and protesters cleaned it up. The accused vandal got arrested, according to Sangamon County Sheriff Jack Campbell, which can happen when you break the law in front of cameras at police headquarters. Springfield firefighters responded to two vehicle fires on the east side as well as a fire at Dirty South on East Cook Street that was called in by a passing cop and quickly extinguished. The blazes are under investigation. Fire chief Allen Reynes tells me that if tonight is like last night, he will be happy.
This revolution has been televised, and so I watched much of it on the internet. Around 2 a.m., I left my living room to see if Best Buy and the rest of the city still stood. Protesters were gone. "Is all well?" I asked some cops stationed at the Capitol steps. They smiled. "All is well," one replied.
It was nearly dawn as I strolled through a deserted downtown. Birds were starting to sing. Outside the police station, a memorial to George Floyd fashioned from flowers and candles was still on the sidewalk. Protesters had set it up more than three hours earlier. Every candle still burned strong, with no hint of flicker.
Contact Bruce Rushton at brushton@illinoistimes.com.