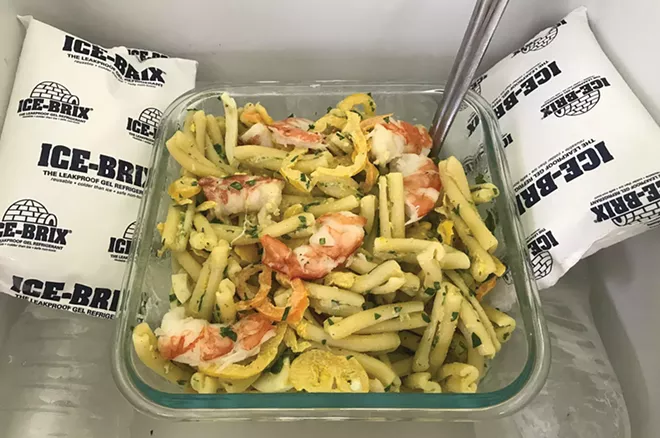 The culinary centerpiece of Memorial Day cookouts is often the meat on the grill, yet sides are typically what really make the meal. The start of summer celebrations are a perfect opportunity to celebrate fresh produce and create sides delicious enough to stand on their own. Today we examine two cookout staples: potato and pasta salad and how to elevate them from standard to sensational. These dishes are also a flexible means to accommodate guests with dietary restrictions: Many of them can be made vegetarian or vegan, gluten-free or egg-free as needed.
Potato salads
Choose a waxy-type potato such as Yukon Gold or Red Bliss. They have a creamy texture and will stay intact after cooking better than a starchy russet-type potato. Sometimes I peel them, depending on the type of spud and the occasion. The extra small baby potatoes are perfect for a quick dish, but they can get pricey if preparing for a large group. The potatoes can be boiled or steamed (preferred). If boiling, it is recommended that they're boiled "in their jackets," and then peeled (if desired) and cut when cool enough to handle. If steaming they can be cut and peeled first. After cooking and cutting, but while still warm, dress the potatoes with a squeeze of lemon juice and a sprinkle of salt. This is a critical step in building layers of flavor. At this point the potatoes can be set aside to cool while the rest of the ingredients are prepared.
Variations:
Garlic potato salad
In my life one potato salad reigns supreme. No one wants anything else once they've had this Spanish-style potato salad because it is just that good. It's also the simplest to make. Combine one pound of potatoes cooked and cooled as above, ½-¾-cup Hellman's-type mayo (or use vegan mayo), minced garlic to taste (start with two cloves and work your way up), and ¼ cup chopped parsley, seasoned with salt and pepper. That's it. And it is supremely delicious, especially when made with fresh new potatoes and green garlic.
Old-fashioned Southern-style potato salad
Add one tablespoon of mustard to the lemon juice that gets tossed in with the pound of prepared potatoes. Once cool add ½ cup or so of mayonnaise, another squeeze of lemon and a spoonful of mustard, two sliced hard-boiled eggs, one or two stalks of celery, half of a sweet onion (diced), and two or three tablespoons of chopped fresh parsley. Season to taste with salt and pepper. That basic formula is tasty on its own, but can also hold whatever manner of diced pickles or capers you want to throw in or add herbs like dill or tarragon.
Vinaigrette potato salad
Not everyone is into mayo and it can get a bit questionable on hot summer days. Enter the vinaigrette-based potato salad. Satisfying yet light, this is perfect alongside grilled steak and can easily be made with roasted sweet potatoes instead of steamed potatoes. Toss one pound of prepared cooled potatoes with a dressing made from one tablespoon white wine or cider vinegar, 1 teaspoon mustard, a half teaspoon of salt, a half teaspoon sugar or honey, and 1/3 cup olive oil. Whisk the dressing well before drizzling over the potatoes, then add 1 tablespoon each minced dill, parsley and chives. Toss well and season to taste with salt and pepper and serve at room temperature. This salad can hold additional vegetables such as blanched green beans or strips of grilled bell pepper or zucchini.
Pasta salads
Forget about rubbery, leaden macaroni salad. With some thoughtful preparation, pasta salad can be a delicious addition to your summer spread. Pasta salads are best served within a few hours of preparation – time in the fridge can render them gloppy. However you can prepare the components ahead and then toss them with the freshly cooked pasta closer to serving time.
When cooking the pasta, be sure to drain it when it is just al dente, or firm to the tooth. Just as with potato salad, very lightly dressing the warm pasta before allowing it to come to room temperature is a key step. Almost any vinaigrette will work well in a pasta salad – the bright acidity lightens the starchy pasta and pulls the dish together. Pesto is also delicious . Add up to six cups of extras per pound of pasta, including fresh veggies like baby spinach or arugula, diced bell pepper or zucchini, shredded carrot, sliced onion or scallion, or blanched and cooled corn kernels, diced asparagus, peas or green beans. Marinated artichokes, drained canned beans, pearls of mozzarella, crumbled feta, sliced olives and diced salami are other tasty options.
Favorite variations:
Sweet corn and balsamic pasta salad
Boil one pound of pasta in salted water. While pasta cooks, whisk together ¼ cup balsamic vinegar, 1 tablespoon honey, 1 clove minced garlic, 1 tablespoon grainy mustard, ½ teaspoon salt and ¾ cup olive oil. Toss the drained pasta in one tablespoon of the vinaigrette, then set aside to cool. When cool, add ¼ cup finely diced red onion, two cups baby arugula, two cups sliced cherry tomatoes, one cup cooked sweet corn kernels, eight ounces mozzarella pearls and 1/3 cup julienned basil. Add just enough dressing to lightly coat the pasta (you will have some dressing leftover), then mix well and season to taste with salt and pepper.
Three pepper pasta salad (inspired by the late Paul Prudhomme)
Toss cooked pasta with a tablespoon of olive oil and set aside to cool. Combine in a mixing bowl (or use a blender): ½ cup mayo, two to three tablespoons pickled jalapeños and their juices, two tablespoons minced scallions, 1 teaspoon sugar and ½ teaspoon Old Bay seasoning. Toss the jalapeño mayo with the cooled pasta and mix in two sliced hard-boiled eggs, two cups sliced red and yellow peppers and ¼ cup chopped parsley. Season to taste with salt and pepper. Add in a pound of cooked and peeled small shrimp if desired (just be sure to keep it on ice if serving on a hot day).