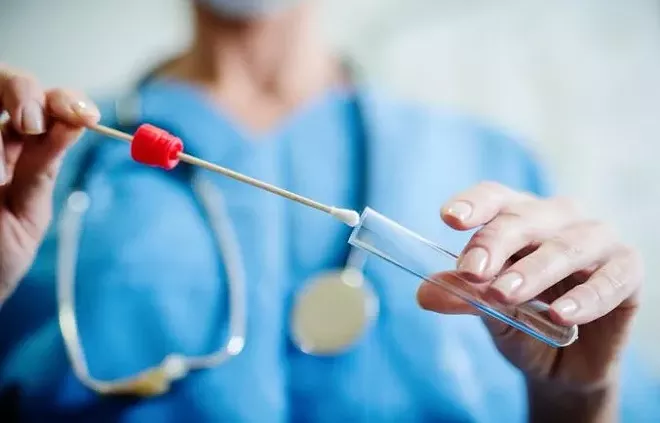 Susan – not her real name – is worried.
When she left Springfield for Europe in early March, she felt ill. She figured it was sinuses. She'd heard of coronavirus – enough to know that China, Italy and Iran should be avoided – but this was Spain, and, not yet 20, she was on spring break. She stayed in a hostel. She felt sicker as the virus spread throughout the country – a report from March 19 said in a 24 hour period, 88 people died of the virus there.
Amid fears of a travel ban, Susan came home to Springfield Sunday, landing at O'Hare. Lines at customs were short, as opposed to the chaos of the previous day. She went through screening that included a temperature reading, was told to self-quarantine for 14 days, then took a bus home.
She's still sick.
While in Spain, Susan says, her throat had felt as if it were on fire. Once home, she started feeling worse. "On the 16th (Monday), which was the day after I got back, I kind of developed body aches," says Susan, who requested anonymity because some coronavirus patients have been threatened or ridiculed. "I was struggling (to breathe) because of how congested I was. Every time I took a deep breath, I would cough up this really orangish-colored phlegm, which was exceptionally gross." When her temperature rose to 99.2 degrees that day, she called a local clinic, knowing she shouldn't walk in with symptoms associated with coronavirus.
"I ended up being on hold for about two hours to talk to someone from priority care," she says. She says she was then told to call a different number, where she waited for an hour on the line before being patched through to an on-call doctor. The doctor said: call your local priority care clinic.
"I called the priority care again," Susan says. They transferred her to a nurse who said she wasn't sure what to do. After another call later from priority care, a nurse said she would talk to the public health department and call Susan back.
In between phone calls, Susan was looking for alternatives. The next day, a relative took her to a drive-up screening clinic set up by Memorial Health System. "We pulled up, and they were like, do you have an appointment?" Susan recalls. She hadn't known that she should have called first. (The hotline number is 217-588-4019).
At the drive-up clinic, she was told that she qualified for flu and strep tests. If those were negative, then she'd qualify for a COVID-19 test. "How does this work with insurance?" Susan remembers asking. The answer, she recalls, wasn't definitive. Afraid to face an unknown medical bill, she went home, where she set up a virtual appointment with a doctor in her insurance's network instead. After a brief consult, she says she was told even if she had coronavirus, she would likely recover without intervention. She says she was given a diagnosis of bronchitis and prescribed antibiotics, and was told to check in again if symptoms worsened.
Other than her current illness, Susan is healthy. She's not high on the priority list for getting a test, and test kits are in short supply. She's not the only one who has struggle to get tested. "Not everyone who has respiratory symptoms like cough and shortness of breath needs to be tested," said Dr. Ngozi Ezike, director of the state public health department, in a written statement issued March 16 – the day after Susan returned to Springfield. "Similarly, not everyone who is infected with novel coronavirus needs medical treatment. We want to make sure those at higher risk of severe illness are prioritized for testing and that they can receive the medical care they need. We ask those who have mild symptoms to stay home so the health care system is not overwhelmed."
For now, Susan is doing her best to self-isolate – using her own bathroom and wearing a mask. She lives with three other family members, each have their own bedroom. She says she feels like the message she got was this wasn't a big deal. "It's definitely frustrating," she says.

You can stay up to date with Illinois Times coronavirus coverage, here. For more information on local resources, click here.