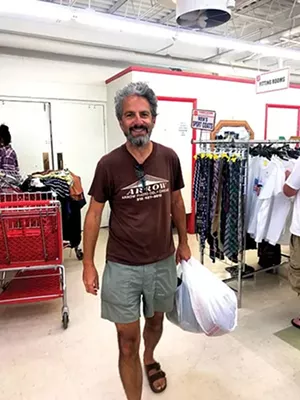 It was with great sadness that I read the article about the closing of the Salvation Army thrift store and rehabilitation center at 11th and Jefferson.
I don't live in Springfield any more. I haven't lived there since I was four years old. I grew up and went to college in Champaign-Urbana. After graduating from UIUC in 1988, I moved to Chicago, then New York. And for the past 14 years, I've lived in London.
But – no matter how far away I live from Springfield – to say that this particular branch of Sally's (as my family calls it) is close to my heart is an understatement.
I started buying my clothes almost exclusively at thrift stores and garage sales when I was a teenager. I'm thrifty not only because it suits my sense of style, but because it's in my genes. My Grandpa Al saved everything from rubber bands and twine to worn-out socks and coffee cans. He never threw away anything that might have a future. And my grandma, Melba, also a saver, worked at the head office of Thrifty Drug in Springfield. I still have Al's Army jacket (though it no longer fits me) and Melba's velvet coat, which she told me she only wore once – to an Elks Club dance (it still does fit me).
Whenever I came to Springfield for a visit, I thrifted with Melba and Al. They'd drive me to wonderful, out-of-the-way (and now long-closed) thrift stores – and I can tell you exactly what I bought at each one. But my favorite was (and still is) 11th and Jeff, as I call it. My mom shops there. My aunts shop there. My daughter's first clothes came from there – and now she, too, is thrifty.
I come to Springfield as often as I can. And 11th and Jeff is, after Mel-O-Cream, my first stop. When I see the manager, Connie, it's like seeing a family member. She may not realize it, but she has known me my entire adult life. She got me out of a scrape one day when I lost my wallet somewhere in the store, and she found it.
My most treasured outfit came from 11th and Jeff: a 70s suede jacket and pants from North Beach Leather. My most amazing bag came from 11th and Jeff: a 50s wool clutch that Jackie O could have owned. I have 60s scarves, 80s tops, and even designer dresses from there.
Ten years ago, when some friends were driving coast to coast, and approached Springfield, they called me from the road to ask me where that mythical, treasure-filled store, 11th and Jeff, was, so they could stop in.
11th and Jeff is the one store that has endured, despite so many others closing. It is the one I can still imagine my grandparents in – even though the back room (the furniture and homewares room), where we had the most amazing finds, has been closed for decades.
It is a piece of my history, and my home, and I will miss it dearly.
Lisa Burnett Hillman was born in Springfield and grew up in Champaign-Urbana. She worked on magazines in Chicago and New York, and is currently a freelance copy editor living with her British husband and their daughter in London. "In normal times," she writes, "we visit my mom and aunts in Springfield every summer – preferably during the State Fair."