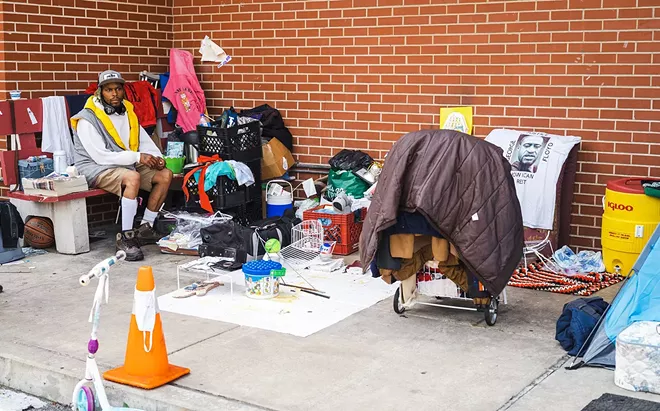 Frustration is rising as plans for a proposed homeless shelter in Springfield continue to stall. At its July 27 meeting, the Springfield city council voted to put off a decision regarding a plan for a homeless shelter at the former Salvation Army building at 221 N. 11th St.
While considering an ordinance to put in place a two-year shelter plan, estimated to cost more than $1 million, the council heard testimony from Josh Sabo, coordinator of the Heartland Continuum of Care, which has been attempting to broker a cooperative operational agreement between the city of Springfield and the Salvation Army in regards to the facility. While the building is used on a limited basis as a cooling center, it has sat largely unused since April. Those seeking shelter erected a tent city around the facility.
At the committee meeting, Sabo urged the council to delay adoption of the ordinance so the continuum could finalize details of the plan. Speaking with Illinois Times afterward, Sabo said the continuum, the body designated by the U.S. Department of Housing and Urban Development to create and implement plans addressing homelessness in Springfield, had not had an opportunity to review the plan before the July 27 meeting. He told the council that he wants more time to speak with the Salvation Army about shelter needs and the needs in the continuum's wider crisis-response plan. Sabo said that he still hopes to secure approval for a fully fleshed-out agreement sometime in August.
"From that point, hiring and training staff would be the biggest obstacles to overcome to prepare the way for opening," Sabo said.
On July 30, Mayor Jim Langfelder said the council could act to consider an amended ordinance for emergency passage as soon as Aug. 17, but said it is more likely to receive a vote in September. How quickly the council can act hinges upon whether an amendment that fulfills all parties' wishes can be filed, and how quickly.
Sabo said the continuum's short-term strategy includes an overflow shelter to make up for insufficient space at the city's other shelters, a location which could help people get connected with the various services that are already available in the Springfield area. Supportive housing has to be another component, Sabo said. The former Salvation Army location would ideally serve as that overflow shelter.
"If we really want to end homelessness as a community, we have to invest in supportive housing alongside emergency shelter," Sabo said.
Ward 2 Ald. Shawn Gregory voted to delay adoption of the plan in accordance with Sabo's recommendations, but expressed impatience at the committee meeting. Gregory told Illinois Times he wants to see comprehensive services that help homeless people at the emergency shelter when it reopens.
Gregory said he wants to see a long-term plan that will support people beyond a stay at the proposed overflow shelter, located in his ward. "I want to see what services will be wrapped around this thing," he said. "If I don't see those things, I am not going to be for it."
In order for an ordinance to be considered for emergency passage, it must be filed with the city clerk two business days prior to the upcoming council meeting. Langfelder said the timeline for ultimate passage of any ordinance will depend on whether the continuum's changes can be easily reflected in an amendment. He said his priority remains how to address people who are living on the streets.
Gregory said the residents of his ward are frustrated at what they perceive to be the city's continued inaction.
"I've always maintained that I'm in full support of rapid rehousing and anything we can do to get people in sustainable housing and in some form of independence. For whatever reason, we in government and these providers ... we just can't get our act together to help people," Gregory said. "That is why I'm frustrated. While we don't get things done, we have people on the streets."
Kenneth Lowe is a Springfield resident and regular contributor to Paste Magazine.