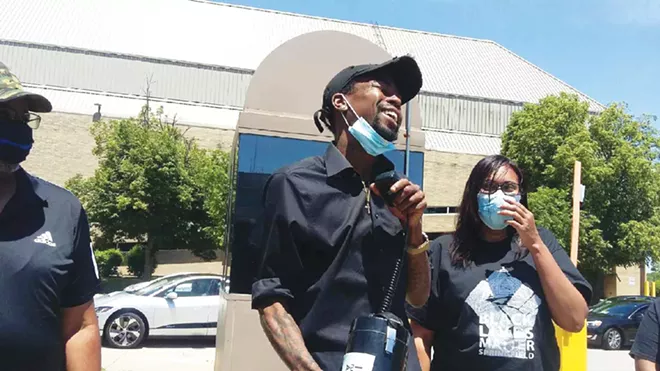 Nearly three decades later, Ward 2 Ald. Shawn Gregory struggles with that call for help.
He was eight, his sister younger. Their grandmother had allowed them to stay with their mother, who was into drugs and not supposed to be alone with her kids. Mom left – Gregory remembers something about a hair appointment. I'll be right back, she promised.
Hours passed. Finally, Gregory called 911. A cop bought pizza. Then, the future alderman and his sister were put in foster care together while other siblings went elsewhere. "We bounced around from house to house," Gregory remembers. He was dosed with antidepressants. All these years later, he has kind words for Dr. Terry Killian, a Springfield psychiatrist.
When foster parents go on vacation or to grandma's house, foster kids often go to respite, meaning someone else watches over them for a few days. Gregory liked one place. "Can I stay here forever?" he remembers asking. The couple said yes, but they were older, and it didn't last. A neighbor lady – Gregory remembers mowing her lawn – adopted him. She married into the family of Frank McNeil, a former Springfield alderman who once represented Ward 2.
The alderman tells me this during four hours at a Comer Cox Park picnic table. We talk about his clashes with police. His days of selling weed. The four kids by four women, his city paycheck garnished for child support. The jobs that didn't work out and the job he has now. The Springfield City Council, Gregory says, needs him, tattoos and earrings and all the rest.
"I'm from here," he declares. "I know what we need. I'm a real Black man."
He remembers the call that took him away from his mother so many years ago. Maybe, he wonders, if he hadn't picked up the phone, maybe, everything would have worked out without Department of Children and Family Services intervention. Of seven brothers and cousins he considers close, five have gone to prison, he says.
"I don't think people realize what kids who are taken from families go through," he says. "I've always wondered: Who the fuck am I?"
...
Gregory, 36, had never run for office before winning a seat on the city council last year. It has not gone as planned.
Gregory says he expected a government job once he got elected, but no offer came. "I have a job, but I don't have a job like the rest of those clowns – I'm the only one who ain't got one," he says. Ward 4 Alderman John Fulgenzi is the only council member aside from Gregory who has never held a public sector job. Gregory was terminated from Green Family Stores last fall after an argument with another employee. He now works at Landmark Ford in customer service.
He admits mistakes. He regrets getting a job at a cellphone store straight out of high school instead of going to college. He wishes that he'd settled down with one woman instead of having kids with different moms. He was once fired from Lincoln Prairie Behavioral Health Center for an "improper hold" on a resident he took to the ground in what he calls a wrestling move.
How does that square with his views on police brutality? "I was held accountable for what I did," he answers.
Gregory says that he wasn't focused on race when he became an alderman. "When I came into office, I wanted to come in and not be the guy and say, 'The system is rigged – it's all rigged against Black people and police are holding people down,'" Gregory says. But that is the way it is turning out, and Gregory embraces the role.
"All the stars are starting to line up," he says. "You look at the Black Lives Matter movement. I think this is my calling."
Gregory has had run-ins with police.
In January, a Springfield officer denied him entry into the city basketball tournament at Bank of Springfield Center. No one is supposed to be admitted after the third quarter begins, a rule aimed at turning away troublemakers, and Gregory says that he arrived a few minutes late – exceptions, he thought, surely would be made for the mayor or other elected officials. After six months on the council, he'd learned that perks came with public office: "I'm getting free tickets, I'm getting free food, they're treating me like a king."
Gregory acknowledges calling the cop a "fat motherfucker" and says that the officer knew that he was an alderman. Not long before, Gregory says, he'd spoken to the same cop after the officer u-turned and wrote down his license plate number while he was talking to someone in his ward. The tournament encounter hit social media, with an officer posting a taunt: "So Shawn Gregory, did you enjoy the City Tourney? Did you have a good time? Any problems getting in?" The city has refused to release body cam footage showing the Bank of Springfield Center encounter.
In May, Officer Andrew Barnes was reassigned after calling Gregory and Ward 3 Ald. Doris Turner "fucking idiots" on Facebook when they questioned why police were cracking down on east side parties while allowing protesters, mostly white, to demonstrate against pandemic stay-at-home orders. "It put a fire under me to prove I'm not an idiot," Gregory says. "I ain't got no paycheck, but I'm smart."
Problems with police date to Gregory's days at Lanphier High School, when he was charged with aggravated assault and aggravated unlawful use of a weapon, both felonies. The purported victim was a Sangamon County jail sergeant who said that Gregory had pulled a gun partway out of his jacket and threatened to kill him during a parking lot encounter at Town and Country shopping center on MacArthur Boulevard. The sergeant reported the incident four days later, but didn't call Springfield police, even though the shopping center is in the city. Instead, the sergeant's colleagues at the sheriff's office handled the investigation. Felony charges were reduced to a misdemeanor, and Gregory was acquitted in a 2003 bench trial.
In 2005, Sangamon County Associate Judge Theodis Lewis, now retired and then the only African-American on the local bench, jailed Gregory for contempt of court after he cussed and wouldn't stay quiet in traffic court. In his report, a court security officer wrote that Gregory said something about a "racial" issue; the alderman says that he was upset because he was told that his infant daughter couldn't be in the courtroom. "I had some money and thought, 'I'll just bond out,'" Gregory recalls. Once in jail, he discovered that contempt of court is a no-bond offense. "That's when all that tough act disappeared," he says. Lewis, he recalls, let him out in two days.
A Springfield cop who arrested him in 2008, after he punched out a window at a girlfriend's house and was stitched up by a plastic surgeon, promised to visit him at home, he says, and kept the promise: The cop rode a Harley, he had a Suzuki and the two talked motorcycles. Arguments with the same woman, who is mother to one of his children, resulted in two 2010 arrests, one for disorderly conduct, the other on suspicion of domestic battery. No charges were filed.
Do you have an anger management issue?, I ask. "Not really anger management," Gregory responds. "But I am fiery."
Not all cops are bad, Gregory says. But. "To some of them, I'm just another n-word – that's how I feel," the alderman says. "I remind them of what they chase every day." The cop who wouldn't let him into the basketball game? Gregory says the two have talked it out: "I like him; some of my constituents think he's a butthole."
The alderman hasn't been arrested since 2010. What changed? Gregory credits the Springfield Lions, a basketball team his son played on during elementary school. He didn't know anything about basketball, he says, but signed up to coach. He'd been running streets, smoking and selling weed, he says, but practices and weekends on the road – the Lions won state and national trophies – left less time for getting in trouble.
Todd Goebel, who lives near Rochester, remembers one game. His son's team wore $100 shoes. "He's got kids on his team, they're wearing shoes that don't fit, fastened up with Velcro," Goebel recalls. "Of course, they beat the tar out of my son's team." Goebel also watched Gregory referee Pee Wee football games. When he threw a flag, Gregory would take a knee and talk to whomever he'd penalized. "He was on the field, mentoring kids," Goebel recalls. "He'd find an opportunity and take it."
Goebel knew Gregory long before then – he was the future alderman's lawyer when Gregory was acquitted of weapon charges in 2003. "He's got warts, but a good heart," Goebel says. "He truly does understand where he came from, understands how fortunate he is to be in the position that he's in, because he could have ended up in a lot worse places. His grammar isn't polished, his writing isn't polished. But he cares about people."
At the picnic table, more passersby than not exchange greetings with Gregory as we talk. After a year in public office, he says that he's limited his social life. "I don't go nowhere," he says. "I know I can't mess up, I can't give anybody no reason to pick with me." And he says he intends to hold other elected officials accountable who have promised action to combat racism.
"I'm calling people's bluff right now: You say it, you do it."
Contact Bruce Rushton at brushton@illinoistimes.com.