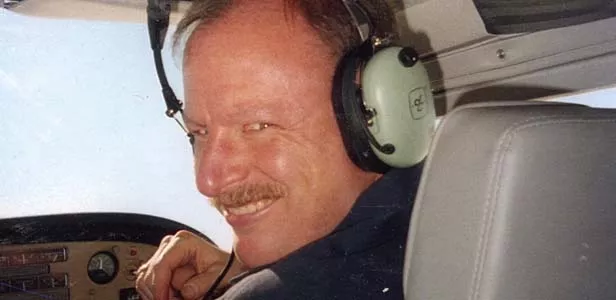 Mark Jennings spent more than 20 years serving his country in the U.S. Army Airborne. When he retired around 2002, "Sarge," as he was known, enjoyed gardening, cooking out and bicycling, and was known for serving coffee to anyone who wanted to stop by in the morning. Ted Forystek, who was Jennings' neighbor in the small, working-class unincorporated neighborhood near Charlie Parker's diner, describes his friend as "just a downright great guy."

Next to him, Curtis Leroy Sanders doesn't look so great. Paralyzed by two bullets lodged in his spine almost 40 years ago, Sanders lives on disability and seems to spend his time accumulating traffic tickets for infractions like running stop signs and traffic lights, speeding as much as 30 miles per hour over the limit, driving under the influence of alcohol and drugs, and driving while his license is suspended or revoked.

So when the two men collided on Sept. 29, 2007 — Jennings, on his bicycle, and Sanders, in a Dodge Magnum — it would have been much tidier and somewhat easier for all concerned if Jennings' messy death could have at least served as some sort of morality play. And if it had been a simple clear-cut case of good guy killed by a bad guy, Sanders would have undoubtedly been locked away. Instead, he was convicted of speeding up to 10 miles per hour over the limit, DUI and violation of his driver's license restriction, because his muscle car wasn't properly equipped for a paraplegic driver (he was operating his accelerator pedal with a wooden stick). He got a year's worth of probation and 90 days in the county jail.
Forystek left the courtroom feeling nauseated. "It made me sick to my stomach that the man wasn't thrown in the pen right then and there," he fumes.
Here's the problem: Sanders didn't run into the beloved bicyclist, "Sarge"; Jennings ran into Sanders.

It was a lovely autumn day. Jennings had just set off on a bike ride with his usual Saturday afternoon crew of Forystek and Stefany Henson. Most Saturdays, the three rode the Interurban Trail. On this particular balmy afternoon, they planned to ride downtown to the Route 66 Festival, and then on through Oak Ridge Cemetery. Forystek and Henson wanted to throw the bikes in Jennings' pickup truck and motor to town, but Jennings refused to squander the beautiful weather. They had gone about half a mile, and were northbound on First Street, near Cornell, when Jennings unexpectedly veered off the sidewalk and down a driveway.
With a drink — iced tea, it turns out — in one hand, Jennings lost control of his bike. It wobbled down the driveway and may have tipped over before colliding with Sanders, who was speeding by in his Magnum. Jennings disappeared under the car and was spun out the back. According to Springfield Police Department's crash reconstruction report, Sanders traveled another 55 feet before applying the brakes, then 85 feet more before coming to a stop, dragging Jennings' bicycle the whole way.

Forystek, who had been riding behind Jennings, ran to his friend, cradled Sarge's head in his lap, and offered him his hand. "The grip was incredible. I thought he was going to break my hand," Forystek says. "And at the same time he was gripping, his head was just blowing up like a balloon. I knew there was nothing I could do."

A paramedic appeared, and Forystek left Jennings and ran to Sanders' car. "I remember telling him: It wasn't your fault," Forystek says.
In that moment, it seemed clear. Looking back, it gets murky. "Sarge pretty much did run into the car," Forystek says. "But the way I seen it, [Sanders] should've been able to stop, either before or instantly afterward."

Toxicology tests showed Sanders had trace amounts of alcohol, cocaine and cannabis in his system. A records check shows that he also had a prior DUI conviction, in 1996, and had three times faced charges of illegally transporting alcohol, all of which had been dismissed. Under Illinois law, none of those prior charges could be mentioned at Sanders' trial for the DUI charges resulting from his collision with Jennings.

Henson wrote a letter to the probation department briefly describing Jennings and the day his life ended. "I can't help but believe that had the driver [Sanders] reacted the way an unimpaired driver would have, this would not have ended in such a tragedy. I can only hope that he's no longer driving," she wrote.
But then, on June 15, on the front page of the daily newspaper, Henson saw Sanders' name again. It was mentioned in a correction — he had been arrested for another DUI, after colliding at a stop sign with Darvin Green.
"This is not something I'll ever get over, but it was getting to the point where I didn't think about it every day," Henson says. "Then I read this article and it just brought it all back. I was just enraged that he's still out driving around. It's horrible."

Last week, Henson was in the courtroom for Sanders' preliminary hearing. As he wheeled across the courtroom, in his striped jail togs, he smiled at Dan Fultz, the attorney who had represented him in his last trial. Henson sat quietly, but I noticed her eyes water and her toes fidget nervously in her sandals. "I was trying not to be emotional," she says.
After Sanders' brief appearance, in which he entered a plea of not guilty, Henson and another one of Jennings' friends tracked down the prosecutor to voice their concerns. "Everybody in our office knows about Sanders," the attorney told them. His trial is set for July 27.
That's not the last layer of gray, however. Almost two decades ago, Sanders was the victim of a drunk driver. Donald Feagans had a car full of family members when he ran a stop sign and was hit by Sanders and his wife. News accounts of the incident don't specify who was driving the Sanders' car, but Feagans' 5-year-old son Joseph, seated on his mother's lap in the front seat, died of injuries sustained in the crash. Feagans pleaded guilty to DUI; it was his third, and he served two years in prison for it. In 2001, he pleaded guilty to a fourth DUI, and was sentenced to six years in prison.