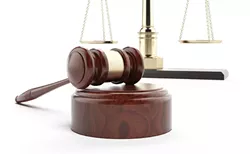 The estate of a man who died in 2010 during an encounter with Sangamon County sheriff's deputies will receive $40,000 in a settlement by a committee of the Sangamon County Board today.
The committee's unanimous vote brings an end to a contentious case that has already cost the county more than $273,000.
Patrick Burns, formerly of Springfield, died in January 2010 after a struggle with Sangamon County sheriff's deputies. Burns, who reportedly had a history of substance abuse and had ingested cocaine before he entered a woman's home for unknown reasons and attacked her. By the time deputies arrived, Burns was sitting calmly outside the woman's house, but he became violent when a deputy tried to photograph him, according to police reports.
Several deputies tried to restrain Burns, using Tasers more than 20 times. Burns was hogtied and taken to the hospital, where he died five days later. While the pathologist hired by the Sangamon County coroner's office said Burns died from excited delirium, an inquest jury didn't agree but failed to determine a cause of death. A pathologist hired by Richard Burns, the brother of the deceased, found that Patrick Burns died from a lack of oxygen from being hogtied and placed prone in the ambulance.Richard Burns sued the county in 2011, as the executor of Patrick Burns' estate on behalf of his two daughters, now ages 12 and 17. A difference in strategy between Richard Burns and his legal counsel threatened to end the case late last year when the attorneys Burns hired filed a motion to withdraw from the case. Burns had difficulty finding new representation because many important deadlines had already passed, and because the estate is the plaintiff in such a case, Burns, who is not an attorney, could not pursue it pro se. U.S. Magistrate Judge Thomas Schanzle-Haskins agreed to extend certain deadlines, and Burns eventually reconciled with the attorneys representing his brother's estate.
In July, Schanzle-Haskins ruled that deputies did not use excessive force on Patrick Burns, but he also declined to dismiss claims that deputies and the ambulance crew should not have left Burns hogtied and prone once he stopped struggling. After the ruling, the case went to mediation, and Schanzle-Haskins approved the settlement last week.

The Sangamon County Board's Civil Liability committee voted unanimously on Thursday evening to approve the settlement, which Dwayne Gab, an attorney for the county, said was a reduction from the original $500,000 demand by the plaintiffs. The settlement is no-fault, meaning the county admits no liability. While Gab said he feels the county would have prevailed had the case gone to trial, the settlement avoids the risk that a "rogue" jury could find in favor of the plaintiff. Gab said expert witness fees alone would have likely cost between $25,000 and $40,000 at trial.

The settlement also includes a payment of a confidential amount from Lifestar Ambulance Service of Springfield, which was named as a defendant in the lawsuit to Patrick Burns' estate. Gab told the committee that the other party agreed to pay a "like figure" to what the county approved.

Contact Patrick Yeagle at pyeagle@illinoistimes.com.
Corrections: This article has been altered to include the following changes:
-Removing a reference to Patrick Burns being Tasered while handcuffed, which was alleged by the plaintiff but not proven.

-Re-characterizing the conflict between deputies and Patrick Burns as a "struggle" instead of a "scuffle" to better reflect its intensity.

-Re-characterizing the conflict between Richard Burns and attorneys representing the estate as a difference in strategy instead of personality.