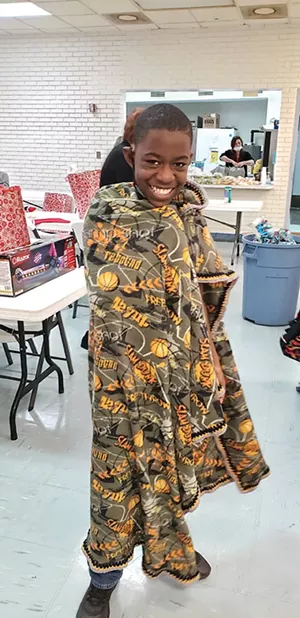 Stich 'n Go is "a way to do what we love, have a purpose and bless so many other people," says Marty Dahlquist who co-founded this Laurel United Methodist Church mission group with Barb Needham in 2017. What began as an informal gathering of eight women who love to sew has blossomed into a group of 30 or more women, not only from Laurel UMC, who share a passion for serving others through their talents of sewing, knitting and crocheting. The beneficiaries are both local and global.
In 2022 the women made 6,213 items which they distributed to 40 organizations. Hats, scarves, school bags, fleece blankets, pillowcases, wheelchair covers, quilts and adult bibs are some of the items donated to schools, hospitals, nursing homes, local social service agencies and Midwest Mission. "Everyone is blessed with fun and fellowship as items are made to bless others," said Needham. Since 2017, Stich 'n Go has donated 15,276 items to 51 organizations.
The group began by making things for the Midwest Mission Distribution Center, now called Midwest Mission, which was founded by the United Methodist Church. Midwest Mission sends supplies around the world to help people with basic human needs. Needham likes supporting this Methodist organization, knowing they are helping agencies and people in impoverished countries. The group makes items to Midwest Mission's specifications, including flannel diapers, quilts without batting, cloth bags, outfits for boys and girls, kimonos and baby sweaters. They also make balls of "plarn" – plastic yarn made by cutting plastic grocery bags into strips that are looped together. The balls are used by others to weave into sleeping mats.
The many local organizations served include elementary schools, nursing homes, Compass for Kids, Inner City Mission, Ronald McDonald House, Simmons Cancer Institute, Sojourn House, SPARC, St. John's Breadline, St. John's Hospital, The James Project, The Parent Place, Washington Street Mission and Wooden It Be Lovely.
Word-of-mouth and networking are how the group has grown in numbers and expanded to serve many different agencies and needs. Conversations with other customers at JOANN Fabrics led to additional women getting involved. A woman from Jacksonville shared information about Elder Orphan Care that serves adults in Romania. As a result, Stitch 'n Go made over 300 Christmas stockings along with fleece hats for this ministry.
Sarah Oglesby, director of programs for Compass for Kids, explains what it has meant for Camp Compass students to receive handmade blankets, hats and scarves which are placed inside brand-new backpacks. "The students' eyes light up each holiday season when they receive their soft blankets and winter wear," says Oglesby. "To have a brand-new blanket of their own is special enough, but to have a blanket in their favorite color, or representing their favorite sport, makes these gifts meaningful to our students." Students also received fidget squares, which are sensory items that are a fun stress relief and hand-eye coordination tool. "Compass for Kids works hard to remove barriers for our students and to serve the whole child," says Oglesby. "Partnerships with groups like Laurel's Stitch 'n Go help us to go beyond just academic and social-emotional support to satisfy a basic need that the students may have and to make them feel special."
Stitch 'n Go uses large quantities of fleece and cotton fabric, and nothing goes to waste. Fabric scraps are used to make surgical caps for kids, fidget squares for children and also adults in nursing homes and toys for dogs and cats. Animal toys are donated to the Animal Protective League, along with bags of remaining scraps that are used to stuff dog beds.
The group is self-supported by its members and the many people who have donated sewing machines, fabric, yarn, thread and other materials. Handmade Items are periodically sold at Laurel UMC events. Laurel UMC member Ralph Barr keeps their sewing machines humming by handling needed repairs.
Needham and Dahlquist both say they look forward to the bimonthly events, held on the second and fourth Tuesdays of each month from 9:30 a.m. to 2 p.m. at Laurel UMC. Fellowship, laughter and fun are on full display at every gathering, which includes a potluck lunch. They cite the bonds that have developed by working together. "People who didn't know each other are now friends and buddies," says Dahlquist. There are jobs for anyone who has an interest. Cutting, sorting and labeling are other tasks. Some women also work on projects at home.
Stitch 'n Go welcomes hearing from other agencies if there is a need they can help fulfill. They also welcome anyone to join the group who shares their joy and passion for service through sewing and creating. For more information or to get involved, contact Laurel UMC at 217/525-1866 or info@laurelumchurch.org.
Karen Ackerman Witter is a member of Laurel United Methodist Church and has seen the wonderful items made by the enthusiastic and talented members of Stitch 'n Go.