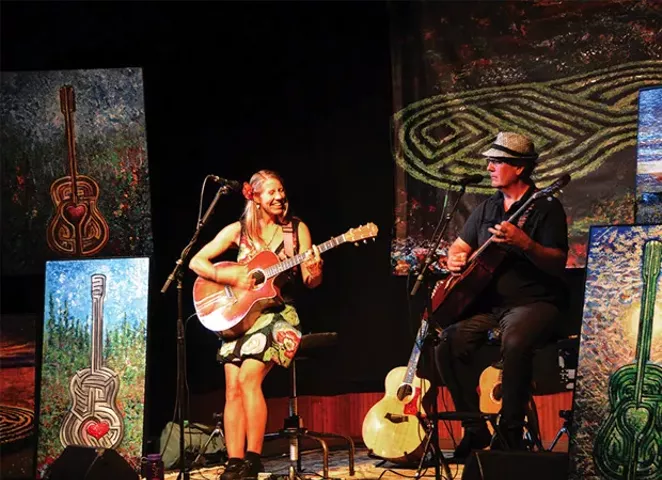 First, let's think some good thoughts for friends, family and everyone touched by Hurricane Irma. Fellow musicians Ken Carlyle, Joshua Reilly and Patrick Hagerman, all formerly from central Illinois, live in the central Florida region. Josh came up here to ride the storm out and played a gig at the Butternut Hut last night (Sept. 13) before heading home. I haven't checked with our other friends, but we're trusting all is okay and the music shows will flow again soon.

It's time again for Music at the Museum, as the Wisconsin world music duo Patchouli takes the stage this Thursday in our Illinois State Museum auditorium. Hosted by Illinois singer-songwriter musician Chris Vallillo, the concert features this terrific twosome performing guitar pieces and vocal performances, all accompanied by an animated painting experience going on behind the performers. Yes, you need to see it to understand it and believe it.
On my way to the Americana Festival this week in Nashville, Tennessee, I stopped by Gary and Roberta Gordon's house near Sparta, Illinois. Gary is playing with Ivas John this coming weekend for a couple gigs. Ivas is a tremendously talented singer, guitarist and bluesman who recorded Good Days a Comin', an all-acoustic folk and country blues album, at InsideOut Studios last year with Gary. Ivas also does electric blues with a full band and keeps a busy schedule (check out his website) of several gigs a week. This Friday evening, he rolls into the Walnut Street Winery joined by Gary on his Dobro and Gallagher guitar.
On Saturday, Ivas, again joined by Gary, plays at SamJam, Unplugged on the Prairie, a noon to midnight acoustic music festival held on the Macoupin County fairgrounds in Carlinville. Now in its fourth year, SamJam is organized by Peter Oswald with his son Sam, who was diagnosed with neurofibromatosis (NF) as a young boy. Now 32, Sam and his family, through the proceeds from SamJam, have donated more than $46,000 to NF Midwest. Also in the lineup this year are The Deep Hollow, Theresa O'Hare and myself, The Mighty Pines, Lindsay Lou and the Flatbellys and Trout Steak Revival. Get all the skinny at http://samjam4nf.com.
Back on Friday night, the Paris-Belle House Concerts in Williamsville present Patty Stevenson and Craig Siemsen, two Wisconsin folk musicians performing original and traditional songs with guitar, harp and mountain dulcimer. Plus, in a special bonus, Patty, a classically trained pianist, will play several pieces on the Paris-Belle hosts' Baldwin parlor grand piano. I met Patty and Craig at the Midwest Folk Alliance conferences a few years back, and we had a grand time swapping songs and stories. They are truly talented people sure to entertain with a night of delightful and insightful acoustic music. Email paris-belleconcerts@outlook.com for information and reservations.
It's time to gear up for the second annual Oktoberfest outdoor party in front of Frankie's Brewhaus in beautiful downtown Springfield this weekend. Friday features The Loops, Take 10 and After Sunset with Mike Burnett & the Blue Suns closing it out inside until midnight. On Saturday it's Groove Daddies and Kapital Sound with Big Daddy Jasper closing out inside. Expect plenty of food and beer, all done up right.
This coming Wednesday, Sept. 20, the great Bobby Whitlock, the co-founder of Derek and The Dominos, is joined by singer-guitarist-saxophonist CoCo Carmel to perform at the Sangamon Auditorium. This husband and wife duo play plenty from their decades-long song catalog, along with doing the usual suspects from the insanely famous Layla album that Bobby produced back in the day. These two are genuine classics of our time and not to be missed.
Off we go into the wild blue yonder.
Contact Tom Irwin at tirwin@illinoistimes.com.