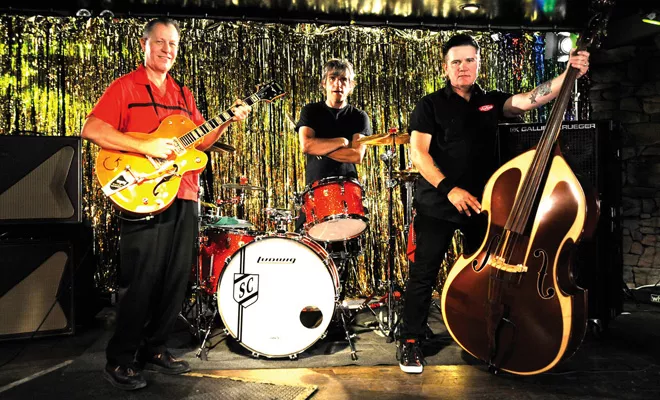 Here we are a-moseying along through 2014 like nobody's business, knocking on autumn's door with a full week of September live music shows in our laps. The fairs are over, school is in session and the warm-weather-outdoor festivals nearly finish up this month.
But fear not music fans of all ages, the shows go on and on and on and Illinois Times is here to let you know who, when and where, while the why is up to you. One good look at the Pub Crawl (don't forget to check the listings online – it's easy and updated at www.illinoistimes.com) sets the mechanism in motion to make a move to motivate toward the music. Thursdays are chock full of karaoke, DJs, open mics and live shows, including the awesome and indomitable Joe Frew at Craft Beer Bar. In case you haven't noticed, the "not-so-new bar on the block" at Fifth and Monroe next to Gallina's Pizza hosts live acoustic music every Thursday, Friday and Saturday with Go-Joe holding down the steady Thursdays.
On Friday evening, Robbie's continues a wonderful string of superb performances with a show by Springfield's finest jazz ballad singer Johnnie Owens. Backed by some of the best musicians in town, Owens croons to make you swoon and plays to make you sway, bringing on a soulful set of classics guaranteed to blow your mind. Be sure to add Sept. 19 to your social calendar. Johnnie and friends entertain at the Hoogland Center for the Arts in the Club Room at 8 p.m.
Also on Friday, Here Come the Mummies, a funk-filled frenzy that sold out last time they played Boondocks, once again brings a rather odd but interesting show to the northside nightclub. What do you say about a group that dresses up like mummies and plays killer funk and rhythm and blues? "Wahh! I want my mummy!" Or something equally as silly? Don't let the outlandish stage antics fool you though, these guys are accomplished musicians from Nashville and they put on one the most incredible live shows touring the bars these days.
Our good buddies in Powerhouse, without a doubt one of the area's most kinetic and stirring rock bands, open for nationally touring Ozzy tribute band Killer of Giants at Third Base Sports Bar on Saturday. Do you not know that this will be a show of shows?
Those handsome devils The Timmys, host an EP release party at Black Sheep Café on Saturday night. The puck-ish, punk-ish and possibly pop-ish boys in the band let loose a digital copy on Tuesday and promise to deliver seven-inch physical vinyl copies later in the year, at an, as yet, undisclosed date.
On Sunday while I am away on assignment (as they are wont to say), the Brewhaus stage hosts boisterous rockers Owen and Dooley Present along with national touring hard rockers Arc and Stones. The new flooring in the venerable establishment does well reflecting sounds, as well as enhancing the general atmosphere of the bar flavor.
The hits just keep on coming as the one and only Rev. Horton Heat wraps up our week with a Wednesday night show at Donnie's Homespun. There is nothing under the sun like a RHH show and the only way to experience it properly, is to be there in person. Don't let those best buddies best you by telling you how great that show was you could easily have attended, but you, instead, opted for a nice night in on the couch. Go, see, listen, tell others.
Now I'm out here "having fun, in that warm California sun."
Contact Tom Irwin at tirwin@illinoistimes.com.