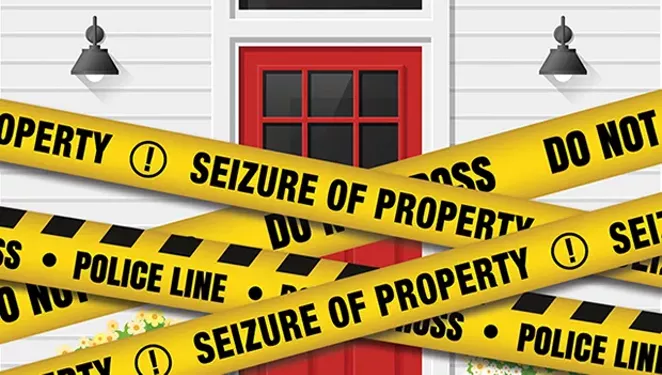 The case sounds simple.

Acting on a tip, Springfield cops last July 26 served a search warrant at a Black Avenue home near Fairview Elementary School, finding a dozen marijuana plants in full bud and 33 others less far along. Possession of between 20 and 50 plants is a Class 3 felony, punishable by probation or a prison sentence as long as five years.
Todd W. Hodges, the homeowner, had been in trouble before, picking up a felony for growing pot in 1996 (he successfully completed probation) and pleading guilty to misdemeanor charges of possessing pot while also holding a stun gun in 1990 (he paid a $200 fine). His criminal record is otherwise clean, according to Sangamon County Circuit Court records.
Five days after the raid, the state's attorney's office filed paperwork to seize the house on the grounds that it was used to grow pot and that the home "is the proceeds of a felony violation of the Cannabis Control Act," even though Hodges had inherited the property after his mother's death in 2014. Prosecutors waited until February, more than six months after the bust, before charging Hodges with a crime. He was released on his own recognizance.
Local prosecutors and cops, who refer seizure cases to the state's attorney's office, almost never go after real estate. More than 150 forfeiture cases were filed in 2017 by the Sangamon County state's attorney's office, which sought court permission to seize 51 vehicles and more than $280,000 in cash from alleged drunken drivers, suspected dope peddlers and myriad other purported criminals. Hodges' home is the only seizure case involving a house or other real property. Dwayne Gab, an assistant state's attorney who handles forfeiture cases, says the last seizure case involving real estate that he can recall was filed more than five years ago.
Should prosecutors succeed in their quest for the deed, the house, which is worth $65,000 according to county records, likely will be auctioned, with proceeds split between Springfield police, the state's attorney, the state's attorneys appellate prosecutor's office and Illinois State Police.
Such forfeitures are handled in civil court, where burdens of proof are lower than in criminal court, which has drawn criticism from both liberals and conservatives who argue that it's too easy for the government to seize property and that criminal convictions should be required before cash, cars and other things of value can be seized. While cops and prosecutors say that forfeiture via civil law is an important tool to achieve justice, critics say there's too much temptation to police for profit.
A car owner who drives drunk or without a license can win a forfeiture case and get a vehicle back if no drugs are involved, a judge is convinced that seizure would pose an undue hardship and title to the vehicle is transferred to a relative. But no hardship argument is available if marijuana or other drugs are part of the case. Hodges says he'll be homeless if authorities take his house, where he grew up and still lives with his two cats, Ying and Yang.
"There's only one person on this block who's been here longer than my family," Hodges says. "This can't be real."
It's a different story at the intersection of South Grand Avenue and South Eighth Street, where Springfield cops in November brought down a massive pot grow on one of the city's busiest streets.
Police found nearly 1,000 plants on the premises of a former dry cleaning shop that had been turned into a commercial growing operation. The trail led to the alleged grower's home on West Cook Street, where police seized several pounds of marijuana and 20 pounds of edible marijuana products.
Zachary Pierson, the alleged grower, is facing six charges, including two Class X felonies, the state's most serious category of crime reserved for murderers, rapists and other criminals deemed serious risks to society. Prosecutors have moved to seize Pierson's 2011 Hyundai Sonata, but not the dry cleaning shop or the West Cook Street house. The home is owned by Pierson's mother, who purchased the dry cleaning shop for $45,000 in 2013, according to records in the county recorder's office, then transferred the building to a trust nine months later.
Why seize the home of an alleged grower caught with fewer than 50 plants while not going after property where nearly 1,000 plants were found?
"It wasn't referred to us from the Springfield Police Department," Gab says. "I don't know why not."
Via email, Lt. Brian Oakes of the Springfield Police Department noted that a trust owns the dry cleaning shop and that the Cook Street home is owned by Pierson's mother, who the lieutenant wrote wasn't involved in the marijuana operation. The law doesn't allow authorities to seize property from people who had no knowledge of illegal activity. Trust beneficiaries are not a matter of public record.
"I would say at this time there are no plans to pursue a forfeiture of either property," Oakes wrote.
The city placarded the building for code violations following the November raid. City files show that Pierson, free on bond, is a primary contractor and contact person for building inspectors tasked with overseeing work to correct violations. He also is listed as an owner in an application to register the building with the city filed two weeks after the raid.
Cars, cash and shoes
It's usually cash or cars, but the law allows prosecutors to seize most anything of value from alleged violators of more than 60 statutes ranging from DUI laws to the state Forest Products Transportation Act.
During the past year, police in Sangamon County have seized a television, a video game system and 57 pairs of shoes, mostly Air Jordans. The shoes came from a pot dealer who lived in the basement of his parents' home, where police found and seized more than $71,000 in cash. It was the single biggest haul in 2017. The dealer got probation. The smallest seizure involved $59 found in a wallet that was on a kitchen table inside a home where marijuana was discovered during a search nearly a year ago. The wallet's owner hasn't been charged with a crime.
Between 2005 and 2015, police in Illinois seized an average of $31 million annually under state law, not including the value of vehicles, according to a 2016 report issued by the Illinois Policy Institute and the American Civil Liberties Union of Illinois, strange bedfellows in a growing fight against forfeiture laws. During that same decade, an average of $36 million was seized annually in Illinois under federal law, according to the report.
Folks who've committed no crimes can have assets seized, with the burden of proof on citizens, not the government, to demonstrate that cars, cash, real estate and other things of value should not be taken. And so state police who seized $10,000 from a suspected cigarette smuggler stopped on Interstate 55 in Sangamon County last year kept the cash, without showing where it had come from. Debunking the suspected smuggler's tale of a trip to O'Hare International Airport to drop off a friend, the purported owner of the cash, was enough. There was no one by that name on the plane, and the license plate of the suspected smuggler's van hadn't shown up on plate readers at the airport. No criminal charges were filed.
Property owners who wish to contest seizures must post bonds equaling 10 percent of an asset's value before they can even argue their case. Authorities can, and have, seized cars from people who have loaned vehicles to drivers who have been arrested for DUI or found with small amounts of drugs. And cops in Illinois get to keep 65 percent of proceeds from assets seized by officers, creating an incentive, critics say, to bust folks based on the potential for financial gain instead of the potential to improve public safety.
Reform, here and elsewhere
Gov. Bruce Rauner last September signed a bill designed to curb abuses. The new law, which passed the General Assembly with just one dissenting vote, will shift the burden of proof to police, who will have to show by a preponderance of evidence that assets are tied to illegal activity and so should be forfeited. Police now need only show they have reasonable grounds to seize assets, the same standard of proof required to arrest someone but far short of what's needed for a conviction.
Under the new law, which takes effect July 1, police no longer will be able to seize a car, cash or anything else based on drug residue detected on a sandwich bag or a pipe – at least two doses of an illegal drug will be required. And anyone wishing to contest seizure no longer will be required to pay 10 percent of an asset's value to be heard in court.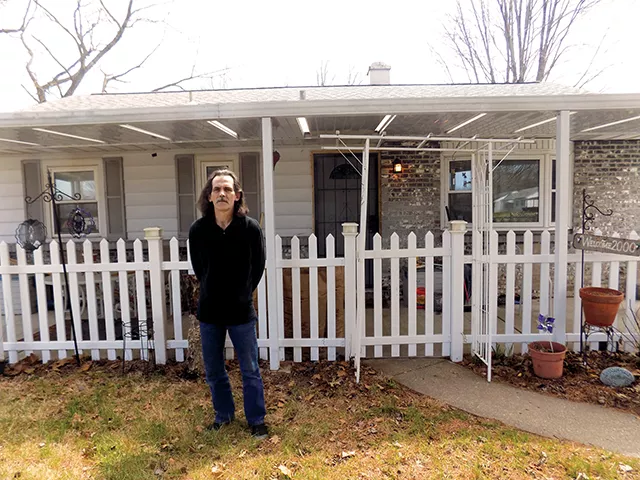 It's far short of what's needed, says Ben Ruddell, an attorney with the ACLU of Illinois who coauthored the 2016 report on forfeiture with Bryant Jackson-Green, a criminal justice policy analyst with the Illinois Policy Institute. Most commonly, Ruddell says, seizures target folks with low or moderate incomes who aren't drug kingpins.
"We take gains incrementally, where we can," says Ruddell, who has spent hours watching forfeiture proceedings in Cook County. "The vast, vast majority of cases do not involve large sums of cash and do not involve extremely expensive automobiles. They involve people in beat-up PT Cruisers and 20 bucks they had when they were pulled over and had cocaine in their pocket."
The two most-needed reforms, Ruddell says, are an end to forfeitures absent criminal convictions and a prohibition on police getting a percentage of whatever is seized. Prosecutors and police, he said, weren't ready for such changes as the bill made its way through the legislature.
"Various things were non-negotiable (for the opposition), including a criminal conviction as a prerequisite to forfeiture, as was distribution of proceeds," Ruddell says.
Other states have moved more aggressively. Criminal convictions are required before property can be seized in Nebraska, Montana, Connecticut and New Mexico, where critics from across the political spectrum have pushed for change. New Mexico has gone the furthest, banning authorities from seizing property from suspected criminals via civil courts and requiring that proceeds be placed in general funds, as opposed to police accounts, to discourage so-called policing for profit. New Mexico also has barred state and local police from calling in the feds so that federal forfeiture statutes, which allow state and local authorities to split proceeds with the federal government, can be used to skirt more stringent state laws.
New Mexico overhauled its statutes in 2015, the year after a video of government lawyers discussing forfeiture strategy and procedures was made public. The video of a daylong conference included footage of a city attorney discussing the workaday world of seizing cars, cash and other property. The room was jampacked with lawyers in search of tips while also fulfilling annual education requirements needed to keep their bar licenses in good standing. "This is the first time I've been asked to speak at a free (legal education class) that sold out," Harry "Pete" Connelly, attorney for the city of Las Cruces, gushed as he began his presentation. "Oh my God: This is like the Academy Awards. I've never been to something like this."
First and foremost, Connelly advised, get your own storage facilities, because fees for storing cars and other stuff you seize adds up quickly. There is nothing inherently wrong with government profiting from forfeiture statutes, he said. And stay out of criminal court, where the standard of proof is high, with ordinances that allow for seizing property via civil law. "If you're on the criminal side…you've got a bad problem," Connelly told the crowd. "You've got to get into the civil side with your ordinance."
The nation's highest court doesn't necessarily disagree.
The guiding U.S. Supreme Court decision came in 1996, when Chief Justice William Rehnquist wrote that Michigan was within its rights to seize a car in which a man had been found consorting with a prostitute. The man's wife, who co-owned the vehicle, said that she knew nothing about her husband's dalliances and so the car that was half hers should not be taken by the state. That the wife didn't know that her husband was having sex with a prostitute didn't matter, the court decided.
"Her claim…that she did not know that her husband would use the car to violate state law is defeated by a long and unbroken line of cases in which this court has held that an owner's interest in property may be forfeited by reason of the use to which the property is put, even though the owner did not know that it was to be put to such use," Rehnquist wrote. "These cases are too firmly fixed in the country's punitive and remedial jurisprudence to be now displaced."
Illinois law does allow so-called innocent parties to contest forfeitures and win cases based on arguments that they had no knowledge of illegal activity. Typically, that happens when a finance company holds a lien on a vehicle and can demonstrate an arms-length relationship with whomever got in trouble. "It's successful all the time," Gab says. "The statute specifically requires us to (convey) the vehicle to the lien holder."
Excessive punishment
Illinois courts in recent years have struggled with what constitutes justice in forfeiture cases. The leading example involves a Harley-Davidson three-wheeled motorcycle seized by police in Robinson, a Crawford County town of less than 8,000 people.
Police seized the tricycle four years ago after arresting Mark Henderson for DUI. Henderson was the driver, but his wife, Petra, was the owner as well as the passenger. She argued that she had no power to stop her drunken husband from piloting the Harley and that taking a vehicle for which she had paid $35,000 was an excessive penalty, particularly considering that she was charged with no crime.
The trial court allowed the seizure but was reversed by the Fifth Appellate District Court, which unanimously agreed that taking the Harley was an excessive penalty. In February, a split state Supreme Court overturned the trial court, ruling 5-2 that police were within their rights. The 13-page majority opinion was met with a blistering 39-page dissent from Chief Justice Lloyd Karmeier.
"Standing alone outside the Corner Place sports bar in the middle of the night along an empty street in her small, rural town, Petra Henderson had to make a difficult decision, and she had to make it fast," Karmeier wrote. "Her husband, who had no driver's license and was drunk again, had stepped out ahead of her as they left the bar near closing time, jumped on her $35,000 Harley-Davidson trike motorcycle and insisted, over her protests, that he be allowed to drive it home. Petra was powerless to physically stop him, and they both knew it."
If she got on, Petra Henderson risked injury, Karmeier wrote, but she at least could help ensure that her husband would go straight home, a distance of six-tenths of a mile. And, while driving under the influence is a serious offense, the judge wrote that taking a vehicle worth tens of thousands of dollars went too far.
"Justice does not need to confiscate her trike to subsidize the Robinson Police Department in order to feel served," Karmeier wrote. "If the state and the trial court thought harsher punishment was due, the husband should not have been given probation."
In his dissent, Karmeier cited a decision issued last year by the Fourth District Appellate Court, which backed a trial court judge who ordered a 2005 Acura returned to a man who had pleaded guilty to misdemeanor theft charges. Arrested by Normal police and originally charged with possession of burglary tools, the car's owner had driven between car washes attempting to steal from change machines. He was not a particularly skilled thief, and losses were limited to 50 cents. Agreeing with the trial court, the Springfield-based appellate court ruled that taking someone's car after they've pleaded guilty to stealing less than $1 is unconstitutionally harsh, particularly given that the car wasn't needed to break into change dispensers. The thief, the appellate court noted, could have taken a bus to the scene of the crime, or walked.
Gab says he's concerned that the Acura case could blur the line between criminal cases and asset forfeiture cases that are handled in civil court. If courts look at criminal penalties to help decide whether civil forfeitures are justified, prosecutors might be tempted to charge cases as aggressively as possible to bolster forfeiture actions. "I don't believe that's what the law says," Gab says. "But I believe that might be one interpretation."
So far as Gab is concerned, civil forfeitures and criminal cases should be handled separately, and he sees no problem with taking property absent criminal convictions. "It's an appropriate sanction for people engaged in criminal activity," Gab says.
As for Hodges' home on Black Avenue, Gab defends his office's decision to seek the deed. While Hodges is charged with a Class Three felony, he could have been charged with a more serious Class X offense if prosecutors had gone by a law that calculates punishments based on the weight of plants – including stems, roots and other unusable portions – instead of the number of plants, Gab says. "He was engaged in growing marijuana in the house," the prosecutor says. Why haven't prosecutors attempted to seize real estate from other suspected criminals? "I think he's the first guy where circumstances warranted," Gab answers.
Meanwhile, Hodges worries.
"I'm afraid that I'm am going to lose my house," he says. "But I have faith. Something tells me that, in the end, they're not going to be able to do it."
Contact Bruce Rushton at brushton@illinoistimes.com.