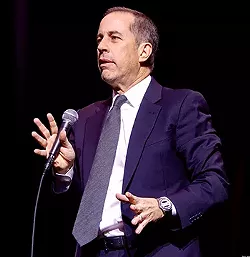 In both the hit '90s-era sitcom Seinfeld and his current web series Comedians in Cars Getting Coffee, Jerry Seinfeld habitually cedes the spotlight to others, content to play a supporting role in his own projects, providing his colleagues and co-stars the opportunity to shine. This tendency obscures the fact that the reason Seinfeld is in a position to helm such shows in the first place is because he is, in fact, a consummate stand-up comedian – something of which attendees at Thursday's two sold-out shows at Springfield's Sangamon Auditorium on the UIS campus were forcefully reminded.
"What the hell is he doing in Springfield, Illinois anyway?" he asked at the top of the second show, doing his impression of an incredulous audience member. "The other three aren't even going to be there! Why bother?"
Approximately 90 minutes later, the audience had its answer. Seinfeld's brand of observational humor, honed in clubs and on television since the 1980s, seems to have sharpened over time and at 63, the comedian is lean and his performance style is physical, pacing and crouching and waving his arms – all the more impressive for having done so twice in one night, with no obvious wear-and-tear beyond an occasional scratchiness in his voice when he (frequently) raised it in pseudo-agitated harangue.
Divided roughly into two sections, the show began with his thoughts about the modern world at large during the first half ("Uber is Uber for you, you're Uber for your phone"), delving into more personal material about his current life as a husband and father ("my real job") in the second.
At one point during the second show an audience member yelled out a request for an old routine. At first Seinfeld was salty at the interruption ("Of course I should realize that when I pause, that means it's someone's turn to tell me what to do") but instead of shutting the fan down, he good-naturedly decided to rise to the challenge of trying to do the requested bit - a childhood remembrance about Halloween he claimed not to have performed in decades - from memory. While doing so, he also took the opportunity to offhandedly instruct the audience on "the rules of comedy," ("I know them very well but I don't claim to understand them") including a brief rumination on why certain bits will get big laughs in some contexts and flop in others. After managing to nail the older material – and taking pride in the accomplishment – Seinfeld segued back into his current routine by explaining that when he first did the Halloween story he was closer to the age of a trick-or-treater, whereas now he sees things from the point of view of a parent. "That's one of the nice things about having a long career in comedy like this," he said with obvious sincerity. "You and your audience kind of grow up together through these experiences."
Acerbic, affable, athletic – and most of all, extremely funny – Seinfeld treated audiences at last night's concerts to a rare opportunity to witness a venerable and generous performer still at the top of his game.
Scott Faingold can be reached at sfaingold@illinoistimes.com