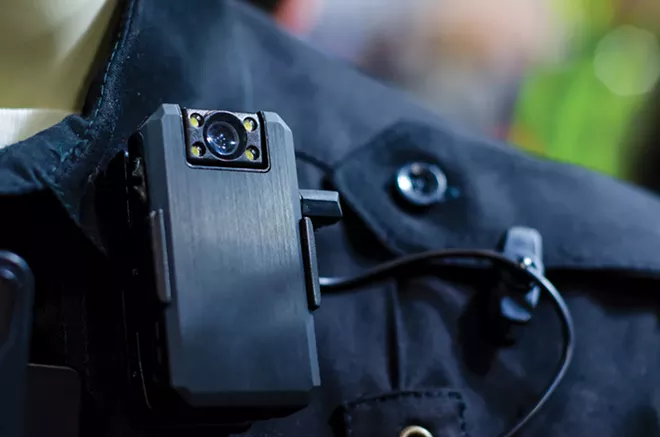 Kokela Slaughter is proud of her son who will soon graduate from Lanphier High School, but she wants to know why he was punched in the head by a Springfield police officer.
On Nov. 17, police officers responded en masse to a fatal stabbing at Lanphier High School. A 15-year-old girl has been charged in the slaying of 18-year-old Pierre Vernell Scott Jr.
But when police officers responded to the melee, Slaughter said her son, Torie Rice, was struck in the head with an officer's fist.
Rice was arrested at the scene but was released two days later from the Sangamon County Jail. No charges were filed.
Springfield police have refused to share video and audio from the officer's body camera, leaving the mother perplexed as to why her 18-year-old son was struck and detained.
"He ain't really talked about it, because that was his best friend who died. So, he is just in a depressed mode, not wanting to talk about the whole situation," Slaughter said.
She said she asked to see the video, but her request was denied.
"The head of internal affairs said the case was under investigation and that I couldn't see it," she said. She went ahead and filed a complaint against the officer she believes to be involved.
Lt. Robert Markovic, the head of internal affairs, did not immediately respond to a request for comment from Illinois Times.
The Springfield Police Department is not always consistent in its handling of body camera videos.
On Dec. 9, the father of a 14-year-old alleged sexual assault victim requested a body camera video of a police officer responding to a call regarding his daughter being in an apartment with 22-year-old Zane Merreighn, the son of detective Jennifer Oglesby Mack.
Initially, his request for the video was denied, but after Illinois Times sought comment from Mayor Jim Langfelder, the department did an about-face and allowed the family to watch it on Dec. 21.
The newspaper's request to receive the video also was denied, but after Illinois Times filed an appeal with the Illinois attorney general, the department again changed its position and said it will soon release the video to the paper.
Jonathan Manes, a lawyer for the MacArthur Center for Justice, said unfortunately there is a great deal of inconsistency among police departments in how well they comply with the law. The MacArthur Center is a Chicago-based civil rights group that deals with criminal justice issues.
But why do police departments avoid releasing videos in potential disciplinary cases?
"I think it's just an allergy to public accountability and transparency," Manes said. "Police would rather not have the public see and weigh in on an incident – certainly not until they decide exactly what they're going to do with the incident. So, it happens all too often that by the time the public gets to see the footage, any disciplinary proceedings are already over, and sometimes court cases are over and there's nothing left to be done about it, really."
Manes said Illinois law is clear that videos showing use of force or possible wrongdoing on the part of a police officer are supposed to be made public. And unfortunately, sometimes videos are withheld to cover up lies, he said.
For example, in the 2014 shooting of Laquan McDonald, Chicago police did not make dashcam videos of the incident public until a judge ordered them to do so – 13 months later. The video depicted a prone 17-year-old McDonald being shot 16 times by officer Jason Van Dyke.
"What we saw in Chicago with the Laquan McDonald shooting was a situation where the police claimed that that boy was lunging at an officer, so he was shot," Manes said. "But the video showed plain as day that he wasn't lunging. It directly contradicted the police account.
"The point of having body cam footage is so that there's a measure of transparency. ... Of course, people may have different interpretations of what's on a video, but at least everybody gets to see it and make that judgment for themselves."
Former police officer Van Dyke is slated to be released from prison Feb. 3 after serving a little over three years on a second-degree murder conviction.
Sam Stecklow, a journalist with the Illinois-based Invisible Institute, which promotes government transparency, said the law is clear that police disciplinary records and supporting videos are to be made public. But that does not mean police departments comply with the law, he said.
"I think it's kind of hardwired into a lot of police officers not to release information – even if there are laws that require or mandate the release of certain things. If the officer isn't doing anything wrong, it's in everybody's best interest for the information to be released."
And Manes, with the MacArthur Center for Justice, added, "The whole point of the body cams was to give the public some confidence that complaints will be handled appropriately. So, when police refuse to disclose footage of a situation where something may have gone wrong, I think it makes people quite skeptical about what's going on. People are very skeptical of what they're not being permitted to see."
Scott Reeder, a staff writer with Illinois Times, can be reached at sreeder@illinoistimes.com.