Kathryn Harris remembers the first meal she ever cooked like it was yesterday. "I made pork chops, mashed potatoes and green beans. For eight people!" Harris, who retired in 2015 as the director of library services at the Abraham Lincoln Presidential Library and Museum after a 45-year career, is one of 10 siblings. She described growing up in a joyful, boisterous home. "I started cooking when I was in the fifth grade. My mother didn't get off work until five or six. I got home at 3, so I cooked dinner. We always had dinner as a family at 6 p.m., give or take. Mom would tell me what to do and she'd set it all out. I always liked being in the kitchen with my mom, so dinner became my thing."
Harris attended a segregated school through eighth grade, then enrolled at the mostly white Carbondale Community High School as a freshman. Harris excelled at CCHS and was the salutatorian of her graduating class of 1965. She's stayed close with some of those friends in the years since. "I'm the only pepper in the salt, as it were, and we've had very good conversations over the years about race. The valedictorian of our class said to me once: 'Kathryn, I've often wondered if I really was the valedictorian, or should it have been you? We were in all the same classes and we both got A's.' And I replied, 'Yeah, I've wondered about that too. I don't think Carbondale Community High school would have been ready for a Black valedictorian back in 1965."
Harris went on to study education at Southern Illinois University in her hometown of Carbondale. "I wanted to teach high school French but, in the end, none of that worked out because my daughter, Kori, came along," Harris recounts with a smile. "I was pregnant when I graduated."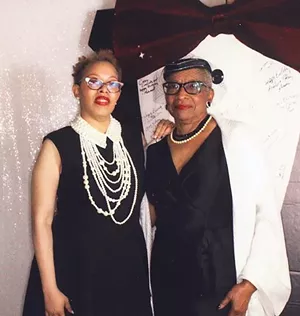 Following her graduation from SIU and armed with glowing recommendations and a stellar academic record, Harris applied for several teaching jobs but got no response. "At this point it was August, so I called to find out what was going on," said Harris. "Well, when I was filling out the applications, I told the truth that I was a single mom. When I finally spoke with the principal, he told me that the board felt I was not of the moral character to teach children," Harris said with a sigh. "So, because I couldn't get a job as a teacher, I ended up going to library school. And I've never looked back. I truly love being a librarian."
Harris was offered a graduate assistantship in the undergraduate library at the University of Illinois. "They helped me find housing. Kori and I lived in a sorority house for the first semester, and my sorority sisters all helped to look after her."
Mother and daughter eventually moved to Springfield, and Harris got her first job as a secretary, but it didn't last for long. "My supervisor said to me, 'You are the worst secretary I've ever had! I'm going to help you get a job in your profession!" Harris remembered with a smile. "Shortly after that, in 1971 I was hired at Lincoln Library. I believe was the first Black librarian with a degree to work there. I worked in the reference department, and then I moved out to Sangamon State, now UIS."
During this time Kathryn met Al Harris and they married in 1972. They moved to Florida where Kathryn got a job working at Florida International University. "We got the seven-year itch, so we separated, and Kori and I moved back up to Springfield. But my husband cared for me so much that he courted me all over again and we remarried a year or so later." Al died in 2005 after a swift battle with pancreatic cancer. "We were married for 32 years in the end," Harris said warmly, "with a little break in between."
Notwithstanding that Harris was once deemed morally unfit to educate, she has managed to enlighten and impact children and adults alike for decades. Harris was on the board of the Sangamon Country Historical Society in 1998 when they were in the process of planning the group's first cemetery walk at Oak Ridge Cemetery. The now-annual event titled "Echoes of Yesteryear," features a tour of the cemetery with actors in period costumes sharing the personal stories of some of the individuals buried there. Harris noted that there were no persons of color featured on that initial list, so before she knew it she was researching her own historical presentation. "I was taken with Phoebe Florville's marker. She was the wife of Mr. Lincoln's barber. She had a Victorian grave marker that was a tree with broken branches, full of all kinds of symbolism. I read every piece I could find about her." Harris subsequently was asked to present Harriet Tubman for a program at Iles School, and has since portrayed her and many other historical figures.
Through this work and her engagement in various community organizations, Harris has become a well-known leader, historian and educator in the Black community and Springfield at large. She is still an active board member of the Springfield and Central Illinois African American History Museum as well as the Abraham Lincoln Presidential Library and Museum. COVID-19 has confined her historical costumes to the closet for now, but Harris is still finding ways to engage with the community, and she is spending more time in her garden and kitchen.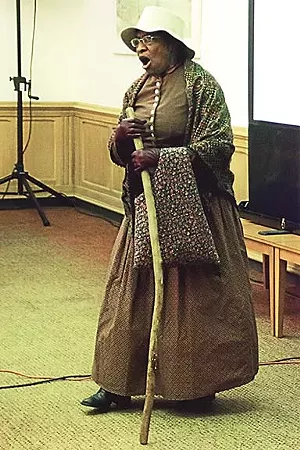 "I still like to cook," Harris said, "especially bake." Indeed, the love of cooking that she received from her mother has manifested into "rooms full of cookbooks!" Harris laughed. Her collection includes local classics like the Junior League Honest to Goodness Cookbook and many spiral-bound church and community cookbooks, including Food for the Soul by Annie Boyd, founder of Boyd's, the iconic Springfield restaurant. Her books showcase the often underappreciated range and sophistication of the Black culinary experience, and include newer publications, from style icon B. Smith and Carla Hall, to iconic publications like The Ebony Cookbook, featuring excerpts from the magazine's food column known as "Date with a Dish."
"Look at this," Harris remarked, pulling a worn copy of the classic Better Homes and Gardens New Cookbook off a shelf. "It's the first cookbook that I ever had. My mom gave me this for Christmas when I was going away to library school, and she died shortly after. My daughter tried to get me a new one because this one is so worn, but I held on to it. It's a keeper." A true librarian, Harris surveyed the large collection of books on the shelf in front of her. "I really should make a list."
Ashley Meyer is a Springfield-based cook and writer. She first met Kathryn Harris when she was researching a New Year's Day article on Hoppin' John for Illinois Times.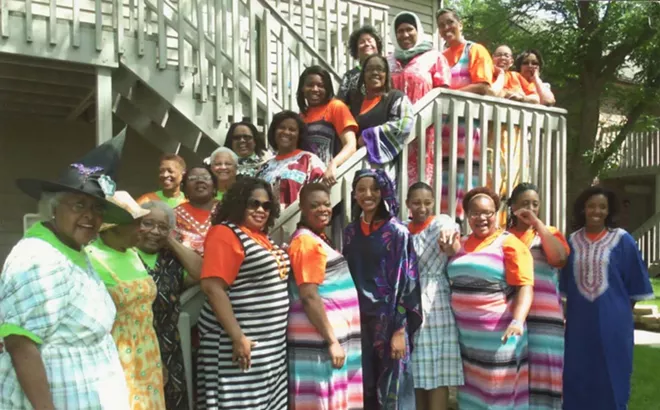 Some Kathryn favorites
What she's reading now: Caste, by Isabel Wilkerson. The Book of Gutsy Women: Favorite Stories of Courage and Resilience, by Hillary Rodham Clinton and Chelsea Clinton. Memorial Drive: A Daughter's Memoir, by Natasha Trethewey.
Favorite meal: Perfectly cooked prime rib ("Love the fat!"), steamed asparagus and buttery twice-baked potatoes
Best way to spend a night in: "I'd settle down to watch a show. I've seen Hamilton three times since they released it. And I've been watching "Greenleaf" on the O network, about an African American family of pastors at a Memphis megachurch."
Favorite local eatery: Café Moxo for breakfast
What she'll make with garden bounty: Salsa