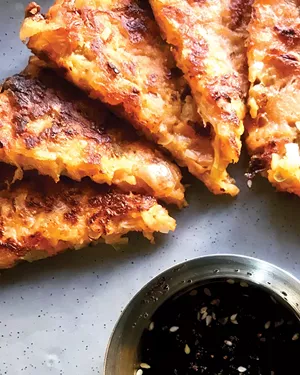 We've been living in our converted school bus for two months and I have to confess it's been quite a challenge trying to figure out how a family of two adults and a Jack Russell can live a rich and full life in a downsized minimalist environment. When we began the journey I had grand notions of living off the grid and preserving food the way our ancestors did before the advent of refrigeration. Uncertain as to whether we'd have access to fresh fruit and vegetables while camping our way through the pandemic, and because the temperatures in late April and early May were quite cool, I bought way too much perishable produce at the onset.

The early days of quarantine were spent making kimchi, sauerkraut and pickled veggies. I took great pleasure in watching the little gas bubbles rising up in all my multihued jars of fermenting vegetables. The kimchi I started two months ago is continuing to ferment and is becoming stronger and funkier every day. I tried to give away kimchi to folks who have allowed us to camp in their driveways, but I haven't gotten any takers. (Next time we have a pandemic I should probably make brownies to give away instead.) Normally I'd refrigerate my kimchi after three weeks to slow down the fermentation, but there's just no room in our little RV fridge. It's starting to taste pretty strong...almost too strong to be enjoyed straight out of the container. But it's perfect for making savory Korean kimchi pancakes known as kimchijeon.
These oniony, tangy kimchi pancakes can be enjoyed as an appetizer or as a full meal. They are crispy on the outside, delightfully chewy on the inside, pleasantly sour and spicy, and packed with umami. Kimchi pancakes are very quick and easy to make: chopped kimchi, onions and scallions are mixed with flour and the liquid from the kimchi jar and quickly pan-fried in a hot, well-oiled skillet. If you have an old forgotten jar of kimchi in the back of your fridge, this is a great way to put it to use. If you're new to the kimchi game, instruction on how to make your own kimchi can be found in my previous Illinois Times column: "Not your mother's sauerkraut." Use the search box at illinoistimes.com
Kimchi pancakes are best served warm like pizza, but leftovers are good for lunch the next day. Any unused batter can be kept in the refrigerator a few days, just requiring a quick stir. The recipe lends itself to improvisation. If I'm preparing kimchi pancakes as a main course, I'll sometimes add canned tuna or minced or thinly sliced pork. Kimchi pancakes are traditionally served with a soy- or ponzu-based dipping sauce. (Ponzu is a thin, citrus-based Japanese condiment, available in the Asian section of most grocery stores.) Though not traditional, I also include the recipe for a spicy mayonnaise-based sauce that my wife likes to make.
In Korea, the beverage most often enjoyed with kimchi pancakes is makgeolli, a milky, off-white, and slightly effervescent rice wine. I however feel that Guinness Stout and kimchi pancakes are a match made in heaven.
Kimchi Pancakes (Kimchijeon)
Makes 1 10-inch pancake
Preparation time: 15 minutes
Cooking time: 10 minutes
Ingredients:
½ cup well-fermented napa kimchi, drained and roughly chopped
2 T of the brine drained from the kimchi
2 scallions, sliced on the bias into ¼-inch pieces
3 T white onion, chopped
1 t gochujang (available in the Asian section of most major grocery stores)
½ cup AP flour
¼ cup ice-cold water
4 T of high-heat cooking oil such as grapeseed oil
Optional: 3 ounces drained, canned tuna or 3 ounces finely minced or thinly sliced pork
Preparation:
In a medium mixing bowl, combine the chopped kimchi, reserved kimchi brine, onion, scallions and gochujang. Stir in the flour and ice water until a loose paste is formed. The batter should be thin enough to flow easily off a spoon. If desired, stir in the optional tuna or pork.
Heat a 12-inch non-stick skillet over medium-high heat. Add 2 T of the oil. Spoon the pancake mixture into the pan and spread around with a spoon until an even layer is formed.
Pan fry for about 3-5 minutes until the edges start to brown but the center is still jiggly. Then carefully lift and turn the pancake over with a large Teflon spatula. The bottom should be nicely browned and crispy. Add the remaining 2 T oil to the periphery of the pan, lift a corner of the pancake and tilt the pan so the oil flows underneath. Press down with the spatula and continue cooking the second side for another 3-5 minutes.
Slide the pancake onto a cutting board or serving plate and cut into wedges like you were cutting a pizza. If you want to get fancy, sprinkle with toasted sesame seeds.
Serve with one of these 3 dipping sauces.
Citrus Ponzu Dipping Sauce
Combine in a small bowl:
4 T ponzu (available in the Asian section of major grocery stores)
1 t toasted sesame seeds
Thinly sliced scallion tops
Seasame Soy Dipping Sauce
Combine in a small bowl:
1 T unseasoned rice vinegar
1 T soy sauce
½ t sesame oil
¼ t chili pepper flakes
1 t toasted sesame seeds.
Sambal Oelek Lime Dipping Sauce
Combine in a small bowl:
2 T mayonnaise
1 T lime juice
1 T sambal oelek (available in the Asian section of major grocery stores)
For a link to video of Peter Glatz demonstrating kimchi pancakes preparation, go to this article at illinoistimes.com.
While Dr. Chef Peter putters in the kitchen, Ann is launching the Bertha Bus Robin Hood Initiative, a nonprofit dedicated to nourishing the needy. She can be reached at atsselinger@gmail.com. To subscribe to their travel journal POSTCARDS FROM THE ROAD, send your email to docglatz@gmail.com.