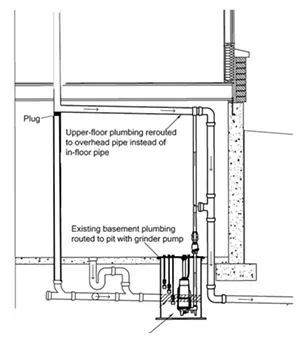 April showers bring May flowers, and they can also bring nasty basement flooding.
Springfield's older neighborhoods face an increased risk of sewer backups in the spring and summer, but homeowners can take steps to protect themselves, and the city can help absorb the cost.
Like many cities, Springfield has a combined sewer system in some places, which means that rainwater is collected into the same underground pipes that carry sewage. During heavy rains, the volume of water can exceed the capacity of the sewers, causing the water level to rise and back up into homes – sometimes bringing along raw sewage.
John Higginbotham, sewer engineer for the City of Springfield's Office of Public Works, says the most reliable method to deal with sewer backups is installing an "overhead" sewer system. He explains that water seeks the lowest point in a system, and in a typical older home, the lowest point of the plumbing system is in the floor of the basement or cellar. Higginbotham says an overhead sewer system is designed to raise the lowest point in a home's plumbing to be well above even an overflowing sewer.
That's accomplished by routing all plumbing lines from the first floor and above into a tall pipe that connects to the sewer. Meanwhile, any plumbing in the basement or cellar is disconnected from the main sewer and rerouted to a catch basin with a grinder pump. The pump grinds up any solid material and pumps it upward to the top of the tall pipe. That means the water level of an overflowing sewer would have to build significantly higher to escape the plumbing.
"By then, it would be gushing out of the manholes," Higginbotham said.
Sewer backups in basements are mostly confined to older neighborhoods, where the homes were built before 1975, Higginbotham said. Building codes changed that year to eliminate gravity floor drains in basements, meaning all newer homes already have overhead sewer systems.
Higginbotham says there are a handful of cheaper options to deal with the problem, but each is prone to failure. Flap gate valves, which only allow water and waste to flow one way from the home to the sewer, can be propped open by small bits of solid waste like toilet paper. A floor drain plug can work, but the homeowner has be present to insert it before the water level rises, and it can be blown out if too much water pressure builds. Stand pipes, which mimic overhead sewer systems, must be inserted manually by the homeowner, and they can fall over, rendering them useless.
Drain plugs and stand pipes also won't prevent sewer overflow from coming out of toilets, sinks or showers located in the basement, because those fixtures are still open to the sewer main. Overhead sewer systems, on the other hand, interrupt that connection.
"We don't claim the overhead sewer system is 100 percent effective," he cautions, "but we don't get these types of calls (about sewer overflows) from newer neighborhoods that have these systems."
Higginbotham says the City of Springfield offers a rebate to homeowners who install overhead sewer systems. The Overhead Sewer Reimbursement Program provides a rebate of up to 75 percent of plumbing costs, for a maximum total of $3,500. The program is open to Springfield residents who pay sewer fees, and only houses built before May 1, 1975, are eligible. The work requires a city permit, must be done by a licensed plumber and must pass a final inspection by the city.
The cost of installing an overhead sewer system typically runs between $3,000 and $6,000, depending on the house, Higginbotham said. Like any home improvement work, he urges homeowners to get multiple quotes from plumbers before hiring one.
The reimbursement program has existed for several years, Higginbotham said, but few people took advantage of it – perhaps because it previously only covered 15 percent of plumbing costs for a maximum of $600. The limit was raised in December, Higginbotham said, and more homeowners seem to be participating now.
For more information on the Overhead Sewer Reimbursement Program, call 789-2171, or download an informational packet at
bit.ly/overheadsewer
.
Contact Patrick Yeagle at pyeagle@illinoistimes.com.
This story has been changed to correct the following: The rebate is offered by the City of Springfield instead of City Water, Light and Power.