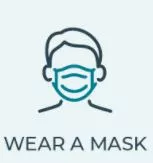 On July 27, the Illinois Department of Public Health (IDPH) announced it would align with new federal recommendations that people wear masks in public places, regardless of vaccination status.
"CDC (U.S. Centers for Disease Control and Prevention) recommends that everyone, including fully vaccinated individuals, wear a mask in public indoor settings in areas with substantial and high transmission," the July 27 IDPH statement read. Sangamon County is considered to be an area with a "substantial" risk of transmission, according to IDPH.
"According to CDC, data show the Delta variant is much more contagious. Delta spreads more than twice as easily from one person to another compared to other strains. According to CDC, the Delta variant is causing some vaccine breakthrough infections, but even so, most breakthrough infections are mild, and the vaccines are preventing severe illness, hospitalization, and death," the IDPH statement said.
On Monday, Aug. 2, the Sangamon County Department of Public Health (SCDPH) announced it also "supports" the CDC mask requirements. The statement read, "Throughout the pandemic Sangamon County has always heeded the advice of trusted public health experts."
However, Sangamon County has not always followed state guidance. For instance, it allowed indoor dining last November, at a time that was against the public health rules set by the state, based on the area's overall amount of COVID-19 cases.
"Their recommendation regarding mask use is advisory only and not mandatory," the new county statement said in regards to guidance from both the CDC and IDPH.
"At the present time, with the degree of spread in our community, we agree that the best and safest practice is to wear a mask in public places, even if you are vaccinated, to help reduce the spread and to help prevent serious illness. Masks aren't perfect shields but the weight of evidence indicates that they do reduce the spread of COVID," the SCDPH statement read.
Speaking to Illinois Times on Wednesday, July 28, Springfield Mayor Jim Langfelder said he did not have immediate plans to impose a mask requirement, and that his main focus is on more residents getting vaccinated. "And if you don't want to do it (get vaccinated) for yourself, do it for the children, because they can't get vaccinated," he said. Children 11 and younger still don't qualify for vaccines. The mayor said he is hopeful a city mask mandate will not be needed.
The rate of local confirmed infections has seen a sharp rise since July, with 19 people in Sangamon County hospitalized for COVID-19 as of July 30, according to SCDPH numbers.
"We continue to strongly encourage Sangamon County residents to get the vaccine. Based on all of the available evidence the vaccines do work. The vaccines do reduce the spread of the disease and do reduce the severity of the disease if you contract some variant. We ask all county residents to do the right thing for themselves, their families and their community, and get vaccinated," the Aug. 2 SCDPH statement concluded.
Set up an appointment for a free COVID-19 vaccination in Sangamon or Menard County, here.
Contact Rachel Otwell at rotwell@illinoistimes.com.