click to enlarge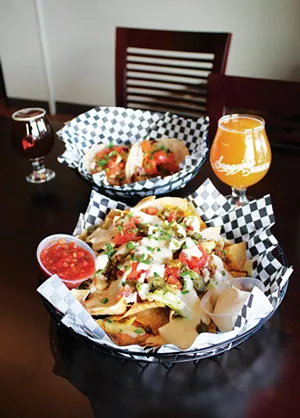 Sangamo Brewing Co.'s tag line is "History in Every Pour."
As I'll touch on in a moment, that's certainly true, and quite cool. However, it's quality food, beverage and service that really keep me coming back to places – and Sangamo Brewing has that, too.
Sangamo Brewing is a collaborative partnership between Tom Noonan and Jason Butler. Butler previously operated Fat Willy's at the now-extensively remodeled space, while Noonan (a lifelong collector of brewery memorabilia) had always wanted a bar and restaurant to show off his impressive collection – hence the history tag line. And Sangamo's fairly large footprint does ooze brewery history, with nearly every inch of wall festooned with all manner of breweriana.
As neat as that is, we were impressed with the buildout itself – everything is clean, bright and new. This was a complete and total rehab. We think that the addition of the garage doors, which open up to an outside deck, will be a welcome addition come spring. Plus, there's plenty of natural light – always a positive. It's a well-thought-out space, anchored by a large bar, with plenty of seating that's not crowded all together. Acoustics can be a bit hard due to the wood floor and exposed ceiling but Sangamo is much better than many of its peers.
My guests and I arrived around 11:45 a.m., and we were among the first lunch diners there. By the end of our visit, however, Sangamo was close to three-quarters filled. We appreciated that we were offered various house brand beers first, but it being a workday we opted to stick with iced tea. Still, Sangamo has an impressive and varied list of beers (and specialty cocktails) that are sure to please most everyone.


Sangamo's menu is about what you'd expect from a microbrewery/tavern/restaurant. We appreciated that while there were plenty of options, the menu wasn't so large that consistency and quality suffer. The menu is broken down among appetizers, tacos, salads, shoes, sandwiches and baskets. Most items come with fries, but for an additional charge diners can substitute in a variety of premium sides such as tater tots, onion rings, soup and cheese curds.
We decided to start with an appetizer order of the smoked rib tips ($4.99). Although I would have appreciated if they had come prior to our entrees, these were among the best rib tibs I've had. Our server suggested Sangamo sauce as an accompaniment (barbeque sauce and mayo), but it would have been an insult to put it on these tips. They were generously seasoned, tender, meaty and downright delicious. Sometimes the simple things, done correctly, end up being the best tasting. Nicely done, Sangamo. We're also glad to see that they can be ordered with a side as an entrée (12 oz for $13.99).
For our entrees, we went with the Sangamo steak burger ($8.49), the turkey and bacon wrap ($9.49) and the pork carnitas quesadilla ($8.99).

I was surprised to see my guest order the quesadilla given that it comes with barbeque sauce and mozzarella – two items most folks don't associate with carnitas. I managed a taste, however, and decided that I needed to think outside the box more often. The combo certainly worked, and the addition of jalapenos added the bite and acid that really brought this dish together.
The burger came on a brioche bun and is only served medium. In this day, I completely understand why a restaurant will only serve burgers medium, but a burger that doesn't drip a little fat is blasphemous to certain folks. Nonetheless, my guest reported that the burger was well-seasoned, with a nice char and good flavor that came from high-quality ground beef. His dish was accompanied by a generous helping of seasoned fries.

I went with the wrap and it was stuffed with generous amounts of turkey and bacon and not overpowered by too much lettuce or tomato. Thanks for not scrimping on the good stuff, Sangamo, because I think that's what differentiated it. I appreciated that it came with pickles and onion on the side. Next time, however, I think I'll ask that they be worked into the sandwich in the kitchen. My order also came with a hearty helping of fries that had obviously come right out of the fryer. They were crispy on the outside and soft on the inside and were just the right size to scoop up some ketchup.
With the one exception of our appetizer coming with the entrees, service was very friendly and efficient. Our iced tea was well-monitored and we never felt rushed or overwhelmed – again, nice job Sangamo Brewing. We'll be back.
109 East Mulberry, Chatham 217-697-8026 sangamobrewing.com
Hours: Tuesday-Sunday 11 a.m. to 11 p.m. Closed Monday.
Wheelchair access: Yes
Credit cards: Yes
Atmosphere: 4.5
Service: 4.25
Food: 4.75
Price: 4.5
OVERALL: 4.5