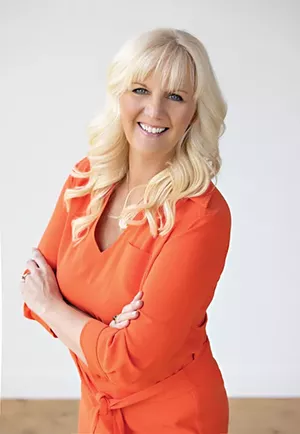 Republican state Rep. Sandy Hamilton's campaign and her supporters are alleging corruption and ineptitude on the part of Democratic incumbent Sen. Doris Turner.
Turner's campaign, in turn, has accused Hamilton of being a corporate tool and an anti-union extremist who failed to protect senior citizens from prescription-drug costs increases.
In the run-up to the Nov. 8 election to represent the newly configured 48th Senate District in a job that pays at least $72,906 per year, voters have been left to sort through a barrage of insults and accusations on television ads and in social media and campaign literature.
The time periods referenced by the campaigns range from a few months to almost 20 years ago.
The biting nature of the claims isn't surprising, according to Kent Redfield, professor emeritus of political science at University of Illinois Springfield.
Campaigns for the candidates, both of whom live in Springfield, are trying to define each other in the minds of voters who may not be familiar with them, he said.
Turner has better name recognition from her years as an elected official, though Hamilton has more of a public profile than many first-time candidates, he said.
But negative ads can be successful, Redfield said.
"It's much easier to raise someone's 'negatives' than to raise someone's 'positives,'" he said. "Usually, there's some kernel of truth in there. It's hard to sort through all of this. People need to be skeptical." The campaign involves two candidates who were appointed to the General Assembly to fill vacancies.
Hamilton, 55, a Realtor and volleyball coach who had never sought elected office, was appointed in December to the 99th House seat vacated by Springfield Republican Rep. Mike Murphy. He resigned to become president and CEO of the Greater Springfield Chamber of Commerce.
Turner, 69, served 10 years on the Sangamon County Board and just under 10 years on the Springfield City Council representing Ward 3. She was appointed in 2021 to the 48th Senate District seat vacated by Bunker Hill Democrat Andy Manar. He resigned to become a senior adviser to Gov. JB Pritzker, a Democrat.
After redistricting, the 48th Senate District, which previously extended southwest to include Carlinville, Litchfield and Staunton, was redrawn to include additional urban areas in hopes of giving a Democrat more of a chance of winning, according to Chicago-based redistricting analyst Frank Calabrese.
The new district includes most of Springfield on the west, most of Decatur on the east and the rural communities in between.
The new district is where Republican presidential candidate Donald Trump won in 2016 and where a Democratic candidate beat Trump in 2020. As a result, the Turner-Hamilton race is considered a "toss-up" contest, Calabrese said.
Democrats hold super-majorities in the Senate and House.
One of the TV ads being aired by Hamilton's campaign puts a dark screen over Turner, and the announcer says Turner was "caught doling out your taxpayer money on a Hummer automobile, Las Vegas trip, manicures. Fancy cars."
The same ad says: "FBI wiretaps caught her covering up a taxpayer-funded payroll fraud scheme. Thousands of hours, fake or no-show workers. She even forced government workers to clean her house. Corruption. Doris did it."
The ad refers to several different situations involving Turner's former job at the Illinois Department of Public Health and the criminal case against her husband, Cecil Turner, 75, who was indicted by a federal grand jury in 2006.
Cecil Turner was convicted that same year of wire fraud and lying to investigators in connection with a scheme that resulted in Illinois Secretary of State janitors being paid more than $150,000 for hours they weren't on the job. He completed a 30-month prison sentence in 2010.
Neither Doris Turner nor the Senate Democrats' political organization responded to requests for comment on that ad and other statements from Hamilton's campaign.
Turner declined to address the individual situations when questioned by radio host Sam Madonia on WFMB's "A.M. Springfield" show in late September. She told Madonia that the period about 20 years ago was "a very difficult time" and that "everything you read and hear is not necessarily the reality."
Turner said she and her family "made it through ... bigger, better and stronger than before that happened," thanks to community support and faith.
She said Hamilton's TV ad about her was "very aggressive, and it's full of innuendos and things that are simply not true."
Momentum in her campaign is growing, Turner said.
"Our polling is showing it's working, and we're going to be successful, and that's scary for some people," she said.
Sangamon County Democratic Party Chairman Bill Houlihan criticized what he called Hamilton's "politics-as-usual" and misleading "attack ad."
"Sandy Hamilton is one of those dangerous, extreme right-wingers giving Republicans a bad name," Houlihan said. "She doesn't want to talk about her anti-choice, union-busting track record or her track record blocking price caps on prescription drugs, making it harder for families to afford the health care they need."
The Hamilton campaign ad "tries to attribute the illegal activities of bad actors to Doris Turner in her role as a state employee. ... and Turner was never charged with a crime," Houlihan said.
"Sen. Turner has a pristine record in Springfield, where she's championed ethics reform, imposing term limits and banning ex-legislators from becoming lobbyists right after they leave office," Houlihan said. "She's been a champion for seniors and providing affordable health care and prescription drugs, including successfully capping the price of insulin."
But Hamilton campaign manager Matt Butcher said, "Doris Turner is about as corrupt as politicians come."
The Hamilton campaign ad cites a 2011 Chicago Sun-Times story about a grant to a now-defunct Chicago nonprofit known as Working for Togetherness that used state grants for AIDS and HIV awareness and testing in the early 2000s on a 2003 Hummer vehicle that cost $45,196.
Turner, then chief of the Illinois Department of Public Health's Center for Minority Health Services, at first told her bosses that the nonprofit's founder and his wife bought the car with personal funds.
After an internal investigation, Turner later told then-IDPH director Dr. Eric Whitaker that the charity "did not properly request the automobile purchase as part of their budget process," according to the Sun-Times story.
The ad also cites news media coverage and a 2014 report from the Illinois executive inspector general over state agencies controlled by the governor that faulted Turner in her IDPH role.
The report said Turner "violated her duty ... by failing to adequately monitor" $110,000 in state grants to the now-closed Tower of Refuge nonprofit in Springfield.
Turner was never charged with any wrongdoing in the Working for Togetherness or Tower of Refuge cases, or in the case involving her husband.
The inspector general report said Tower improperly used grant funds for HIV/AIDS and prostate cancer awareness on Tower's founders and a family member to make purchases in Las Vegas, a nail salon and the iTunes store.
The inspector general's office recommended IDPH "take appropriate action" against Turner. IDPH officials said in the report, without elaboration, that Turner retired from her state job in December 2014.
She told The State Journal-Register a few months later that she disagreed with the report's conclusions about her and that the investigation didn't play a role in her retirement from her $81,600-a-year state job.
The Hamilton ad cites evidence presented in the 2006 federal trial of Cecil Turner, a former secretary of state administrator.
Doris Turner was taped by the FBI calling one of the janitors and saying her husband asked her to warn the janitor that the inspector general's office might become involved in a probe of the janitors' conduct.
One of the janitors testified at Cecil Turner's trial that Turner and his wife, who was on the county board at the time, "frequently asked him to provide city services for themselves and others in their neighborhood – services such as trash and branch collection, alley leveling and picking up bulky items from the alley behind the Turners' home," according to a 2006 SJ-R story.

The janitor and three other Springfield public works employees who testified "conceded those services were available to any city resident if items were blocking the alley, but said the Turners got a quick response when they made the requests," according to the SJ-R story.


<!——StartFragment——>The news accounts cited in Hamilton's ad contained no mention of Doris Turner forcing government workers to clean her house.<!——EndFragment——>
Campaign literature paid for by the Illinois Republican Party says Turner voted to raise telecommunications and sales taxes on Springfield residents "but refused to pay her own taxes 20 times."
Republican Party spokesman James Zenn cited Sangamon County Treasurer's records to document a total of about $350 in late property tax payment fees paid by Doris and Cecil Turner on their home between 1998 and 2019.
In addition, the Republican Party's literature says Doris and Cecil Turner were "even hit with five federal tax liens" related to unpaid income taxes.
Zenn supplied Illinois Times with Sangamon County Recorder of Deeds records listing liens for unpaid income tax ranging from $1,593 in 2018 to $14,072 in 1995. The liens eventually were released after the taxes were paid.
"She's very comfortable raising taxes on other people, but she has a questionable history of paying her own taxes," Zenn said.
For its part, the Turner campaign is running a TV ad that portrays Hamilton as a marionette willing to "sell out" firefighters and police officers by cutting their pensions and opposing workers' rights to unionize and make a fair wage. The ad also says Hamilton hurts senior citizens by opposing "lowering the costs of their medications."
Hamilton campaign spokesmen say various parts of the ad are either misleading or inaccurate in characterizing the votes Hamilton took on certain bills and resolutions referenced by the ad.
Hamilton campaign manager Matt Butcher said Hamilton isn't advocating for a reduction in workers' rights, reducing pension benefits or putting seniors in jeopardy of higher prescription drug costs.
Dean Olsen is a senior staff writer for Illinois Times. He can be reached at dolsen@illinoistimes.com, 217-679-7810 or twitter.com/DeanOlsenIT.