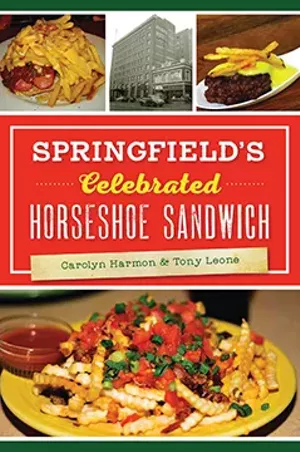 It was fitting, really, that I was handed an advance copy of Springfield's Celebrated Horseshoe Sandwich in a McDonald's parking lot.

They don't serve horseshoes at the Golden Arches, of course, but comparisons with artery-clogging burgers are inevitable, as demonstrated in a 2010 Wall Street Journal article that revealed a deep-fried version packed five Big Macs of calories into a single serving, with a standard-variety horseshoe providing the equivalent of nine jelly donuts. Quoted in the Journal article as well as a 2012 Illinois Times story on horseshoes, Tony Leone, who coauthored the recently released 200-page tome, gave me a copy when we chanced across each other whilst in pursuit of Egg McMuffins, or the like, horseshoes not being particularly suitable as takeout fare.
It is a substantial read, with a staggering level of detail. Careful attention is paid to the evolution of the Clydesdale, an impossibly huge horseshoe that typically comes with assurances that if you eat it all within an hour or so, it's free, plus you get your picture posted on the wall. If you're wondering who won what categories in horseshoe cookoffs sponsored by the Springfield Park Foundation when Clinton was president, look no further – in 1995, it was Gumbo YaYa's in the presentation and trailblazing divisions for shaved ribeye on French bread with wedges of baby new potatoes, Cajun etouffee and two kinds of cheese sauce. Baur's, a restaurant near the Capitol favored by politicos, won best horseshoe that year for a Philly cheesesteak version of the sandwich that made Springfield famous. Both establishments closed long ago.
There is also a section on the Obama shoe, hatched on the coattails of the 2008 presidential election, with details on ingredients used by three different restaurants that ranged from hot dogs to ahi tuna to hamburger, plus chili, pineapple, brown gravy, baby greens, fried eggs, pickle relish, celery seed and, of course, cheese sauce. "I can't say that I miss horseshoes," the former president told the General Assembly during a 2016 visit.
There are recipes, of course, but they wisely are kept to a minimum in favor of the sandwich's history and an exhaustive listing of restaurants, past and present, that have served horseshoes. It is as much a tour through Springfield's culinary heritage as an exploration of horseshoes. Establishments mentioned range from D'Arcy's and other usual suspects to lesser-known operations such as the Horseshoe Hut, a food truck active from 2014 until 2016 that made a traditional sit-down pigout portable. More than 70 defunct purveyors of horseshoes are listed, along with scores of out-of-town joints as far away as Maryland and Florida where horseshoes are served.
Who can digest all of this? Apparently, lots of us. Leone says he's encouraged by early shipments. Carolyn Harmon, his coauthor who came up with the idea, says it caught the imagination of Arcadia Press, a South Carolina publisher that specializes in books about regional food phenomena, including Nashville food trucks, Atlanta beers and dinners in Connecticut. She sent her proposal via Facebook.
"I've always liked potatoes and cheese," says Harmon, a retired District 186 teacher. "I've been interested in horseshoes for a long time."
She does not look it, despite admitting to eating one horseshoe a week or thereabouts. She confesses to some fatigue during the year it took to research and write the book. "I took pictures of a lot of horseshoes," she says. "They all kind of start looking alike, in a way." The publisher featured a south-of-the-border horseshoe on the cover, with bold red and green colors that look more inviting than yellow or beige.
Locals, she says, were surprised to learn that no one had written a book devoted to horseshoes. "Nobody's put it all together," Harmon says. "It was really fun writing it."
Contact Bruce Rushton at brushton@illinoistimes.com.