Bullock, strong cast nearly save Unforgiveable
There's an almost-not-quite quality to Nora Fingscheidt's The Unforgivable, an adaptation of an English television series. Sandra Bullock is Ruth Slater, who's just served a 20-year sentence for killing a police officer. Upon release, she finds it hard to pick up the threads of her life, though she finds a worthwhile job and a potential new relationship with her co-worker Blake (Jon Bernthal). She longs to be reunited with her sister but is facing resistance from the couple who adopted her (Richard Thomas and Linda Emond), while the sons of the cop (Will Pullen and Tom Guiry) she killed are out to get her.
There are a lot of moving parts, and it's easy to see how a story with this many plotlines would have been developed more fully over the length of a 10-episode series. Here, it all seems rushed and a trifle contrived. And yet, the conviction the cast collectively brings to their roles keeps us on the hook. However, a big reveal and desperate third-act twist are too much to take. Fingscheidt opts for sensationalism rather than a dose of realism, the result being a collective rolling of their eyes from viewers. Streaming on Netflix.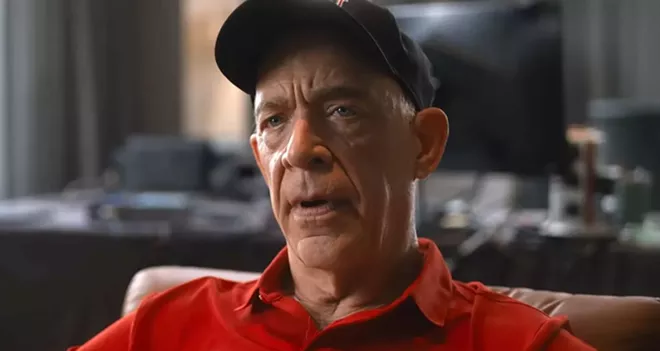 Champions pointed but a bit too busy
To be sure, National Champions is timely and makes a great many good points about the inequities in collegiate sports. I just wish it didn't come off at times like a lecture. It's 72 hours before the National Football Championship to determine which college team is the best, when star quarterback Le Marcus James (Stephan James) drops a bombshell. He calls for both teams to boycott the contest unless the powers-that-be address the fact that while the game profits millions, its players receive nothing.
This sends shockwaves that impact his coach (J.K. Simmons), the head of the league (Jeffery Donovan) and a host of other movers and shakers who're suddenly concerned about having to share the millions they've been pocketing over the years. The screenplay by Adam Mervis is spot-on in pointing out the vast disparities in this system and is comprehensive in looking at the widespread ramifications – both positive and negative – of paying college athletes. To be sure, it comes off as preachy at times and could have done without a subplot or two, but there's no questioning director Ric Waugh's passion for this issue or how justified he is in raging at this corrupt machine. In theaters.
C'mon obvious but heartfelt
Though it wears its heart – and its plot – on its sleeve, there's a genuine sweetness to Mike Mills' C'mon, C'mon that's hard to resist. Joaquin Phoenix is Johnny, a documentary filmmaker who's asked by his estranged sister, Viv (Gabby Hoffmann), to mind his nephew Jesse (Woody Norman) for "just a couple days." Of course, it ends up being more like a month, during which the uncle and nephew get to know each other and bond in ways which happen rather conveniently and quickly in the movies. The relationship between these two leads Johnny to reconnect with his sister and life in ways he didn't think possible.
Yes, it's all a bit contrived, but the heartfelt work from Phoenix, in perhaps his most appealing performance, and the unaffected turn from Norman sincerely ground the film so that we might brush those concerns aside. The notion that it's never too late to mend something that's broken or seek redemption is the foundation of the film, and while C'mon, C'mon is guilty of being a bit too obvious at times, the goodwill it fosters can't be so easily denied. In theaters