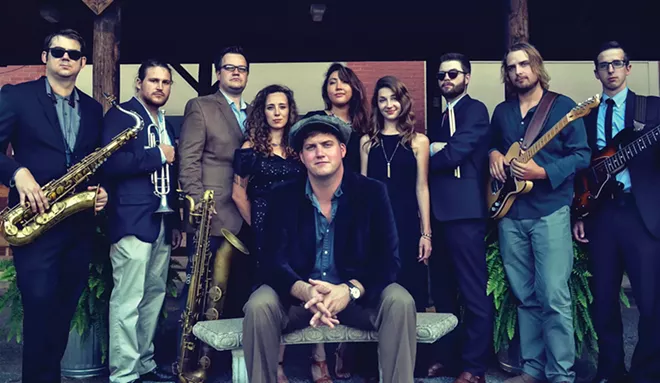 Dive right on into our observations and distillations of the Springfield music scene to find what you can on our voyage of discovery and adventure. This week sadly brings mourning for a great friend and fellow musician in our small part of the world, along with an assortment of things to do involving live music that our gone, but far from forgotten, compadre would have enjoyed to the max.
Sam Draper passed away on Sept. 14, 2022, and with that we all lost a decades-long, driving force in the local scene. From all his bands that played very well, so many songs folks like to hear, to the countless hours of open mic hosting, Sam was an integral part of what went on in music in Springfield. But beyond the performance musical aspect, he also gave his heart and soul to everything he was involved in, including doing charitable work in numerous fundraisers and giving deep and lasting encouragement to others to make their own music, all while creating lasting friendships that crossed boundaries and generations.
I read so many incredible tributes and memorials to Sam on Facebook and each one contained the same thread about his ability to motivate and uplift those around him. And I do believe he gave us the greatest gift (and the answer...) through leading a life of inspiration that survives by thriving and growing in us from those seeds of love Sam planted in his time on earth. Rest well, Sam, and know the music you made through all those you moved and motivated lives on.
On Saturday, down Carlinville way at the Macoupin County Fairgrounds, do some good and have a blast with a visit to SamJam. The long-running fundraiser (and fun-raiser) is hosted by Pete Oswald through inspiration from his son Sam Oswald, who has been dealing with neurofibromatosis since he was four years old. Now decades beyond that time, Sam-O continues to deal with the disease while living a good life and loving live music. Musical acts for 2022 include Positively 4th Street, Isaiah Christian and the Rebel Saints, Pete Jive, One Way Traffic and Al Holliday & the East Side Rhythm Band. Check out the event website at samjam4nf.com for all the other particulars, then go enjoy them.
Now let's jump to Sunday afternoon, where everything is going to the dogs and you can tell someone to go fly a kite in a nice way, when we unleash some fun at the Chatham Paws-a-Palooza & Kite Up the Park held from 1 to 6 p.m. at the Chatham Community Park. The coordinator and behind-the-scenes guy is bass player extraordinaire and hard-working musician Jeff Cunningham, who also happens to be a happy dog owner, meaning he's happy he has a dog and the dog is happy, too. The event is a fundraiser for "the continued construction, landscaping and maintenance of the new Chatham Community Dog Park, which was funded by previous festivals" and features live music from Dave Littrell, Rock & Roll Sisters and Brandy Kristin and the Revival, along with a non-musical, but equally as enthralling performance by the World Champion St. Louis Disc Dogs. More stuff includes food and drink by the Chatham Jaycees, pet-themed vendors, visual artwork and a pet and owner costume contest, plus a professional kite flying company that has "kites to fly and buy," all for a good cause to maintain a nice dog park where the canines can go to bark.
Have a good week, enjoy the downtown car show and be sure to check out all the other live music happening around town.