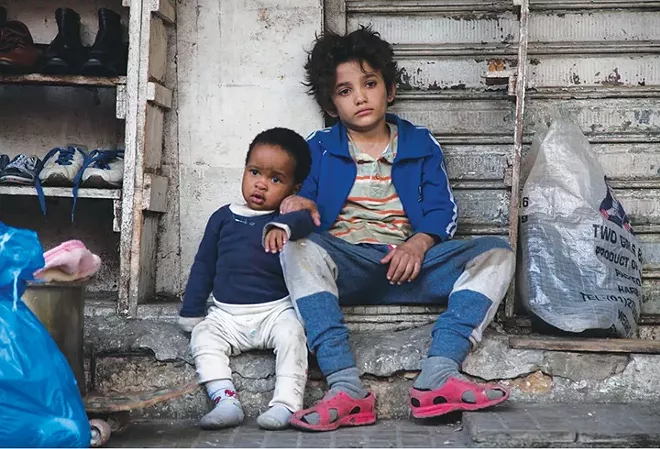 Each year for almost three decades, the Springfield Art Association has provided a public service to the area's cultural and cinematic landscape in the form of the Molly Schlich Independent and International Film Series. Starting in January and lasting through March, with Sunday matinees and Tuesday evening screenings at AMC's Parkway Pointe 8 (3025 Lindbergh Blvd.), the series represents the sorts of movies which rarely if ever grace Springfield's multiplex screens otherwise.


In contrast to previous years, the 2020 films will offer some more uplifting and hopeful emotions. "Last year's films, semi-unintentionally, got a little dark," admitted SAA executive director Betsy Dollar. "This year it's generally a little lighter, a little more positive."


Dollar described Biggest Little Farm (Jan. 12, 14) as a linear documentary detailing the travails of a pair of inexperienced Californians as they attempt to build a sustainable 200-acre farm outside of Los Angeles. "A lot of things go wrong," she said, "but the good news is, in the long run they were successful and it's gorgeous and just an incredible lesson in trusting the cycles of nature – they're constantly being threatened by storms and wildfires and that kind of stuff – and even if they find the right balance the weather may not cooperate."


Non-fiction (Jan. 19, 21), the most recent collaboration between French icons director Olivier Assayas and actress Juliet Binoche (Hills of Sils Maria), takes the form of a dramatized discussion about what Dollar called "the function of the written word in current society – and particularly the printed written word," including questioning whether a publisher character should bother to actually print a book or just generate it in some electronic form, as well as the future of libraries. "It's a quintessential French film asking some questions that are all being talked about anyway – not that they come to any profound conclusions," Dollar said.


The Lebanese film Capernaum (Jan. 26, 28) tells the fairly intense story of a young boy living in extreme poverty in Lebanon, who manages to make some progress in spite of traumatic odds. "It's like, wow, once in a while you fight for something and you get it," said Dollar.


Maiden (Feb. 2, 4) is a documentary about the first all-woman crew to attempt the Whitbread Round the World Race, in the late 1980s. "I love this film for a number of reasons," Dollar said. "These women did this amazing thing back then and are now grown adults and have daughters of their own – but they were just treated like a joke all the way across the board. No one thought they could begin to do what they did, so it's very inspiring that against all odds and with a tenth of the training and backing and materials that all the men had, they did surprisingly well. I was very inspired to get this story out there, for the women my age who lived through it in the past and the young women who are still encountering a similar message today."
This year's sole animated selection is Ruben Brandt, Collector (Feb. 9, 11), a phantasmagorical tour through a tsunami of fine-art imagery presented in the form of a caper comedy. "The rate of visual art references that come at you through the animation – even if you watched it in slow motion, I don't think you'd get them all," marveled Dollar. "You need to know your art history to catch everything. It's wild and fun regardless."


Honeyland (Feb. 16, 18) from Macedonia presents footage of a woman raising bees for honey in the mountains but is not a traditional documentary – there are no talking heads and no overlying narration. "It's a documentary in the sense that they just filmed what was happening and then built a story out of the everyday occurrences but they never interview the subjects or anything so you don't get any backstory," said Dollar.


Woman at War (Feb. 23, 25) is an Icelandic comedy following the misadventures of a choir conductor and eco-activist whose "plot to disrupt the operations of a Rio Tinto aluminum plant in the Icelandic highlands, purposely damaging electricity pylons and wires to cut their power supply," according to Wikipedia, goes awry when "a long-forgotten application to adopt an orphan child from Ukraine is approved." Wackiness ensues. "The ending is incredibly ambiguous," Dollar notes. "You can take it any direction you want. And how often do you see a film from Iceland?


Pain and Glory (March 1, 3) by legendary Spanish director Pedro Almodovar and starring Antonio Banderas, is described by Dollar as "essentially a personal memoir about the filmmaking process from a world-famous filmmaker," told in flashbacks and real-time dramatic confrontations, all done in the director's signature colorful style, but shot through with the hard-won wisdom of advancing age and experience.
The preview party for the series will be held at 7 p.m. on Wednesday, Jan. 8, at the main campus of SAA, 700 N. Fourth St., in the M.G. Nelson Family Gallery. Included in the festivities will be a screening of the short film Emily by Springfield filmmaker Dave Heinzel, who will be available to answer questions afterward. Full disclosure: this article's author has a small, non-speaking role in the film.


"They are all very thoughtful films, engaging on a lot of different levels," Dollar said, pointing out that while the selections are all probably available on streaming services, it is still worth seeking them out in the theater. "There is real enjoyment in seeing a film with other people and sharing the laughs and the tears – and the big screen makes such a big difference. I know a lot of people have big TVs but it's a different phenomenon – people should come out and experience these things in the engrossment of the theater as opposed to your family room where you're texting and the computer's going and you also happen to be sort of watching a movie."

Showtimes are Sundays at 1 p.m. and 4 p.m. and Tuesdays at 7 p.m. Individual tickets are $8 for adults and $4 for students with school ID. Tickets are only available at the door. More information can be found at https://www.springfieldart.org/film-series.html


Scott Faingold is a frequent contributor to Illinois Times and an instructor at University of Illinois Springfield, He can be reached at scottfaingold@gmail.com