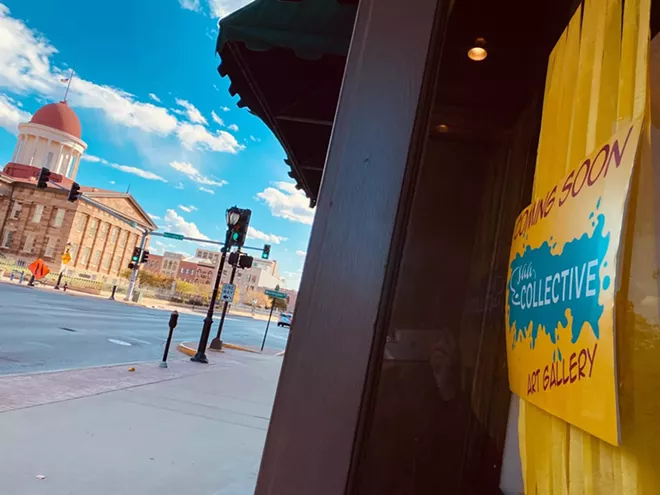 The Springfield Art Association (SAA) Collective has opened its new gallery in the historic Broadwell Pharmacy building downtown at 105 N. Fifth Street, relocating from the Hoogland Center for the Arts, which has been closed to the public since March. "The closure was a big piece" of moving the gallery, states Betsy Dollar, SAA executive director, but the lack of street access was also a big factor in the move. "The gallery was perfect as a destination, but did not benefit from foot traffic," says Dollar. About 45 members of the SAA Collective will exhibit their artwork in December, both at the new location as well as the M. G. Nelson Family Gallery on the SAA campus at 700 N. Fourth St.
"New works of fine art will be mixed with artist-made holiday ornaments and décor," says Dollar. "We have paintings, ceramics, glass, metal and jewelry. We have lots of smaller holiday decorations and gifts, such as painted scarves, fiber baskets and purses."
The SAA Collective Gallery is open to the public Tuesday and Wednesday from 10 a.m. until 5 p.m. and Thursday through Saturday from noon until 7 p.m., with extended hours for special events such as Downtown Springfield Inc. Old Capitol Holiday Walks on Wednesdays and Saturdays. Holiday walks this year are a bit different as masks and social distancing are required, hand sanitizer is encouraged and capacity for stores will be maintained, which for the SAA Collective Gallery is 10 people. Discount coupons will be handed out at both the SAA Collective Gallery as well as the M. G. Nelson Family Gallery on SAA's campus, encouraging patrons to visit both. "If someone likes a style, but not the particular piece, we have options available at both galleries," Dollar remarks.
The SAA Collective Gallery is "very vertical" says Dollar, with the artwork stacked up the high walls salon-style. The bright and spacious main floor and mezzanine are complete, with renovations in the lower level ongoing and "hopefully ready in a few weeks," states Dollar. A sneak peek at works by the juried artists exhibiting pieces at the gallery are viewable online at www.artsy.net/springfield-art-association. The current art will be on display through the end of the year. Artwork is generally switched out every eight weeks for a fresh visual palette for gallery visitors.
The recent coronavirus mitigations announced by Governor JB Pritzker will not close the gallery, but Dollar expresses the need to get creative if further mitigations are announced. "We may put items online and feature items that are appropriate for gifts, or we may offer appointments for someone or a group to have the gallery to themselves," noting that creativity is key to success in pandemic adaptation.
The placement of the SAA Collective Gallery in the heart of downtown puts it in the path of tourists who are visiting attractions such as the Abraham Lincoln Presidential Library and Museum, the Old State Capitol State Historic Site and the current Illinois State Capitol. Additionally, it is adjacent to the location of SAA's annual Paint the Street event. "We're hoping that having a visual presence in the heart of downtown will lead to more foot traffic. We're already working with DSI," says Dollar of various collaborative projects such as Art Alley and murals, which are part of DSI's ARTification initiative.
"There is a lot Springfield could do," remarks Dollar. "It has so much potential that is consistently overlooked. We hope to be a part of creating new ideas and events."