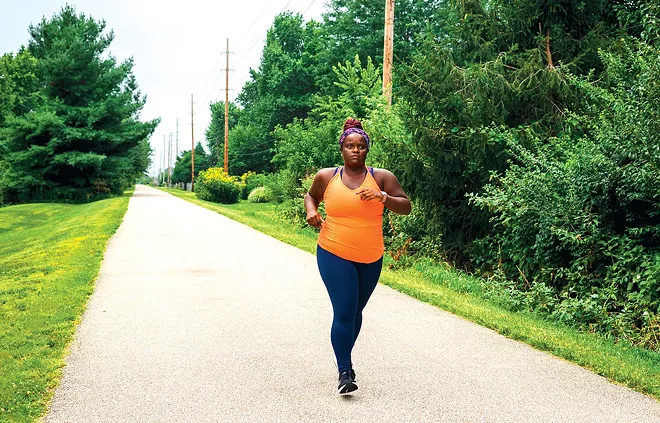 The age of 33 is widely known as the Jesus year. It's the age Jesus is considered to have ascended from his earthly body after crucifixion. As many have noted since, it's also the age in which some adults start to get serious about their life's purpose.
Nattalyee Randall, who turned 33 in November of last year, embodies the concept. The Springfield native has been contemplating how best to use her own energy to empower others. Randall graduated from Western Illinois University in Macomb with degrees in music as well as English education and now lives in New York City, where she spent much of last year protesting against police brutality. Those efforts are now part of a documentary film, which Randall's mother encouraged her to produce.
Last year Randall, who grew up with parents who were both faith leaders in Springfield, found herself isolated, living in an apartment near a hospital in NYC. She would hear the drone of sirens bringing COVID-19 patients to the hospital day and night. Watching first responders cart away the deceased in body bags became a regular occurrence. "You'd walk outside and look across the street and you'd see people crying. You'd see your neighbors being like, 'Oh, that's so-and-so's grandpa.'"
The experience of living through a pandemic shook her to her core. Randall, an educator, singer and actor, saw the devastating effects the pandemic had on the theater community. "I was seeing all my actor friends lose their health insurance – not be able to perform, not be able to do what they love – sitting in the house. People were getting depressed, people were losing their therapy because they didn't have insurance. It was insanity."
On May 25 last year, George Floyd was murdered by police in Minneapolis. NYC became an epicenter of social uprising against police brutality. And Randall felt herself called to participate in her first-ever protest. And then another and another. Her activism morphed into a project much bigger than herself, involving the commemoration of 50 Black and brown people killed by police.
click to enlarge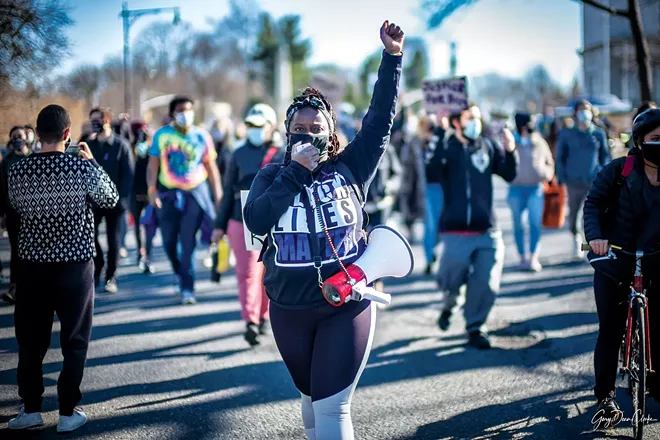 Running as refuge
Before you can fully understand why Randall came to run 50 miles in honor of 50 lives lost, you must first know how she came to be a runner. In 2014, she stopped drinking alcohol. "I was just sick and tired of being sick and tired. And I wasn't getting to my full potential because alcohol was in the way," said Randall. "I know a lot of people may feel weak by saying that, but I actually feel very strong for admitting what was wrong with me – what I could not control. And what I can control is not drinking, and I can control what I'm doing now."
Before getting sober, "I hated working out," said Randall. "And it wasn't until my third or fourth year in sobriety that I was like, I'm going to try something new." A friend suggested she try running. Randall found the practice both humbling and therapeutic. "When you go outside and run, you notice things," she said. "I hadn't noticed how the leaves change colors in the fall until I started running. I knew they change colors, but I never saw the beauty of it until I started running. And I was like, there is so much I've been missing in this world because I've been drinking, and I haven't been paying attention."
Before long the impact of her new hobby was tangible. Randall started participating in races. She was losing weight and feeling better. She decided to make a short video that would share her story of getting more healthy through sobriety and running. "I wanted to celebrate the average American being able to lose weight and then run a marathon." But then her mom suggested that Randall go further and make a documentary. With her mom's financial and moral support, Randall decided to go for it. She was scheduled to run a 50-mile race in April of 2020 that would be the focus of the documentary film. But the pandemic and the civil rights uprising shifted her trajectory.
Film for a cause
Running became an increasingly important mental health outlet for Randall during the pandemic. It was something she felt safe and healthy doing in a world where being in public came with risk. On June 1, 2020, Randall attended her first-ever protest. She had been worried in the past that protests might involve looting or riots. But she felt compelled to get involved. During her first protest, a week after Floyd was murdered, Randall looked for leaders. "There were all these people. But no one was in the middle and no one was saying anything. We were all just standing there. And I walked up there in the middle of this sea of people, and I just started singing." Randall sang a hymn. "And then from there, people started coming up and speaking."
Protesting became a daily occurrence for Randall. "A lot of times people would look at me like – 'Oh, she's the leader of this' ... that's when I started organizing my own protests and then started coordinating with other organizers in New York City." Randall said her worries about violence were quickly put to rest. "I never once was at a protest where people were rioting or looting." She said the most contention came from outsiders who took issue with what demonstrators were trying to say.
As Randall got more involved in social justice work, the calling to make a film kept nagging at her. And then it was her mother's voice in her ear, telling her the film still needed to be made, its topic just needed to change. Instead of it just being a film about Randall and her health journey, it would also be a film about police violence. After assembling a crew and raising extra funds for the film, on Nov. 1, 2020, Randall geared up to run 50 miles through NYC. Each mile she dedicated to a person who had been killed by police.
From Springfield to NYC
Randall put together a film crew of about 10 people to make the film and the run a reality. She got other cities, like LA and Houston, involved. She researched to find the names of Black and brown people killed by police. Randall ran for Breonna Taylor, George Floyd and Ahmaud Arbery. "But then I also wanted to run for the names we don't know – names people forget about." During the run, Randall made nine stops for small rallies. The families of people like Sean Bell and Delrawn Small came out to share their words.
Her friend Jessica Cornelio, from northern Illinois, co-directed the film. And two central Illinois natives, Elijah Settles from Springfield and Luke Welchel from Lincoln, helped film, produce and edit the documentary. The two have a production company called Mecoclub. Settles knew Randall through their families and church. "It was incredible to see just how sturdy and steady she was through everything going on," Settles said about working with Randall. He and Welchel flew to NYC to film the run. They arrived days before the presidential election. "There was a lot of tension," Welchel said of the environment. The city was relatively empty. The two had to prove they were going for work to even travel there. The day of the run was rainy. It wasn't clear whether Randall would be able to finish the run. Along the way, Settles would hop out of a van that was following Randall and film from his skateboard.
The documentary is a short film – about 20 minutes in length. It was recently completed but has yet to be released to the public. Both Settles and Welchel consider the project, which includes interviews with the family members of victims of police brutality, to be one of the most impactful they've ever worked on. "We were stunned by the content, honestly, and really moved by it. We even had a conversation that we thought we might not ever make anything that is more important than this, and definitely haven't before," said Welchel. Settles admitted fighting back tears while working on the film.
In talking to people back home in Springfield about it, Settles said he gets questioned about how he pulled off filming a 50-mile run, partially from his skateboard. But it was Randall who accomplished the most impressive feat, he said. She was joined along the way by supporters who ran alongside her.
Settles and Welchel said they also realize that the message of the film might land differently in downstate Illinois than it will in a place like NYC. "I do believe this film is accessible. I don't think that we push a certain agenda or a political idea," he said. "Ultimately I think one of our huge prayers is that this documentary is used as a tool for empathy."
Walking home

click to enlarge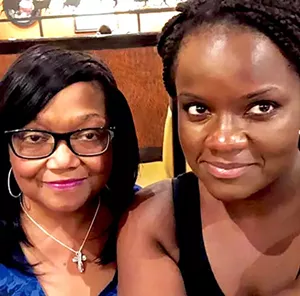 Randall's mother, Tinnie Randall, was the person who most cheered on her idea for the film, both financially and through moral support. And at the same time Randall was running for the film, Tinnie was back home fighting a COVID-19 infection. She was first diagnosed in October 2020. "The first few weeks, she was fine," said Randall. But eventually the infection progressed to the point that Tinnie was hospitalized. She stayed in the hospital for about two months. Randall would not have been allowed to visit her mother in the hospital, so she stayed in NYC. She didn't want to get the virus herself while traveling and infect other family members.
Over video calls, Randall would keep her mother company and sing her hymns. "She went through hell," Randall said of her mother's fight with COVID. Tinnie died on Dec. 17, 2020. Her condition had improved for a while, she was almost taken off a ventilator. But then she got a secondary infection, "and within a day she was gone," said Randall. Tinnie was 63 years old. "She won her battle. She's with the Lord."
Randall relies on her faith to get her through. It's what she learned from her mother, who served in pastor positions at both Faith Temple African Methodist Episcopal (AME) Church in Springfield and Allen Chapel AME Church in Taylorville. "She was funny, loud and very rambunctious," Randall said of her mother, who was her best friend. "She was a go-getter and energized, she was one of the best people. She's where I get my servant heart from. She helped a lot of people behind closed doors that I don't even know about."
Tinnie is survived by her husband, Nathaniel Randall, a pastor at Faith Temple and Allen Chapel, and three daughters. Randall recently returned to Springfield for her mother's memorial service, which had been postponed due to the pandemic. Tinnie used to walk through impoverished Springfield neighborhoods and pray for healing. So part of the way Tinnie's family and friends honored her was with a prayer walk.
Randall said the past year or so has come with nearly insurmountable challenges. Throughout the way, she has gained a new lease on life. "I started volunteering at homeless shelters, I started giving away all my worldly possessions." Randall said now more than ever, "I want to be Christ-like, and I'm not ashamed to say that. Yes, I'm going to mess up. Yes, I'm going to stumble. But at the same time, I'm also trying to be like him in the sense of helping people and doing all I can for them." Randall's documentary film is titled The Race Against Race. It is dedicated to Tinnie and the 50 people whose lives Randall honored with her run.
Find out more about the film at instagram.com/50milerunforjusticeprotest.
Contact Rachel Otwell at rotwell@illinoistimes.com.