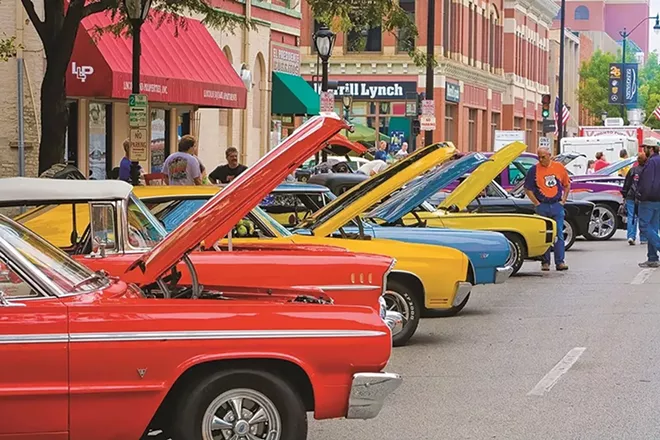 Just a few months ago, Springfield's longest running, best attended and highest grossing homegrown festival, was nearly lost in the wind like the exhaust fumes from a classic hot rod car. With cooperation between the city of Springfield, concerned citizens and longtime participants in the event, the International Route 66 Mother Road Festival is now back in gear and off to the races.
The festival, now officially into its second decade, was originally conceived as a vehicle to increase tourism. Along the way it became a solid part of the national car show circuit, appreciated as one of the best in the Midwest. Festival estimates, before the lost pandemic year of 2020, put an average annual attendance of nearly 80,000 car-caring souls who spent plenty of money as they converged upon the capital city to observe the thousands of show cars parked along city streets in nine square blocks of downtown from Friday evening through Sunday afternoon, annually near the end of September.
"The COVID year break was disheartening, but this allowed us a reset and to refocus on growing, with more local activities and sponsors," said Mayor Jim Langfelder. "I'm glad that "Coop" (Greg Cooper) stepped up and "Shaner" (Shane McDermith) could stay on to get it done and continue this event after the national group left."
The "national group" the mayor refers to is Bonnier Events, a promotion company based in Winter Park, Florida, that had managed the show for years, but decided to drop the festival in 2021. After not producing this event and others in 2020 due to COVID concerns, the company wanted to consolidate its portfolio of shows. That left organizers of this popular Route 66 festival broken down on the side of the road, so to speak. That's when local guys "Coop" and "Shaner" came on board to steer the festival back onto the safety of the main road.
Meet Shane McDermith and Greg Cooper, the two friends and Springfield natives now proudly in charge of the International Route 66 Mother Road Festival. Each comes with an entirely different set of skills that complement each other and the festival, making for a finely tuned, running machine. Given the fact that normal preparations take many months to accomplish, it's amazing that in less than 12 weeks, these two intrepid fellas have a working festival on their hands.
McDermith, who everyone calls "Shaner," owns Shaner Towing and worked with Bonnier Events (and the previous company, Family Events, before they were bought out by Bonnier) to stage the car show part of the event over the last 13 years. He set up the Friday night cruise, figured out where to put the cars and worked with business owners to address concerns. He also dealt with whatever else was thrown at him as he operated an event with thousands of cars and tens of thousands of onlookers.
"What's so special about this, is to be asked by the city of Springfield, saying, hey you boys want to take this over," said McDermith, as he gestured to himself and Cooper. "To take over a national festival – this isn't a car show in a parking lot somewhere – people ship cars in from all over the world and drive from all over the country to be here. That's really something and we're ready to do it."
Cooper, who everyone calls "Coop," also runs the annual Powerlight Car Show at Knight's Action Park and organizes the Powerlight Music Festival held for years on the final Sunday of the Illinois State Fair. Those experiences have helped groom him for the current task at hand, but he humorously likened going from his other car show to this one as in "flying a Lear jet to piloting a 747," what with dealing with all the vendors, increased number of vehicles and lots more territory to cover. His wife, Sue, took on the responsibility of participant registration and organizing the online forms, and for that both gentlemen thank her immensely. "Coop" said that she now has the title of "Queen Mother Road" and her talents in the area of administration fill the gap of what was needed for a smooth transition.
"I'm honored to be part of this show now and always was right here whenever I could be in past years," said Cooper, a retired 911 dispatcher for Sangamon County Central Dispatch. "With the 2026 centennial of Route 66 coming up and what this festival means to showcasing Springfield, it would have been tragic to lose this event. I'm a firm believer in shining a light on local things."
With new management in place, the event is solidified for the future and "Shaner" and "Coop" are already looking forward to next year, when they will have plenty of time to plan. There are ideas to incorporate more hometown connections into the event, including the museums at Route 66 Motorhead's Bar & Grill, Ace Sign Company and Route History, and to ask vendors to feature famously popular local foodstuffs such as the Cozy Dog, Vose's Corn Dogs, Mel-O-Cream donuts and the ubiquitous Springfield horseshoe. Other concepts include inviting small local businesses from nearby central Illinois communities to display wares and provide services, promoting these groups to the thousands of attending visitors, while expanding the festival to become more than a showcase for the prized vehicles.
An always popular aspect of the weekend festivities is the car parade cruise, now known as the Route 66 City Nights Cruise for Crimestoppers held on Friday evening. Some 2,000 to 2,500 cars (each dropping five bucks for Crimestoppers of Sangamon and Menard Counties) meet and line up at the Capital City Shopping Center parking lot and take off down Stevenson Drive, head north on Sixth Street then wind up downtown for the upcoming show. This year's special touches include celebrity guest Butch Patrick, who portrayed Eddie Munster in the popular 60s TV series "The Munsters," and reserving the first dozen vehicles for medical professionals who worked on the front line during the pandemic.
Though the logistics of holding up traffic, moving through stoplights and disrupting normal traffic flow patterns take a toll on some, overall the "parade" has always been a smashing success. Crowds line the cruise route, setting up lawn chairs and dragging up coolers in preparation for the show of hot rods and classic cars, along with the occasional lost driver looking quite out of place in a side lane wondering how they arrived in this collection of cars and how to get out of them. "Shaner" explained that local businesses now even host tailgate parties in their parking lots along the cruise route as a way to enjoy the spectacle and share the experience with employees, families and friends.
Louis Jackson, a consistent participant in the car show and cruise, heads up from St. Charles, Missouri every year with his award-winning, '55 Chevy to be part of the action. His group, the Hot Rod Renegades, includes around 50 cool cars and some 100 happy humans. He claims the cruise is the best part of the festival. Plenty of car shows are held on fairgrounds or specific areas like that but, according to Louis, none have a through city drive like the one in Springfield.
"There's nothing like the cruise in any other show we've been to," said Jackson. "You drive down the street and people are waving and shouting, then you roll into downtown and it's like Mardi Gras or something. You get this great feel of a huge block party."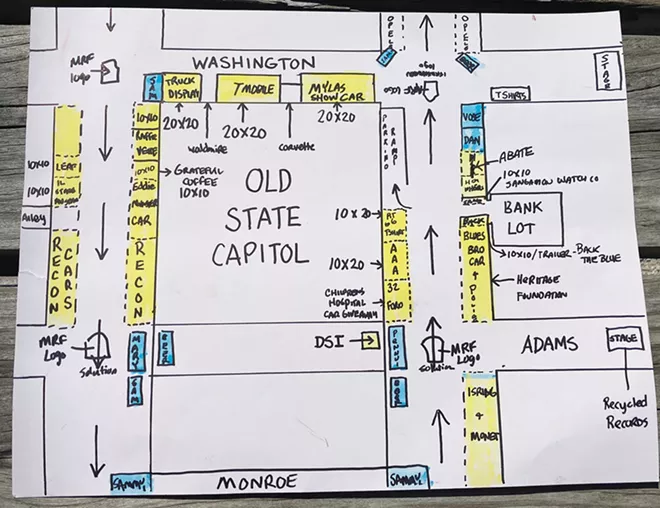 Jackson's group members always park their vehicles together on the same downtown block near Fifth and Capitol and they all wear green T-shirts with the name Hot Rod Renegades emblazoned on the front. A big attraction is the downtown location that allows those (women mostly) accompanying the car owners (men mostly) to browse area shops and not just hang around listening to car talk all weekend. Also, he said, since the event is free with no gate or admission, the curious onlookers come in all shapes and sizes, varied in age, appearance and knowledge of the vehicles. He told of visiting with a homeless person who was interested in and knowledgeable about classic cars. And he told of a thrilled young boy there with his dad who got to sit behind the wheel of Louis' bright orange '55 Chevy and then, surprisingly, saw each other again on the streets outside the festival area at a stoplight, where the boy was treated to a mighty engine rev.
"This is one festival all our group likes to attend year after year," he said. "The judging is good and fair using ISCA (International Show Car Association) people and that means a lot. The show has always been great, consistently done well and it's something to be very proud of. We don't want to see this one end. We love this show."
Jackson said he has been coming up here for at least 15 years, so that puts him showing up around 2005. When the festival started in 2001, no one really knew how it would be accepted, but hopes ran high. According to Scott Dahl, the current director of the Springfield Convention and Visitors Bureau, then director Kim Rosendahl was on a trip to Germany to drum up tourism business for Springfield using our most famous citizen, Abraham Lincoln, as a calling card. She was surprised to find a huge interest in all things Route 66 and returned determined to create a festival to capitalize on her newfound understanding. With help from a state grant and plenty of planning, the inaugural International Route 66 Mother Road Festival was launched to great success. Part of this outcome was due to diligence, planning and execution, but timing is everything. The festival began when interest in the only highway in America that spawned a hit song and TV show was accelerating rapidly.
According to information on the Illinois Route 66 Association website, an excellent source for history of the highway, as well as for finding current events scheduled on the Illinois section of the "Mother Road" (a name given to the highway by John Steinbeck in his novel, The Grapes of Wrath), the association was formed in 1989 to "preserve, promote and enjoy the past and present of US Highway 66." By the late 90s, what was remaining of Route 66 became a "state heritage tourism project" and on Sept. 22, 2005, the famed pavement was designated as a National Scenic Byway by the United States government. Thus one of the world's most famous highways, and one that runs right through the heart of Springfield, came to be appreciated, rescued, promoted and preserved.
In those early years of the festival, the convention center hosted a ticketed Sock Hop Ball with renowned musical guests such as Frankie Avalon and Paul Anka. There was plenty of live music performed on downtown stages and generally Kim Rosendahl's brilliant idea succeeded beyond anyone's wildest dreams. Springfield resident Fred Puglia, a nationally known figure in the entertainment field as owner of Perfect Impressions Entertainment and a well known promoter of area events (LincolnFest, Decatur Celebration) came in as festival manager early on and developed this talent-based part of the big shindig. His reasoning on the success of the fest is that "Springfield just had an ambiance for this event and it fit the feel of the city so well." When state funding dried up around 2005, the festival struggled some, but it contracted with the national group, Family Events (that later became Bonnier Events), to run the show. Some of the vendor and participant fees increased to cover costs, and national sponsors that supported other car shows appeared. Still the homegrown happening went full speed ahead and folks attended in droves, keeping intact the original idea of increasing tourism.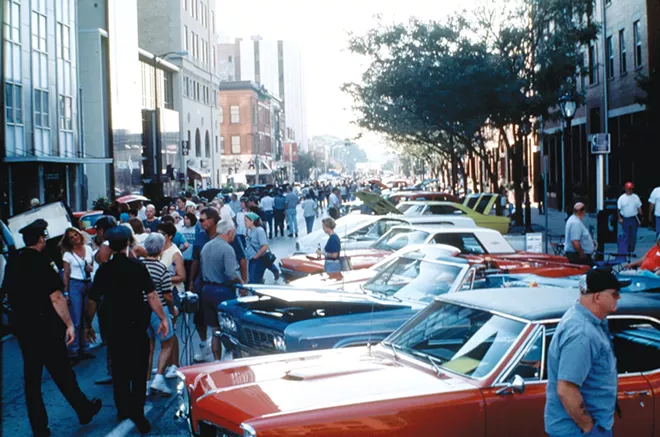 During that time "Shaner" worked for the events company, running car shows around the nation while remaining as operations manager for Springfield's Mother Road show. He no longer works for Bonnier Events, but his knowledge of running the whole shebang is indispensable. As "Coop" put it, he wouldn't know quite what to do without "Shaner" taking care of what he does. By the same token, McDermith said, even though he basically ran the operations part for years, he didn't know how and wouldn't even be any good at the registrations or vendor sales section of the festival equation that Cooper and his wife, Sue, have covered. That symbiotic relationship, best described by "Coop" as "a driving force," makes the combo work to help a major internationally, nationally, regionally and locally attended festival come together. The good work of some 50 volunteers along with necessary city workers, police officers and other helpers, contribute to the success of the festival through guidance of the managers, with direction from the festival's board of directors.
At times there's been some controversy over the "taking over of downtown" and how to deal with certain situations. From getting to bars on a Saturday night to clearing the way to downtown churches on Sunday mornings or simply finding ways for residents living within the show area to just get in and out of their homes, there are issues with the logistics of an event this size. But Springfield has taken the International Route 66 Mother Road Festival to heart. With the continued support of the city, community and fellow travelers, this excellent source of tourism and entertainment seems to be here to stay.
And, you better believe that "Coop" and "Shaner" intend to keep their collective feet on the gas, paving the way for the show to be parked right here in downtown Springfield for years to come.
Tom Irwin is an area musician and singer-songwriter, plus writes Now Playing, a weekly column about local live music for Illinois Times. He has been driving a Prius for about a decade now, but enjoys a good classic hot rod as well as the next person. He can be reached at tirwin@illinoistimes.com or visit www.tomirwin.net.