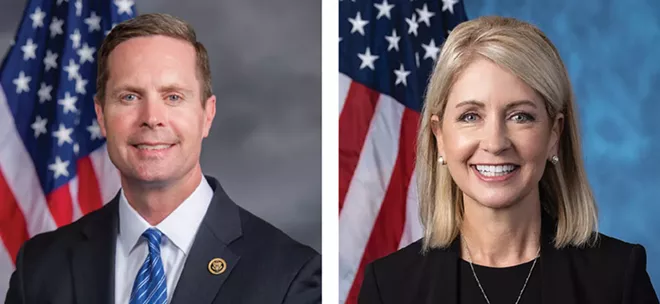 Rodney Davis and Mary Miller are battling to see who can out-Republican the other in Illinois' 15th Congressional District.
Both are incumbent Republican members of Congress who find themselves facing each other after the Illinois General Assembly redrew district boundaries.
Whoever wins the June 28 primary is all but guaranteed to win in November in the district that is 67% Republican.
"The Democrats in Springfield were trying to do everything to reduce the number of Republicans representing Illinois in Congress," Davis said. "And they drew a very gerrymandered map. It's quite ironic that outside groups continue to complain about Republican gerrymandering in Republican states but don't come here and complain about gerrymandering when it goes in their favor."
Davis was placed in the horseshoe-shaped 15th District that stretches across wide swaths of south-central Illinois – all or part of 35 of Illinois' 102 counties. State lawmakers drew Miller's Coles County residence into a district in southern Illinois where Congressman Mike Bost, R-Murphysboro, also lives.
The U.S. Constitution only requires members of Congress to be residents of the state, not necessarily the district they represent. So, Miller chose to run against Davis rather than Bost, even though she doesn't live in the district.
Taylorville resident Davis is in his 10th year in Congress. Miller, who lives near Oakland, is finishing her first term in the U.S. House. Both identify as conservative.
Davis is running a traditional campaign which involves engaging with journalists throughout the district and frequent meetings with constituents.
Miller, on the other hand, has avoided the press. Illinois Times left messages with her campaign staff more than a dozen times during the past five months but has not received a returned phone call. Other media outlets reportedly have had similar experiences.
State Rep. Tim Butler, R-Springfield, said he finds this strategy on Miller's part to be disappointing.
"I think those of us who are in these positions have a duty and a responsibility to talk to the media. We might not always like it. I think that speaks volumes about someone if they're afraid to talk to reporters," he said.
Butler is supporting Davis' candidacy and noted he has been racking up endorsements from elected officials throughout the district.
"I also think when you see the endorsements that Rodney has collected across the board from so many local folks it really tells you what people think about him here," he said.
But Miller has captured the big endorsement – Donald Trump.
To what extent that will benefit her remains to be seen. But the former president's verbal support has become the centerpiece of her campaign advertising.
Davis' response to the slight has been to cling ever-tighter to Trump.
"It's disappointing when you consider I co-chaired his campaign in 2020," Davis said. "But these things happen, and I'm not going to run away from my record of working with President Trump when he was in office," he said.
One vote that has been seen as indicative of one's fidelity to Trump was the measure to remove U.S. Rep. Liz Cheney from Republican leadership after she agreed to serve on a panel investigating the Jan. 6 attack on the U.S. Capitol.
Miller voted to give her the boot. But Davis refused to participate in the vote and issued this statement afterwards, "Liz is a good friend, and I thought she did a good job as conference chair. I'd like to thank her for her leadership."
As the Republican primary approaches, Davis is singing a different tune.
"I'm disappointed that she took an appointment from Speaker (Nancy) Pelosi to be a part of the sham, select committee that Speaker Pelosi decimated with an unprecedented move to not seat two members. I was one of the original members of that select committee, but Speaker Pelosi didn't want our input. She didn't want a bipartisan approach. And unfortunately, Liz accepted the appointment. I'm disappointed."
During Miller's two years in office, she has identified with the most reactionary elements in the Republican Party.
For example, on Jan. 5, 2021, two days into her House term, Miller gave a prepared speech in which she said, "You know, if we win a few elections, we're still going to be losing unless we win the hearts and minds of our children. This is the battle. Hitler was right on one thing: He said, 'Whoever has the youth has the future.'"
She later apologized for quoting the Nazi leader and murderer of millions. The remark was condemned by Jewish and civil rights groups.
Mike Lawrence, former director of the Paul Simon Public Policy Institute and a longtime observer of Illinois politics, lives in the 15th Congressional District and says he is concerned.
"Some people are writing off Mary Miller's candidacy – I'm not one of them. I think she can win. I don't trust the polling that is being done. And I know in primaries, both parties draw their most extreme elements out to vote. And if Donald Trump comes and campaigns for her, she very well could win."
Lawrence noted that in his flyers, Davis is playing up his support for Trump.
"The only reason I can think that he is doing this is to mitigate any damage that might be done to his candidacy if Trump does come to the district and campaign for Miller. But he runs the risk of alienating more moderate Republicans by doing this," he said.
Lawrence added that he does not consider Davis a moderate but feels he fits far more into the mainstream of the party than his opponent.
Davis had this to say of himself, "I stick with my core values and principles. I have always been pro-life and will continue to stick by those values and principles. I've always stood up for the Second Amendment. I will continue to do that. But what separates me from my opponent is I have a record of actually governing. When people put Republicans in charge, at any level of government, they actually expect them to do the job."
Miller is a member of the hard-right House Freedom Caucus along with others including Marjorie Taylor Greene, a Georgian known for comparing COVID mask mandates to steps the Nazis took to control the Jewish population during the Holocaust. Greene is said to have lobbied Trump to endorse Miller.
Both Miller and Davis have been supportive of Donald Trump's domestic agenda and neither voted for his impeachment.
Sangamon County is divided between two congressional districts. Most of the city of Springfield and Chatham will be in the 13th Congressional District, which leans Democratic. Most of the rest of the county is in the 15th.
Paul Lange of Quincy is the sole Democrat running for his party's nomination in the overwhelmingly Republican district.
Former U.S. Rep. John Shimkus still gives the edge to Davis.
"So, you've got a lot of the new district that has been in the media markets that Rodney has served," he said. "And that means they've seen millions of dollars in ads for and against him. Even though they didn't have to vote for him, he's a known commodity. In that new area I'd guess that other than Trump, they don't know much about Mary."
Scott Reeder, an Illinois Times staff writer, can be reached at sreeder@illinoistimes.com.