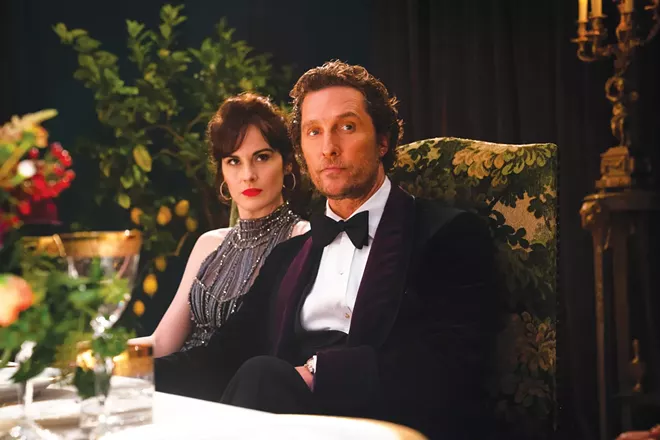 To say that Guy Ritchie's career has been spotty is a bit of an understatement. Bursting on the scene with the brash gangster flicks Lock, Stock and Two Smoking Barrels (1998) and Snatch (2000), his frenetic style and post-modern take on the genre proved to be Britain's response to the Quentin Tarantino phenomenon.

However, a marriage to Madonna that resulted in a cinematic embarrassment (2002's Swept Away) and a box office bomb (2008's RocknRolla) resulted in the filmmaker working in the Hollywood studio system with mixed results. His reboot of the Sherlock Holmes (2009) franchise and its sequel proved financially and critically successful, while his attempt to bring The Man U.N.C.L.E. (2015) to the big screen was dead on arrival. The failure of King Arthur: Legend of the Sword (2017), led to Aladdin, the nadir of his career, a paycheck movie where there's nary a touch of Ritchie's style, a project about which the best that can be said is that it was serviceable.

So, it's good to see Ritchie go back to his roots with The Gentlemen, a film that has a confident swagger about it, a take-it-or-leave-it attitude that pays off for the director as this is his most assured work yet. As is expected, his roster of colorful British gangsters, as well as an American ex-pat, exude effortless cool as well as fashionable wardrobes, as they go about trying to screw each other over and come out on top once all the requisite bloodshed is dispensed with. Yes, Ritchie's been down this narrative road before but his approach in realizing it on screen is far less manic and self-conscious, making for a more mature, grounded work than his previous efforts.

It's obvious that everyone cast in a Ritchie movie is having a good time, relishing the edgy characters they're assigned to bring to life as well as the cleverly crude dialogue that's uttered with delightful abandon. That's certainly the case here as Hugh Grant continues to impress during the third act of his career as Fletcher, a dodgy reporter who serves as our narrator, recounting the very fine mess that's resulted from American kingpin Mickey Pierson's (Matthew McConaughey) desire to sell off his marijuana empire. It's a convoluted tale the reporter is spinning to the drug lord's right-hand man Ray (Charlie Hunnam), whose sense of calm belies a killer instinct that emerges when necessary.

To go into the machinations of the plot would require more column inches than I have at my disposal and would ruin the pleasure of discovering it on your own. Suffice it to say, before things are all said and done, a duplicitous mobster (Jeremy Strong), an ambitious hothead (Henry Golding), a crusading editor (Eddie Marsden), a flamboyant boxing coach (Colin Farrell), a resourceful wife (Michelle Dockery), a gang of street thugs, Russian mobsters and a strung-out pop singer all play a part in the turf war that develops. Yes, much blood is spilled and many wisecracks are uttered along the way.

Ritchie has always been a good writer but there's a sense in his early work that points to a lack of confidence where this is concerned. Leaning on rapid editing, smash cuts and a frantic pace, his early movies seem intent on distracting the viewer rather than drawing them in. There's a more assured approach with The Gentlemen; the abrupt visual changes enhance the story rather than undermine it and the pace is more leisurely so that we might relish the intricacies of the plot.

This approach, paired with the casts' rousing performances and the director's wry, clever script make for an entertaining film that, more than anything, indicates that Ritchie has found has way back to his comfort zone, playing to his strengths with no apologies. Whether you decide to join him for this other movie or those to come seems to be of little consequence to him.

Contact Chuck Koplinski at ckoplinski@usd116.org.