When I was a child my happiest moments were spent wandering in the expanse of woods behind our house. In the springtime the woodland floor would be thickly carpeted with native wildflowers like spring beauties, Dutchman's Britches, trillium, Mayapple and sweet William. Now my own children look forward to springtime romps in "Mommy's special woods." It's hard to describe the depth of happiness I feel when watching my eldest daughter guide my toddler over the same fallen log bridge that I used to sit on and impossible to fully capture the joy of their giggles as they attempt to catch the tiny frogs that spring forth from the edge of the creek bed. So enraptured was I on our last outing that I completely lost track of time and failed to notice the lengthening shadows of the trees as the sun began to sink behind them. It was only when my daughters began to complain of rumbling tummies that I realized how late it had gotten. As we were hightailing it back to the car we came upon a huge patch of ramps, also known as wild leeks. I hastily dug up a small clump with my pocket knife. It was a quarter to seven when we drove away from the woods, tired and thirsty with the skunky smell of wild onions permeating the interior of the car.
On the ride home I began to contemplate our dinner options. I'd forgotten my wallet so picking up takeout on the way home was out of the question and I'd aborted a planned trip to the grocery that afternoon in favor of walking in the woods. So the larder was relatively lean. I mentally scanned the shelves of my pantry as I drove, trying to decide what would be fast and minimally messy. Then, as I looked down at the clump of ramps on the floor of my car I had my answer.
Risotto is an Italian preparation of short-grained rice that becomes delightfully creamy by continuously stirring in ladlefuls of hot stock as it cooks. Although it's often associated with fancy dinners and fine dining, it's actually a perfect vehicle for using up whatever you happen to have on hand and getting a scratch-made supper on the table in the same time it takes to get a pizza delivered. Once home I instructed my eldest daughter to cut a few stalks of asparagus from the garden while I washed off the ramps at the spigot. Back in the kitchen, I heated up some chicken stock and rough-chopped an onion. By the time my daughter came in with some fat stalks of asparagus the rice was sizzling in the pan and the stock was beginning to simmer. When the risotto was almost done I stirred in the sliced asparagus and julienned ramps, letting them cook along with the rice for a few final moments.
Although risotto is traditionally made with Arborio rice, which is widely available in most supermarkets, it can also be made with pearl barley. The preparation method is exactly the same, but it yields a slightly nuttier dish that is significantly higher in protein, complex carbohydrates, and iron. Try barley risotto with mushrooms and peas for a hearty and seasonal vegetarian main course.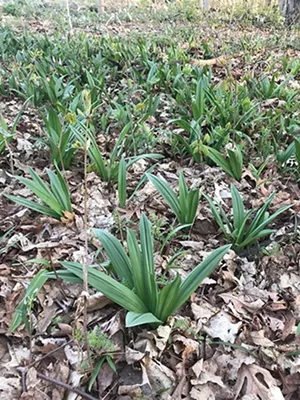 Basic risotto
4 cups chicken or vegetable stock
1 tablespoon butter or olive oil
1 cup Arborio rice (You can also substitute pearl barley. The preparation is the same.)
½ onion, minced
1-2 cloves garlic, to taste
½ teaspoon salt (use less if using salted broth)
Optional – up to 2 cups add-ins of choice such as fresh or frozen chopped spinach, frozen peas, cooked vegetables such as asparagus, broccoli, cauliflower, mushrooms, butternut squash, peppers and zucchini, or cooked protein such as chicken, sausage, or shrimp. This is a great way to use up leftovers.
Chopped herbs, such as parsley, mint, thyme, chives, sage, basil or rosemary
Parmesan cheese to serve (or experiment with other cheeses like Gouda, sharp cheddar or even brie.)
Heat the stock to a simmer in a small pan, then reduce the heat to low and have it waiting on a back burner.
Heat the butter or olive oil in a heavy-bottomed saucepan over medium heat until it melts and begins to foam. Add the rice (or barley) and cook until the grains sizzle and start to become opaque. It's OK if it gets slightly golden but avoid letting the rice get too brown.
Add the onion (and garlic if using) and sauté with the rice until the onion begins to soften and become translucent. Add one cup of hot stock (or just enough to cover the rice and onions in the pan and stir until almost all of the liquid has been absorbed. Repeat, adding a cup of stock at a time until all the stock has been absorbed. (This will take about 20 minutes depending on how hot your stove is.)
If including optional extras like protein or cooked veggies, add them in when the final addition of stock is just about half absorbed and there's still a bit of liquid remaining. (Add cooked shrimp at the very end to avoid overcooking.) Frozen veggies do not need to be thawed before adding, just stir until heated through. Once all the liquid has finally absorbed, stir in cheese and herbs as desired and serve.