When Mac Warren submitted Rent to the Muni's play reading committee, he knew the edgy show would be a tough sell. The Tony and Pulitzer winning musical, based loosely on La Boheme, depicts New York artists struggling with HIV/AIDS, addictions and death. Although school editions and other versions omit some offensive language and the sexually charged song Contact, Warren advocated for the original script. "This story isn't really about sex, drugs and AIDS," he explains, "It's about love, loss and living each day to its fullest."

Warren calls Rent at the Muni "our great experiment." The September show (a first) with an earlier curtain time (7:30) and no Sunday performances could set a new precedent. It closes a strong season that also included Les Mis, Dream Girls and Peter Pan. Warren, incoming president for the organization's board of managers, hopes a successful Rent run will "open the Muni up to new things."

The original Broadway production took the world by storm upon its opening in 1996, giving birth to a generation of "Rentheads," encouraged to camp out in front of the theater all day to obtain $20 "rush" tickets for a seat in the first two rows. Its creator, Jonathan Larson, died unexpectedly just one night before an off-Broadway debut and never saw Rent go on to the Nederlander Theater where it ran for 12 years with more than 5,000 performances ahead of domestic and international tours and a 2005 film.

Based in part on Larson's own life, the original show about real people stands in contrast to other contemporary musicals like The Lion King, American Idiot, Spamalot, The Producers, Billy Elliott, Once and countless other adaptations. It features beautiful harmonies and driving rock and roll combined with emotive lyrics and deep themes.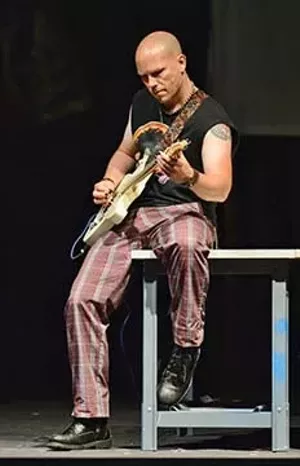 Rent resonated with fans who feel a personal connection with the material, including Jeremy Goeckner. Goeckner, who plays protagonist Mark Cohen at the Muni, saw the show 13 years ago in St. Louis. "I remember thinking it was like nothing I had ever seen," he recalls, adding that Mark instantly became his dream role. Goeckner can relate to the show's themes – a friend who introduced him to musical theater died soon after Goeckner discovered Rent. In coping, the budding actor latched on to a lyric from the show: forget regret, or life is yours to miss. "All of the characters experience heartbreak but they keep going because life is right there," he says.
Performing in the show brings back some of the same emotions. "It's therapy," Goeckner says. "It's rough and rugged but it makes you feel like living each day to its fullest." Goeckner isn't worried about the risqué content from simulated sex, homosexual relationships, foul language and a drag queen. The Muni, he says, has always been about bringing quality and relevant shows to a Springfield audience.
Warren and the cast say they feel the pressure of bringing the iconic show to the Springfield stage for the second time. Although the Springfield Theater Center offered the Rent in 2010, the Muni takes it to a much larger audience, and there's a tension between what actors can own and what belongs to the audience. "We don't want to pull Rentheads out of the show," says Warren. He's worked hard to appease fans. Costume designer Lindsay Viteychuk and crew have painstakingly recreated exact copies of many costumes from the original Broadway production, a common choice among Rent directors, but the decision and some aped choreography ("Out Tonight," "Over the Moon" etc.) seem to tie the likeable and energetic cast too tightly to their Broadway counterparts, forcing them to mimic everything from vocals to hand gestures.
Rent is all about "being an us for once instead of a them," but the cast is asked to be "them." Some standard moves should indeed stay. It wouldn't be Rent without table dancing in "La Vie Boheme," but a more liberated cast may have risen more successfully above the opening night technical difficulties. Important lines of exposition were rendered almost mute in complicated ensemble songs like "Rent," "Christmas Bells" and "Happy New Year." Audience members unfamiliar with the fast-paced story likely had trouble following along. Mark shoots film footage during the entire show, but his projector failed during an important moment in the finale.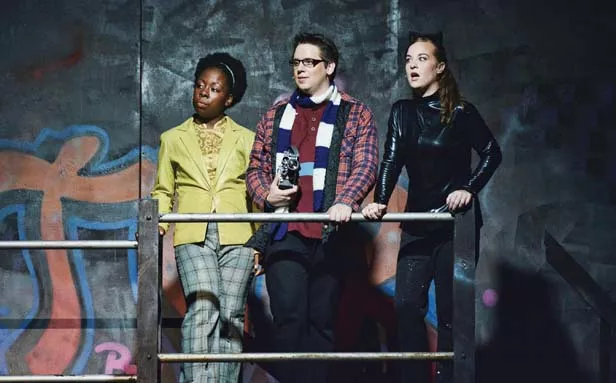 While some songs like "What You Own" fell flat and timing miscues ruined the beautifully haunting "Will I?," an onstage band and most performers were terrific and there are certainly songs and performances worth seeing. Cory Blissett as the drag queen Angel, "Seasons of Love" and "I'll Cover You (reprise)" are alone worth the price of admission. But the unfortunate truth is that the Muni just isn't the right venue for an intimate show like Rent, as much of its deep emotion evaporates into the night sky. Indoor venues – even larger ones – seem to capture the energy from the cast until the roof feels like it will blow right off. Not so under the stars at the Muni.


Technical and logistical issues aside, the Muni is to be applauded for taking the risk to bring this culturally important show to the Springfield community (an appreciative crowd responded loudly in an audience participation scene and provided an instant standing ovation). Yes, there is raunchy and offensive content starting 90 seconds into the show (and we all could have done without the simulated oral sex in "La Vie Boheme"), but those who would object to the themes not usually addressed or the characters not typically presented on the Springfield stage should revisit the show's message. Rent is about understanding that there are people who aren't like you. It's about realizing that we all deal with tragedy. It's about deciding that life is still worth living for the beauty we find all around us.

Rent continues Sept. 12-14 and 19-21 at 7:30. Tickets: 793-6864 or themuni.org

Zach Baliva is a media producer and filmmaker living in Springfield. He is in pre-production on a film about student loan debt. More info at deferredmovie.com