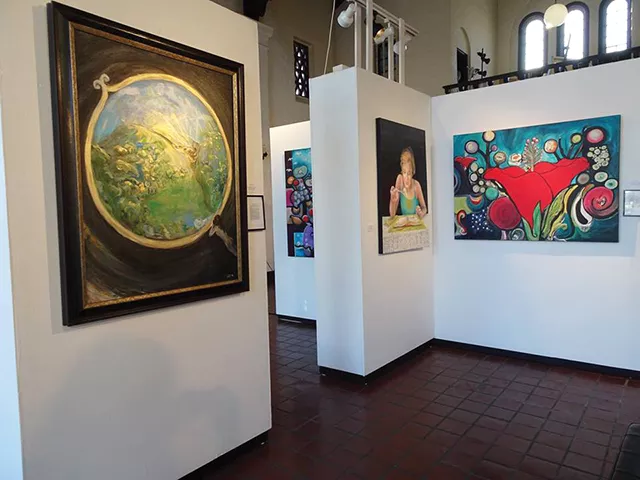 Two very different art exhibits opened in Springfield last week, both dealing with the subject of religion and spirituality, but from contrasting angles. Arizona-based artist Angela Ellsworth's "Leaving Loves Company" at the University of Illinois Visual Arts Gallery takes a sardonic look at the artist's Mormon upbringing while "Regeneration" at The Pharmacy Gallery and Art Space presents earnest and personal explorations of Christianity by artists Diane Schleyhahn and Janet Sgro, both board members of The Pharmacy.
Ellsworth, according to press materials, is a "direct descendant of Lorenzo Snow, the fifth president of the Church of Jesus Christ of Latter-day Saints" and as such was raised in the Mormon faith, although she now identifies as a queer artist and feminist, having parted with the church's teachings. Her work, as seen in the current exhibit, uses items and iconography associated with her former heritage in humorous and subtly disquieting ways.
The piece that gives the exhibit its title is an uncanny life-size replica of a wooden handcart of the sort used during the western migration of Mormons in the mid-19th century – but this one is kitted out with rabbit fur grips on the handle, white leather interior and wheels covered with highly detailed, hand-drawn wood grain.

More upsetting is the impression made by "Lady-Ties for a Line Dance," consisting of several long braids (made of artificial hair) accessorized in traditional style, hanging on the wall in a formation reminiscent of hunting trophies. The braids are apparently wearable and are sometimes used in dance routines by Ellsworth for her "Sister Wife Performers."
"Regeneration" is the culmination of five years of preparation and exploratory work by Springfield-area artists Diane Scheyhahn and Janet Sgro. "I always wanted to do a show around this series of paintings based on my grandmother's prayer books," said Sgro. "Doing it with Diane just seemed effortless." Sgro discovered the prayer books, which date from the 1920s, underneath a collection of candles she had been hanging onto since the mid-1990s when her grandmother passed away. "Some were handwritten prayers of hers and things that were cut out from different places," Sgro said. She decided to begin a series of nine paintings, each based on one day of the novena. "Some of them were easy to do and some were horribly difficult," she said. "The first was called 'the gift of the holy ghost' and I thought about that, what does that mean? I thought about how flowers have a glow to them that is mysterious and about how we all have an inner glow to us, especially when we have the Holy Spirit in us." Much of Sgro's work in the show involves iterations of vibrantly colored flowers, with notable and striking exceptions employing a more understated palette and figurative approach.
"Janet and I have both been on a religious journey," said Diane Scheyhahn, whose paintings in the show tend toward nearly photo-realistic depictions of both biblical and contemporary scenes. "For myself, as a new Christian, I was learning and reading the Bible and was inspired by all the things God has been revealing to me."

A recurring theme throughout Schleyhahn's work in "Regeneration" is water, which manifests itself in several ways, including depictions of heavy rain as well as submerged, frolicking children. "I got consumed with water and the whole idea of cleansing and forgiveness and the idea of salvation being the washing," she said. "Plus I was going on vacation and taking pictures of kids underwater. I got fascinated with what's happening underwater, above water and the water itself."
"Leaving Loves Company" can be seen through Thursday, April 12 at the University of Illinois Visual Arts Gallery located on the UIS campus in the Health and Science Building, Room 201, open Monday through Thursday 11 a.m. to 6 p.m. "Regeneration" was a one-night event held at the Pharmacy Gallery and Art Space, 711 S. Fifth St., on Friday, March. Work by Schleyhahn and Sgro is frequently on display in the gallery, along with that of The Pharmacy's other member artists, on Fridays and Saturdays from 12 p.m. until six p.m., excluding special exhibits. Visit www.pharmacygallery.com for further information.

Scott Faingold can be reached at
sfaingold@illinoistimes.com.