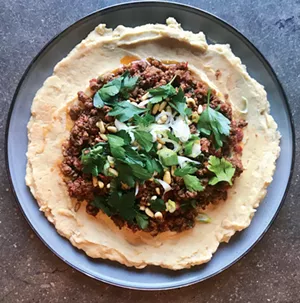 Todd Snider is an American singer-songwriter whose music has been described as a combination of Americana, alt-country and folk. I met Todd in 2017 when he was lead singer of the Hard Working Americans, a side project of some of the members of the rock band Widespread Panic. I had driven my bus down to Nashville to cater their week-long recording session at Johnny Cash's Cabin Studio. The diet of touring musicians is notoriously unhealthy and my job was to provide a week's worth of "healthy, nutrient-dense" food. It was my first paid job as a chef.
A few weeks ago I received an email from Todd Snider's manager. Todd was on tour and would be performing in Oklahoma City and wanted to know if I was available to feed his entourage. I asked for the day off work from the restaurant and put together a menu plan: hummus and veggies for snacking, gumbo for lunch and free-range Oklahoma bison steaks with collard greens for dinner.
I arose early the day of the show to begin the meal prep. On the back burners I started simmering a pot of chickpeas and stewing a pot of collard greens while I stirred the roux for the gumbo on the front burner. My wife began peeling garlic and picking herbs for a chimichurri sauce for the bison steaks. By 9 a.m. every bit of counter space in our tiny apartment kitchen was covered with prep bowls, cutting boards and serving dishes. I kept checking the time. Lunch was to be ready by 12:30.
Around 10 a.m. I received a text message from Todd's manager: "Hey Doc, we had the bus break down. Sitting in Kansas still. If we do make it, we will be pulling in at 5-6 p.m. and just doing the show asap. We won't have time to eat till afterwards."
I surveyed all the bowls of food and sinkful of dishes and felt quite disheartened. Not only might I be out the money I spent on ingredients, I knew that my absence from the restaurant meant that my co-workers had to be burdened with my workload in addition to their own. Not knowing if Todd was going to make it to Oklahoma City at all, I just wasn't sure what to do. I had no choice but to work with what I had already prepared and reconcept the menu.
I could move the gumbo from lunchtime to after the show. But what to do with all the bison steak that was marinating in chimichurri? My wife suggested: "Why don't you make them steak sandwiches to take on the road?"
I proceeded to cook off the steak and thinly slice it for sandwiches. We assembled a trial sandwich to assess. The steak and chimichurri had a nice flavor but needed something more. Not sure if the sandwiches would be kept refrigerated, we hesitated using mayonnaise, instead opting to dress the rolls with the hummus before adding the steak and chimichurri. The sandwich was actually quite delicious.
Happily, Todd's bus got fixed and he made it to the venue in the nick of time. He enjoyed the gumbo and thanked me for the sandwiches for the road. In the aftermath we were left with about a gallon of hummus, way more than I could possibly utilize as a dip for carrot sticks.
The following week I tried to think of ways to repurpose all the leftover hummus and started using it as a base for other dishes. I tried a riff on shrimp and grits, topping warmed hummus with shrimps sauteed in chili oil with garlic. I also used it as a base for spicy ground lamb and tomatoes.
As I perused my cookbooks looking for other ideas I discovered that hummus as a dip is more of a Western affectation. In Beirut it may make an appearance on a meze platter, but throughout the Middle East hummus is often topped with meat or vegetables and served warm as a main course.
Hummus with Spicy Lamb
Serves 4-6
Ingredients
For the hummus:
1 pound dried chickpeas (about 2 ½ cups), soaked overnight and drained
8 garlic cloves, peeled
1 teaspoon baking soda
½ cup tahini
½ cup fresh lemon juice
cup extra-virgin olive oil
½ teaspoon ground cumin
Salt
For the spicy lamb:
½ lb. ground lamb
1 tablespoon olive oil
3/4 teaspoon salt
14.5 ounce can diced tomatoes
1/4 teaspoon black pepper
1/4 teaspoon ground allspice
1/8 teaspoon ground cinnamon
1/4 cup chickpea cooking liquid
4 scallions, thinly sliced (white and green parts)
1 1/2 teaspoons harissa (or substitute hot sauce)
A squeeze of fresh lemon juice
1 tablespoon chopped flat-leaf parsley
2 tablespoons toasted pine nuts
Preparation
For the hummus:
In a saucepan, cover the chickpeas, garlic and baking soda with 2 inches of water and bring to a simmer. Cover, stirring occasionally until very tender. This could take anywhere between 45 minutes to 2 hours, depending on the freshness of the chickpeas. It may be necessary to add more water to keep the chickpeas covered.
Drain the chickpeas and garlic, reserving some of the cooking liquid. Transfer to a food processor and puree until very smooth. (This can also be done by hand with a mortar and pestle.)
While the machine is running, slowly add the tahini, lemon juice, olive oil and ground cumin. Season with salt. If the mixture is too dry or thick, loosen with some of the reserved chickpeas cooking liquid until the hummus is the thickness of sour cream.
Taste and if needed, add more lemon juice or salt.
For the spicy lamb:
Warm a skillet over medium heat and add 1 tablespoon olive oil. Add the ground lamb and season with salt. As it cooks, break it up with a spoon until it starts to brown, about 5 minutes.
Add the tomatoes, black pepper, allspice, cinnamon and 1/4 cup chickpea cooking liquid. Cook for about 3 minutes.
Stir in the scallions and harissa and cook for another couple of minutes, until the liquid is reduced (but the meat is still very juicy). Remove from heat and add a squeeze of lemon juice. Mix in the flat-leaf parsley.
To serve, rewarm the hummus, spoon onto a serving plate and use the back of the spoon to make a crater in the middle, leaving a rim. Spoon the spiced lamb into the middle of the hummus and sprinkle with pine nuts and more parsley.