The line outside The Feed Store on its last day stretched around the block. The Springfield mainstay has been around for 43 years. Its green sign faces the Old State Capitol plaza. It was a perfect place to pick up a sandwich, salad or some soup while downtown and eat outside or in the restaurant's floral wallpapered interior.
The space was unique yet homey. You'd walk in, give your order – likely for standbys like a chicken salad sandwich and the mushroom bisque – and go find a place to sit. Someone would call your number, drop off a tray, and you'd later present your receipt to the cashier. It was no-fuss quality food and service with a friendly, casual ambiance.
But, no more. Feed Store is one of a number of businesses to close or shift gears in Springfield, as, at least partially, a result of the pandemic. For some, the moves come as the result of a generational shift, people ready to retire who got a preemptive taste of freedom during the forced closures. Others have recovered, sometimes with fewer staff, and have reinvented themselves. As the pandemic and community spread of the coronavirus continues, experts say it's hard to predict just what the total loss of businesses by closing could be. Others say there's a bright side – now is the perfect time for dreaming big.
Ross Richardson and wife, Ann Laurence, had worked together on the campaign for Gov. Dan Walker before opening The Feed Store in the 70s. "We had almost no restaurant experience between us," said Richardson. When he first went to a bank for a loan, he proposed a place with gourmet cuisine. But the banker urged him to give sandwiches a try. After all, at that time there were plenty of state workers – guaranteed foot traffic over the lunch hour.
The recipes, made with wholesome, top-notch ingredients, came from a variety of places. "The beef barley soup recipe came off the label of a bag of barley that we bought." The famous chicken salad recipe? "Straight out of Betty Crocker." The cheese soup though – "undoubtedly the most popular of the soups" – that was a Richardson recipe.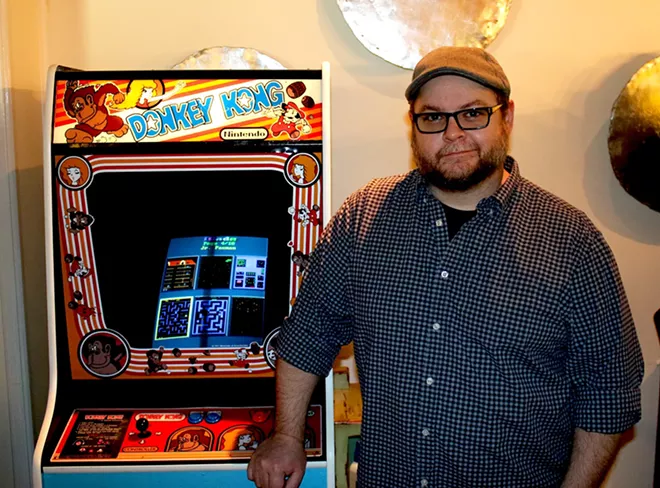 The food was comforting. As restaurants came and went in downtown, The Feed Store was steadfast. And its appeal was apparent from the large crowds that showed up once the closure was announced. The restaurant couldn't take any more orders on its last day, instead fulfilling back-up orders from the day before. But in the previous days, before the decision to close was announced, business was slow. Richardson opted not to apply for the federal Paycheck Protection Program (PPP), a loan designed to urge business owners to keep their workers on the payroll. "I thought about it, I thought about it as recently as a couple weeks ago," he said, on the official last day of The Feed Store's operation. "I didn't really want to take out a loan if I didn't know what I was going to be responsible for."
Richardson has seen plenty of changes to downtown over the decades. He said there has been a "slow steady decline" in business, starting 15 to 20 years ago. January and February are generally "the worst possible months" for business, and combined with the pandemic and being of retirement age, it was time to close.
So now – though the family still owns the building and their son and the former manager, Dan Richardson, had been considering taking over the operation – the longtime restaurant closed for good. Dan had told the State Journal-Register that the pandemic had "thrown a wrench" in his plans.
With plenty of fond memories – like when President Barack Obama visited in 2016 (He ordered the beef barley soup and a turkey and cheddar on wheat.) – and success, they served Springfield well, and it served them well too. Until it didn't anymore. Partially because of a crisis no one had anticipated.
It's a boat The Feed Store shares with others downtown. The owner of Robbie's Restaurant, which had been in business for four decades and was a few doors down from The Feed Store, announced in June it would not reopen. Del's Popcorn Shop won't reopen its downtown location. And Augie's Front Burner is closed now too.
Reinvention
Not too far from the Old State Capitol Plaza, over on Broadway, is Arlington's. It's in a 1917 building that has housed a variety of businesses including a meatpacking plant, fur factory and music venue. In 2014, Ebben Moore opened it as its current iteration. Having grown up in Springfield and worked in the bar and restaurant industry in Chicago and other large cities, he moved back to create his own vision. After the years of experience, including managing, he committed to a life of grind and grueling hours. "I haven't had a vacation for 12 years."
The first break in a long while was forced by the pandemic. And while he's making changes partially as a result, he said he's no COVID-19 casualty. "I put everything back into Arlington's. So you know, when the pandemic hits, it hits and it hurts but it's not devastating." The break has allowed time for Moore, in his early 40s, to re-envision.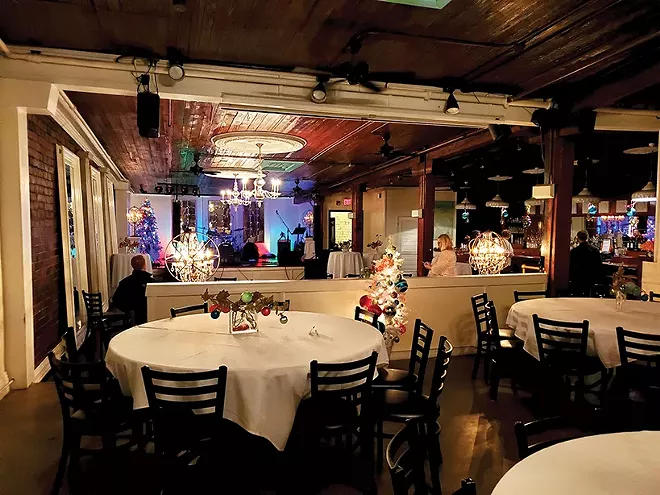 Part of the appeal of Arlington's, which had begun as a restaurant, is an upstairs that boasts a bar and venue space. It has become a popular venue for events, from the usual suspects like parties and weddings, to art shows and even psychic readings thrown in for good measure. Moore decided it was time to focus on that side of the business.
For planned events such as birthday parties or wedding receptions, "If it rains, they show up. If it snows, they show up. Whereas a restaurant is very much not that," said Moore. The reliability is appealing. Unfortunately, the change meant Moore had to let some employees go. As a restaurant, he had always run a tight ship and worked long shifts himself. During a period of doing carryout in recent months, he had an epiphany. "I just sat down, crunched the numbers and said, hey, this is the smart thing for my life."
Moore will still be able to do what he loves in creating interesting flavors with fresh ingredients. He has focused on a casual but inspired menu with amped-up flavors and a dash of vegetarian offerings. "I think we had 32 sauces at one point." Those flavors will still be available for those who get catering at events, as well as pizzas he'll sell at the bar, with flavors including black bean meatballs and pesto alfredo.
Along with those pizzas, another new addition: arcade games. Moore's sister owned The Neighbors, a "beercade" with old-school arcade and pinball games that used to be on South Sixth Street before the building got torn down for a railroad project. So the games are out of storage and seeing a new life downtown. While the upper floor of Arlington's is event space, on the main floor there are now 14 games and a dart board. Moore said he has hired someone just to go behind players and sanitize.
He has plans to go shopping for a trolley car, which would add some vintage charm to the city and be rentable for those who want to bar hop and see city sites. For now, the beercade is in full effect, open Wednesday through Saturday evenings. While Moore has seen losses – revenue, employees, a restaurant – he hopes he can be a mainstay much like the three restaurants in his vicinity that recently shuttered had been. "I'm taking what was good, but was too time-consuming, and going for things that are better and a little more wacky, which is more my style anyway," he said. "We're not in any danger of closing. It's just the right time to pivot."
Rebuilding
While some are closing and others are adapting, some are dreaming up new plans for the future.
Adams Street in downtown Springfield has become the hip place to be. With Cafe Moxo, J.P. Kelly's Pub and Buzz Bomb Brewing Company, investors are now promising a new food hall slated for next summer at 322 Adams St. The new owners will be applying for TIF funding to the tune of six figures, according to David Lee who is a managing partner for Adams Fourth Holdings, LLC. The 30-year-old said the venture's intent is to create a space that will feature a variety of different food and booze offerings. It will be a public space that can also be rented for private events. The owners – of which there are several, according to a Facebook post, including Eric Broughton of Springfield Daily and The Incubator – are touting a rooftop bar. Both the bar and food hall concept would be new for Springfield. The goal is a "cool atmosphere and a nice food experience where people can have some unique concepts that they can come in and try out," said Lee. He didn't provide specifics but said the idea is to make offerings from multiple entities available.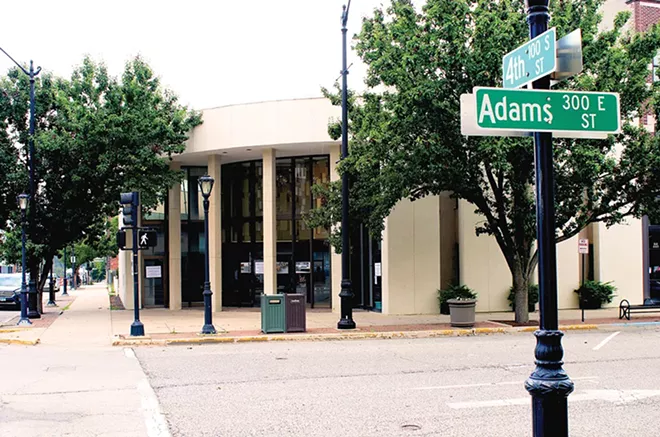 Another new development this year was 217 Black Restaurant Weekend (disclosure: Illinois Times was a sponsor). Dominic Watson heads the Springfield Black Chamber of Commerce, the primary sponsor of the event. "Not only did the restaurants see exponential growth during that weekend, but over the course of that entire week, they were seeing a huge amount of foot traffic," he said. Watson hopes the new visibility for restaurants will mean a lasting increase in customers.
Watson said civil uprising against systemic racism and police brutality has led to a "newfound sense of urgency to support the black community" and an "environment where more residents are open to learning about Black-owned businesses and how to support them." The weekend coincided with Juneteenth, a commemoration of the freeing of enslaved people.
Watson said he knew a few Black-owned businesses that had been on the brink of closing during the pandemic, but is unaware of any having made that call. He said he's working on a Black business relief fund that could help provide donations to those struggling. Adapting and making changes has long been the name of the game, said Watson. "That's just the everyday challenge of being a business owner. You have to constantly reinvent yourself and reinvent your business and offer new services and innovative ways to serve your customers."
Kevin Lust directs the Illinois Small Business Development Center at Lincoln Land Community College. The office provides free guidance to small businesses on behalf of the Small Business Association and other partners. Lust said in recent months he's been inundated with requests. "Between April and May I worked individually with as many different clients as I would have in a typical year." Throughout the uncertainty, he helped businesses apply for PPP funds and find other ways to adapt. As more are able to reopen, "The question is, to what extent will their customers return or continue to buy from them?" Lust said.
Having to reckon with those big-picture questions has come with a silver lining. "Somebody said that the pandemic has caused the next 10 years' worth of innovation to occur in 10 weeks, and I don't think that's far off." It's also caused some business owners who had retirements in the near future to "move up plans," he said.
Over at University of Illinois Springfield, professor Kenneth Kriz studies consumer behavior and economic trends. On July 7, he wrote, "There are already signs that the recession may be over." The pain will linger, especially in the labor market, he wrote in a blog post: "But there is a palpable sense that the situation may be resolving itself." Still, "If virus cases continue to surge as they have in many states, a new round of lockdowns and layoffs may proceed a new round of economic pain."
Kriz told Illinois Times that restaurant spending has suffered. With a major loss in discretionary spending overall, he said he's concerned with the loss in sales tax revenues, which could mean a major hit to government coffers. He points to data from Opportunity Insights, run by researchers at Harvard. Their analysis shows that as of June 30, 2020, total small business revenue decreased by 20.7% compared to revenue in January. In late March, revenue had decreased 48.9%.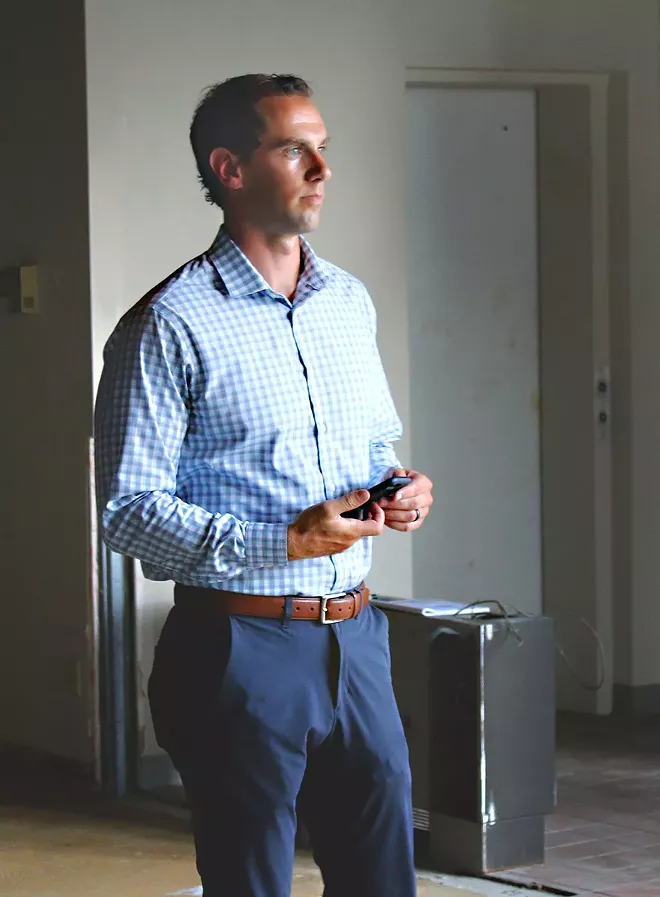 Kriz said much remains to be seen about the lasting impacts of a rapid and deep recession and its recovery. What's clear is the economy and public health are inextricable. "If we want to resolve the economic situation, it's not going to be resolved until we resolve the public health questions, it just isn't. Because this is a recession unlike any we've ever seen."
Lisa Clemmons Stott, the head of Downtown Springfield, Inc., has long called for changes that would make downtown more pedestrian friendly and attractive to residents and businesses. The pandemic has proven to be an opportunity to implement some of those changes, such as more outdoor dining space and partial street closures for pedestrian traffic during the weekends. "We've talked for years about what might attract corporations or residents to Springfield. Would it be crazy to think that we could position ourselves as pandemic-proof? The perfect mix of country and city: not too urban, and not too rural," she wrote for Illinois Times in May.
Recovery
In June, Business Insider agreed that Springfield is uniquely situated to appeal to residents after the pandemic. In a post that stated polls show more people are now inclined to move to less densely populated areas, Springfield was ranked number one out of 30 cities chosen as ideal locations.
Jordan and Aurora Coffey are young chefs who have chosen to call Springfield home for the long run. The two returned years ago, after a stint in Chicago, to run American Harvest Eatery. Luminary will be their new restaurant, on the west side of town. Jordan is a protegé of Augie Mrozowski, the chef behind Augie's Front Burner, which recently closed as Mrozowski chose to retire after running his restaurant across from the Old State Capitol for more than two decades. He and his wife had been partners in American Harvest.
The Coffeys plan to test recipes out of Mrozowski's building downtown starting in August, while their new space is under development. Their new restaurant will offer lunches that are casual and quick, as well as dinner. Jordan said he's also hoping to provide deli selections including charcuterie offerings, meats and veggies prepared and pickled in-house.
The two had operated American Harvest off of Iles Avenue before deciding to leave the location mid-pandemic, in part due to the cost of rent. Aurora said Luminary is going to be "a lot more approachable from the get-go," with a casual atmosphere offering modern American cuisine that is built around seasonal, local produce.
They never could have anticipated the twists and turns of 2020. But plans are coming together more quickly than they would have sans pandemic. "We've put the responsibility on ourselves to be people that other restaurants and people in our community can look up to and have high expectations from to give a great meal, a great service – things well thought out," said Aurora. And, if anything, the pandemic has given us all more time to think.
Contact Rachel Otwell at