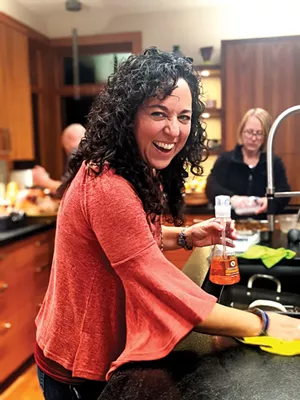 It's been more than a decade since Dr. Kemia Sarraf, a physician and mother of four, founded genHkids, a nonprofit organization dedicated to improving the health and wellness of children and families in central Illinois. Alarmed by the growing incidence of weight-related illnesses being diagnosed in children, and desiring to engage the community about the problem, Sarraf sought solutions through partnerships with schools, organizations and families. Over the years many volunteers and staff members have implemented nutrition, meal-prep, active play and gardening programs and built a body of materials focused on building each other up. Although recent funding cuts have forced genHkids to temporarily suspend programming, the genHkids message lives on: Eat real. Move more.


Over those 12 years, though, Sarraf has come to believe that resilience is the foundation upon which a healthy, joyous life is built. "Resilience is our capacity to embrace new challenges, take setbacks in stride, and bounce back from trauma," she says. Building resilience in yourself and your child is the greatest protection against trauma and adversity, she explains, and eating real and moving more are just two parts of a larger piece. For parents it begins with building and then modeling our own personal resilience. "It all starts with habits," she says. "What are the habits that I live day in and day out that make me a more resilient person? What am I eating? How much activity am I getting? What activities have I engaged in that are meaningful to me?"


Self-care is a buzzword these days, but true self-care, Sarraf says, goes beyond manicures and massages. "It's not an occasional thing we do to treat ourselves, but rather a daily practice that builds resilience in a person. And it's not always fun. There are some core aspects of self-care/resilience building that apply to everyone, like sleeping enough and eating well. Beyond those, there will be individual facets of self-care that will vary from person to person. For some it's hard-core workouts or meditating. Personally, I rage-clean my kitchen each night before bed so I wake up to a clear space in the morning."


Not all of these aspects of resilience will be achievable all at once or everyday, Sarraf says. There are pieces that will get more or less attention depending on the stage of life we're in. "For example," Sarraf explains, "if you're a young mom with a new baby, your sleep is going to suffer. So how do you deal with that? You focus on staying well hydrated, on staying as well nourished as you can, and on deepening connections with other people. That will get you through until you get to a place where your sleep can normalize." Sarraf says that if one of these aspects of resilience is lacking, focus on the ones you can manage. "When you don't know what to do," she says, "do the work in front of you."


"Our physical, intellectual, emotional, social and spiritual selves are not separate entities," Sarraf says. "Building resilience requires attention to all these areas. Neglect of body will impact emotional and spiritual well-being. And vice-versa. Increasing capacity requires attention to the whole."


Resilience practices include:
Sleep
Strive to get at least eight hours of sleep each night. Chronic sleep deprivation is as harmful to our health as smoking. Go to bed and wake up at the same time each day. Even weekends. Don't hit snooze. Avoid screens 30 minutes before bed, and move your phone to another room.


Nutrition
Avoid processed foods. Cook from scratch as much as possible. Flash-frozen vegetables, with no pre-seasoning, are a convenient choice, especially in winter. Include foods with live, active bacteria like yogurt and kombucha for gut health.


Hydration
Drink a large glass of water first thing in the morning, and aim for 6-8 glasses of water a day. Cut sugar-sweetened beverages, including soda, juice and sports drinks. Eat hydrating fresh fruits and vegetables like oranges, lettuce and cucumbers.


Activity
Remember to play, not just exercise. This is especially important for adults as well as children. Spend time outdoors. Find something you like to do that involves moving your body. Walking 30 minutes four times a week is an excellent way to begin improving physical resilience.


Breathing/mindfulness
Practice inhaling deeply through your nose for five counts, then exhaling through your mouth as if blowing through a straw for eight counts, and repeating. This is effective for pain and stress management.


Gratitude
Those who actively practice gratitude are more optimistic and express greater happiness. Write thank you notes. Make a list each day of things/people you're grateful for. Practice empathy.


Relationships
Building relationships can feel more difficult as we age. It's risky to reach out and make new connections, but seeking and building friendships has tremendous gains for our socio-emotional health. Connection is essential to well-being. It's not the quantity of your connections that's important, but the quality.


Ashley Meyer is a Springfield-based writer and cook. She formerly served as the executive chef for GenHkids, where she worked with Dr. Kemia Sarraf and others to create and implement cooking and nutrition education programs for students, families and school kitchen staff.