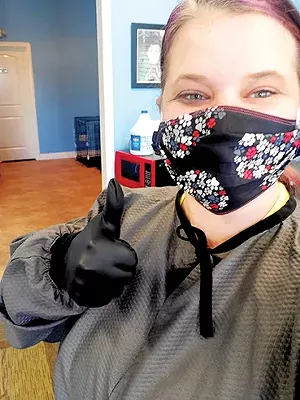 Ashley Sims worked at Petsmart when she had her first child. She said she felt the company wouldn't accommodate the reality of being a new parent, and she wanted to find a better balance. "I wanted to make myself happy."
So she's her own boss now. She started her own dog-grooming business where she's the sole employee. Her Springfield storefront opened in March. "I was open for two weeks, and then we were forced to shut down," she said. The timing "was absolutely horrible."
But then, some relief. Toward the end of April, Sims learned she would fall under the expanded category of entities allowed to reopen under the new, modified stay-at-home order for May. She's made accommodations to try to mitigate any chances of spreading the new coronavirus. "I have my clients call me when they arrive, and I meet them outside with gloves and a mask on." Business has been booming.
Gov. JB Pritzker has long said that when it comes to balancing the cost of lives versus livelihoods during the pandemic, he will err on the side of saving lives. Earlier this month, his administration released a strategy to reopen, which states it is about saving both. The "Restore Illinois" plan outlines regions and the phases they will go through based on public-health metrics. The final phase won't come until "testing, tracing and treatment are widely available throughout the state." The plan has been criticized by those who say it won't address struggling businesses' bottom lines quickly enough.
On May 7, the city of Springfield hosted the first of two meetings soliciting feedback, as required, on how to use $799,000 of a federal Community Development Block Grant meant to address COVID-19 relief. Various business owners shared dim outlooks. John Leskovisek co-owns Godfather's Pizza and Dew Chilli Parlor restaurants in Springfield. "We're trying to keep everybody employed," he said on the call. But it's been difficult. "The cost is just mounting."
The Illinois Restaurant Association (IRA) decried Pritkzer's reopening strategy. Back when Pritzker announced in mid-March that all restaurants would be closed for dine-in services, IRA's president and CEO Sam Toia stood with him during a press conference. "Public safety is the number one concern" of the association, he said. But in a May 8 release on behalf of the IRA he said the timeframe was "excessive" and that already struggling restaurants couldn't afford to wait to reopen for dining by June at the earliest.
According to Pritzker's plan, the entire state is currently in phase two, a phase where regions are beginning to see a flattening of the curve, and some businesses have reopened in limited capacities. In phase four, restaurants and bars would reopen, with accommodations made. First, there must be a steady decline in the rate of infection. Moving between phases would require, in part, "no overall increase (i.e. stability or decrease) in hospital admissions for COVID-19-like illness for 28 days." Phases could be backpedaled if there is another confirmed rise in infection rates.
"Bars, restaurants and hotels are just getting absolutely slammed by the current policies and a lot of them are wondering if they're ever going to open their doors again," said Todd Maisch, president and CEO of the Illinois Chamber of Commerce. Maisch said the plan moves too slowly and the rules on what can reopen have seemed "arbitrary."
Pointing to an announcement that more than 1 million Illinoisans have filed for unemployment since March 1, Maisch said, "What we're calling for is a shift to a notion of safe business." He wants a set of state protocols guiding businesses on how to reopen in a way that would address public safety, regardless of location and whether they have been deemed essential in the past.
Pritzker has been steadfast in his plan. On May 11 he said projections for when the state would hit its peak and plateau had been moved from mid-May to mid-June, based on the latest data. And he said the biggest game-changer in restructuring his plan would be an effective treatment, regardless of requests from business interests to reconsider.
Still, Springfield Mayor Jim Langfelder said he would put a request to the governor in writing to rework the plan, especially in regard to the restaurant industry. "We're a hospitality city, so I understand the struggles." He said he'd like to see restaurants open for dining by June. Langfelder said he will continue to have local law enforcement enforce the stay-at-home order and heed the governor's guidance.
"It was exciting to the small retail community that the state order allowed them to start doing curbside pickup and delivery on the first (of May)," said Lisa Clemmons Stott, head of Downtown Springfield, Inc. She noted that while business owners have worn masks per the order, some have noted customers who do not, which is concerning. The mandate is for masks to be worn when the social distancing of six feet is not possible.
She also echoes concerns about the timeline of the reopening plan. She said most, if not all, downtown restaurants have laid off staff. Federal funds such as the Paycheck Protection Program have limitations. "It's never going to replace the revenue. It's never going to put anyone into profitability this year," she said.
For downtown businesses, the focus is on their survival while also on public health. "A lot of the conversations I'm having with the business owners are the steps you need to take to reopen safely," said Stott.
Ashley Sims, the Springfield dog groomer, is grateful to get back to work while taking precautions. "I'd love to see more small business owners opening back up," she said.
You can contact Rachel Otwell at rotwell@illinoistimes.com.