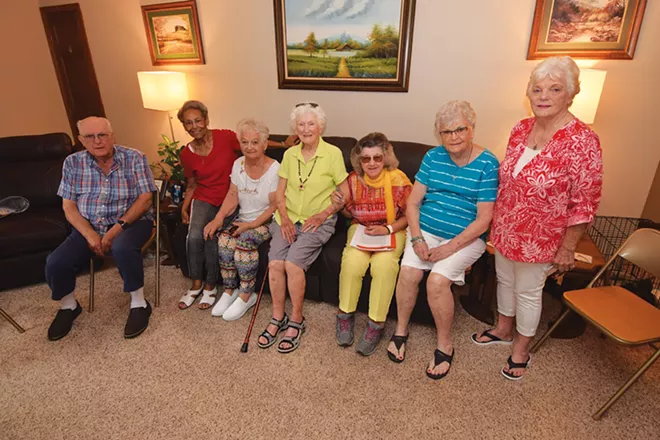 LuAnn Atkins is 90 years old, she's lived in her home for ten and a half years, and she's mad as hell since learning her rent will be raised from $1,667 to $3,000 per month starting Oct. 1.
"I'm furious. I'm very angry," Atkins said. "They haven't been forthright in getting us ready for this. It really came out of the blue, and I think they want us to leave."
Atkins lives in the senior citizen independent living area of Lewis Memorial Christian Village on Springfield's west side. Recently, she and her fellow Garden Villas neighbors were informed by letter that their monthly rents, which now range from $985 to $1,667, will increase to a range of $2,400 to $3,000. The rent at three of the condominium-type units will nearly triple when the rate goes from $985 to $2,847 a month.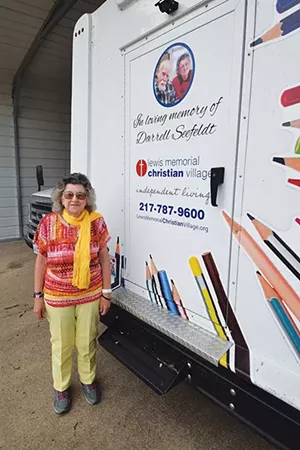 Atkins and her neighbors attended an informational meeting several months ago where Lewis Memorial staff informed them that costs were rising and residents should look for rent and maintenance fees to increase. When asked to be more specific about the amount of the increase, Atkins said the staff would not provide numbers to the crowd of senior citizens, almost all of whom are on fixed incomes.
It was therefore a shock when Atkins opened the letter from Lewis Memorial's parent company, Christian Horizons of St. Louis.
"I was very straightforward and vented my anger in a letter to the home office," Atkins said. "These people put the label 'Christian' on their business, they say that their mission is to honor God. But their actions concerning this particular increase, to me do not reflect their mission statement."
Jennifer Knecht, the chief sales and marketing officer for Christian Horizons, said the facility tried to prepare residents for the upcoming increases.
"Residents were notified of the changes and extended a variety of options through a series of letters, town hall meetings and multiple one-on-one conversations with the Lewis Memorial Christian Village leadership team," Knecht said. "Our team is and will continue to work with independent living garden home residents, connecting them with options so they can determine the fit that best meets their personal situation."
"I love it here and I don't want to leave."
Eighty-two-year-old Mary Smith has lived in a Garden Villa at Lewis Memorial for two and a half years, and the new rates will force her to leave.
"My children helped move me here thinking I would be in a safe and lovely place, and they were madder than crap when I told them how much they had raised my rent," Smith said. "They said, 'Mom, we thought that would be your forever home,' and I said, 'So did I.'
"I was shocked and devastated, because I love it here and I don't want to leave," Smith said. "I've met all of my neighbors and they are just special. It's a discredit to us elderly people. I have no choice but to move because I can't afford this."
Barbara Chambers is an 85-year-old, three-year resident of the Garden Villas, and she will also move as a result of the rate increase.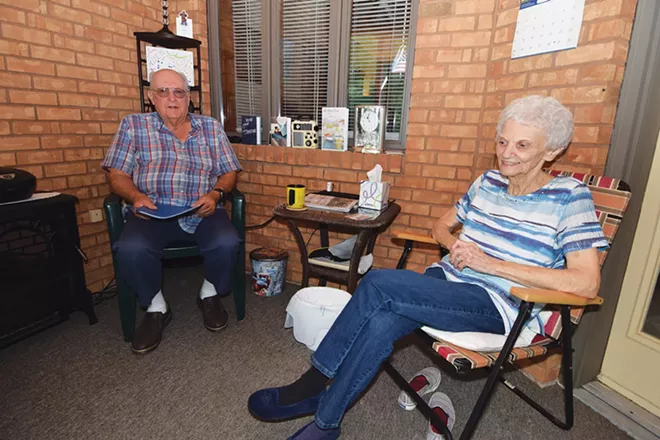 "I've calmed down enough to do what I need to do to move. I cannot afford it here," Chambers said. "I have my name on a list at a couple of places and I'm even looking at something that's not senior living.
"It's perfect for me here. I love it. I walk the trail every day and have made many friends here," Chambers said. "But now I'm telling people, do not move here, because they are not treating us right."
Christian Horizons' Knecht said that the company reluctantly made the decision to raise the rates at Lewis Memorial after being hit with harsh economic realities.
"Lewis Memorial Christian Village determined that due to dramatic external economic pressures, current monthly rate structures for independent living garden home residences are no longer sustainable," Knecht said. "The same market forces that are dramatically elevating operating costs for businesses across the nation and in Springfield have forced all U.S. senior living and multifamily housing providers to pass on higher rate increases than in years past."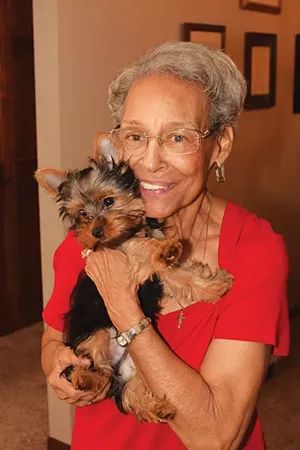 Knecht said that the new rates at Lewis Memorial will remain below fair market value compared with rates charged by other independent living providers in the area.
Lewis Memorial's new $1,667 to $3,000 rental fee range compares to the $1,809 to $3,349 per month charged by Montvale Holiday Apartments in Springfield; $1,475 to $2,650 charged by Seasons Under the Oaks; a starting price of $2,215 at Brenden Gardens; and a $1,800 to $3,200 range at Hickory Glen in Springfield. These rates are advertised on each provider's website.
Concordia Village and Illinois Presbyterian Home in Springfield do not list their rental rates online and did not respond to inquiries asking for rates that could be published in this story.
While not specifically addressing the situation at Lewis Memorial, AARP is concerned about the high rent costs in general that senior citizens are facing.
"AARP Illinois is deeply concerned about rising housing fees that negatively impact older adults on fixed incomes, especially during this challenging time of surging costs on basic needs such as food, transportation and prescription drugs," said Philippe Largent, AARP Illinois State Director. "AARP Illinois continues to advocate for increased funding and availability of home and community-based services across the state to ensure older adults can age safely, comfortably and with dignity in their own communities."
Knecht said the Christian Horizons rate decision was made due to substantial increases in the cost of operational and safety support needed on the Lewis Memorial campus, dramatic increases in maintenance costs, inflation rates and wage costs.
"The decision to raise independent living garden home rates is not taken lightly and was made considering these economic headwinds," Knecht said. "To ensure sustainability, it is vital for Lewis Memorial Christian Village to exercise financial stewardship and to continue residence upkeep and safety for our current residents."
Allen Betz, an 83-year-old renter of five years, thinks the upkeep and safety at Lewis Memorial leaves a lot to be desired.
"We've had a water problem from day one. Every time we have a hard rain a carpet gets wet. And I've been told and told and told that it would be taken care of, and it never has," Betz said. "I shudder to think how much mold is under that carpet."
Betz and his wife will move as a result of the rent increase and have a new residence lined up.
"We expected this would be our home until we died."
Rising costs are nothing new to landlords who must maintain properties, regardless of whether they run a retirement community or rent non-senior housing.
Tony Nudo is the treasurer of the Springfield Area Landlord Association. He said the cost of many rental-related items has gone up dramatically in the past several years, including building materials, pest control and labor. Still, he said, if you value your renters, you pass along the increases gradually.
"I have tenants that have been with us for 10 to 12 years and I increase their rents occasionally," Nudo said. "If you stay with me and you pay your rent, if you don't cause any problems, I try to keep you. If I raise it above market rent they're going to be looking around for another place and they're going to move, and that's not good for anybody."
Springfield Area Landlord Association member Stella Dean said that renters usually understand about the increasing costs that landlords face, as long as their rental fees don't jump dramatically.
"Most residents are frustrated but they are very understanding," Dean said. "Because it's not that I am increasing my profit margin from that property, I'm simply trying to keep even because my expenses have gone way up. And you can actually show that to them in black and white."
"Most housing providers take pride in their property and want to keep the property up to par," Dean said. "These are scary times, but most housing providers are working with their residents."
Jeanette Miner doesn't think that Lewis Memorial is working with its current residents. Miner is 84 years old and has owned her duplex for seven years so she doesn't pay rent. But Miner will see her monthly maintenance fees go up substantially on Oct. 1, and many of her friends who rent their homes will be forced to leave when their rental fees go up.
"It makes me think that they don't have any feelings for us. It's like we are just old people and let's get rid of them," Miner said. "We all downsized when we chose to come and live here. We expected this would be our home until we died."
"I cry a lot, and it's not just for me that I'm crying," Miner said. "We are a community, we are a family."
Senior citizens aren't the only renters facing tough times. Sangamon County Community Resources can provide emergency rental assistance to qualifying renters. Dave MacDonna, executive director, said, "We've had a large increase in requests since the COVID eviction moratorium ended and that is still continuing," he said. "Renters need assistance because they don't have the money to pay the back rent that they owe."
Springfield Urban League CEO Marcus Johnson said his organization has noticed a recent trend tied to increasing rental costs.
"We are not seeing an uptick in the number of individuals who need assistance, but we are seeing an uptick in the average request by a few hundred dollars per individual," Johnson said. "So we are starting to see that we are not able to help as many individuals with the resources we have."
Springfield Catholic Charities is experiencing a similar demand for assistance.
"We have seen more and more people asking for rental assistance as well as utility assistance," said Area Director Patrick McConnell. "We are running short on funds, especially with our crisis assistance office."
"Obviously money talks."
Christian Horizons is based in St. Louis and besides Lewis Memorial Christian Village, it operates River Birch Living in Springfield plus facilities in Forsyth, Lincoln, Carmi, Washington and Monticello, Illinois; St. Louis and Joplin, Missouri; Council Bluffs, Iowa; and Bedford, Brownstown and Crown Point, Indiana.
Lewis Memorial Christian Village in Springfield offers independent living garden homes and apartments, assisted living, skilled nursing and long-term care. A statement from Christian Horizons said, "As a nonprofit provider, service fees collected from the (Lewis Memorial) campus are reinvested back into creating its resident/guest experience, associate experience and campus infrastructure."
Christian Horizons' mission statement from its website reads, "Christian Horizons exists to honor God by providing a continuum of care and support services, primarily for older adults." Its ministry values statement says, "The needs of those we serve will be our first priority, and we will strive to promote independence and dignity for all. We will be careful stewards of our resources."
Seventy-eight-year-old Jacqueline Harmon, who has rented her home for one year at Lewis Memorial, is moving out because her rent is increasing by $1,600 per month.
"A Christian village would take care of its seniors," Harmon said. "I believe in God, but I just don't like what is going on, I really don't.
"I was really hurt. I thought that it was a senior place and they would consider your income," Harmon said. "You have seniors who have been here for eight, nine years or more. These people don't have that kind of money. Some of these people are in the early stages of Alzheimer's or dementia. What are they going to do?"
Harmon, like her neighbor Betz, has experienced maintenance issues at her home. When Harmon's porch light quit working, it was replaced with a less expensive model that is very different from the original light.
Harmon's daughter, Kamyra Day, said that many of the costs that are being cited for the Lewis Memorial rental increases are things that the residents pay themselves, such as utility, gasoline and food expenses. Day wonders if some of the increased rental revenue may help to support Christian Horizons' new facility under construction, the Ambrose at Panther Creek in Springfield.
"At the meeting where they were going through the list of reasons for the increase, they mentioned the cost of lumber," Day said. "There's no reason we should have lumber costs unless it is for a new facility."
Nancy Seefeldt is in a unique position. The 76-year-old Lewis Memorial resident has rented her home for five years and plans to stay for the time being. Several years ago she bought a senior transport van in memory of her late husband, Darrell, and donated it to Lewis Memorial.
The facility has offered to let Seefeldt use the value of the van as a down payment if she will purchase her rental house.
"So obviously money talks, and my friends and neighbors are being abused," Seefeldt said. "I think they have taken advantage of me, big time. I'm very hurt."
Seefeldt, like the other residents interviewed for this story, contacted Christian Horizons with her concerns.
"I cried more when I wrote letters to the company than I did when my husband died three years ago," Seefeldt said. "They have not responded. I'm now just very, very, very disappointed in this place."