It's yet another Saturday work day at Springfield's Computer Banc, where digital wizards infuse computers with new hope for the future.

A pale green panel van backs up to a door in the small, ordinary white building on a nondescript asphalt lot at 1023 East Washington. The driver swings open the van's back doors. The inside is stuffed full with stack after shrink-wrapped stack of computer hard drives. Men exit the building and walk purposefully to the rear of the van and efficiently unload its cargo.

Inside, each piece of equipment first sits on a shelf and awaits triage, to determine if it's salvageable and can be refurbished by Computer Banc volunteer computer experts.

Computers that don't make the cut are set aside and later scavenged for replacement parts or head to the recycling bin. The acceptable computers are destined for low-income students in District 186 or provided for a nominal fee to low-income adults.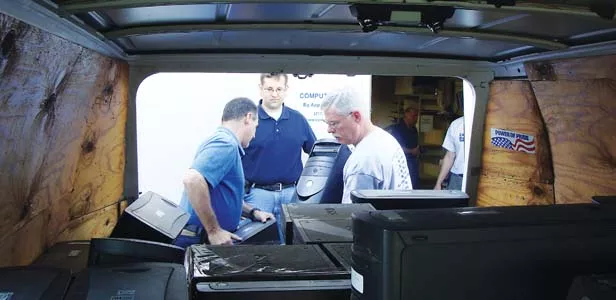 Digital divide
For the past 10 years, the nonprofit Computer Banc has been doing its part locally to bridge what's dubbed "the digital divide." The phrase was first used in the mid-1990s to describe the gap between people with access to computers and those without.
Today, as computer technology evolves, the term is more ambiguous, including the ability to afford Internet access and, at a more fundamental level, the general economic disparity between "the haves and the have nots."
Some experts deny the existence of a digital divide, claiming that access to any new technology is always limited at first to those who can afford to purchase it; eventually, they claim, as the technology gets increasingly affordable, such a gap disappears.
According to the latest U.S. Census data, 88 percent of families making $75,000-plus had at least one computer and 79 percent had at least one household member who used the Internet.
Not even one in four of families making below $25,000 owned a computer, and only 19 percent had Internet access at home.
The availability of computers and Internet access at school, however, tends to level the playing field across the economic spectrum for children. The same cannot be said for adults.
The plain truth is that not everybody in Sangamon County who wants, and needs, a computer owns one, or has access to one.
"There is such a demand, so many requests, that we have the monthly output allocated in the first five days of the month," said David Fowler, volunteer development coordinator for Computer Banc, "and the phone keeps ringing the rest of the month. We just can't fill them all."
Fowler is hopeful that Computer Banc's recent certification as a United Way agency will allow it to network with sister agencies to expand its influx of used computers and its output of refurbished ones. Such links could help Computer Banc make procedural changes that take into account the evolving nature of the digital divide.
When Computer Banc opened, for example, it initially gave free, refurbished computers to low-income families with children with learning disabilities, said Computer Banc board president Kevin Stevenson.
"We moved away from that to service anyone low income," he said. "If the family has children that qualify for the free lunch program, they qualify for our program. For families without kids, they can go through an agency and get a computer for $100."
Computer Banc first set up shop in the basement of the First Presbyterian Church. Today, it shares a building in downtown Springfield with Catholic Charities' food pantry.
Quarters are cramped as usual on a work day, as the volunteers move about in all different directions, joking and talking with each other like old friends. There is a feeling of comfortable camaraderie here, a kind of science club for grownup boys who like to play with electronics.
Many of the volunteers are, or were, the IT people at big area corporations or own high-tech small businesses, guys who know their stuff when it comes to computers. Other volunteers perform the triage or lift computers and monitors and move them about, and countless other duties. They are here every Saturday, and every other Tuesday night, refurbishing computers, wiping everything off the hard drives, then reloading them with Microsoft XP operating systems, Pentium 4 processors and hundreds of dollars worth of children's, educational and office software.
One area is marked by a sign warning, "Notice: Senior Techs Only Pass This Point." Beyond sit casually dressed senior technicians on stools at waist-high benches loaded with disemboweled computers and active testing equipment, monitors and wires, electronic parts of all sorts and a half-empty coffee cup or two.
Although Computer Banc gives away computers and the technicians won't get paid for their work, don't get the impression the computers are inferior.
"We have standards," said Fowler. "We clean up the outside of the computers, polish 'em up. We wipe the data off the hard drives — seven times according to Dept. of Defense procedures, using the same kind of equipment used by the Dept. of Defense — which is a nice service that we provide to the computer donors.
"We get high-quality equipment here, donated by accounting firms, insurance companies, local universities, major corporations," continued Fowler. "These are Dells or other high-quality equipment. It's not junky stuff, some of it may be only three or four years old. We refurbish it, load it up with software. These computers go out of here as good as new."
"We don't want our clients to have a bad experience," said Stevenson. "If we place a computer in their hands, it has to be a quality system."
"And we guarantee them for 60 days. Repair or replace. Bring it in and clean it up if they get a virus. We provide some support as well, but not forever," said Fowler.
"It's kind of a production shop here. We know what it takes ... and we know how long it takes. One tech working on a Saturday or Tuesday night is responsible for getting four to five computers a week ready to go out the door."
Impact
According to a 2008 Pew Internet & American Life Project report, "55 percent of adult Americans have broadband Internet connections at home, up from 47 percent who had high-speed access at home last year at this time [2007]."
This increase of 8 percent compared to the previous year's increase of 5 percent might suggest the digital divide is narrowing. However, the findings go on to show that low-income Americans' broadband connections decreased by 3 percent.
The study also found that "between April 2000 and the spring of 2002, the Internet population grew across all demographic groups. But the gaps between rich and poor, well-educated and less-well educated, rural and suburban, black and white, the disabled and non-handicapped, and old and young, persist."
The Pew researchers discovered there are many different reasons people are not online.
"Cost is still a major factor — 30 percent of non-users say that cost is a major reason they are not online. Physical access, long the defining measure of Internet access, remains a problem for some, particularly the disabled and those living in rural areas. Many users also reported physically losing access to the computers that connected them to the Internet — through moves, graduations, life changes or personal upheaval. Sometimes the computer remains, but isn't usable, due to hardware, software or ISP problems."
According to the Pew report, others say busy lives and lack of time are reasons people avoid the Internet. Still others say embarrassment over lack of computer knowledge and skills and anxiety about learning them also keep people offline. Some worry about breaking the computer, and think the Internet is confusing and hard to use.
And then, believe it or not, there are some people who just don't want to use a computer and could care less about the Internet.
Get ready
Getting the have-nots up to speed is essential — and not just for the individual. The entire community can suffer if enough of its citizens are less than computer savvy.
As head of Computer Banc, Fowler attends meetings of the Continuum of Learning, a partnership between the Sangamon County Community Foundation, the Greater Springfield Chamber of Commerce and the United Way of Central Illinois. Its purpose is to increase the employability skills of all Sangamon County residents, both current and future, to ensure that they are "ready to learn, ready to work and ready to succeed."
"We have been involved in that dialogue about a year. At these meetings, the comment that comes up over and over again as we talk about training is that there aren't too many jobs out there where you don't interface with a computer at some level," Fowler said. "Today, to have no computer literacy almost eliminates you from the job market.
"Our message to the others is, 'If you are going to teach people, you need to give them the tools.' And a computer is one of the primary tools today that people need to have."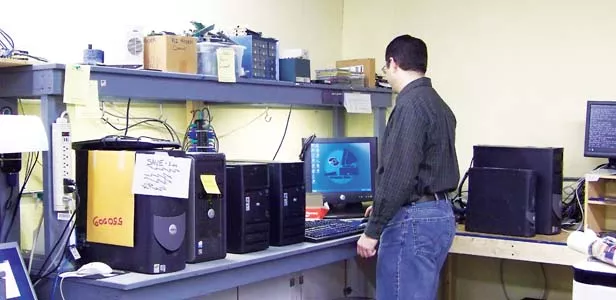 Get a job
Jennifer Carrier, an employment specialist with Springfield Center for Independent Living, could not agree more.
"A lot of low-income people don't have a lot of computer skills. And they need those in today's work force. Sometimes it's just basic stuff, learning to find things online, learn software programs, logging in, registering," said Carrier, herself once a recipient of a Computer Banc computer. "One of my clients had never turned on a computer before."
While her clients are people with disabilities, many of whom live below poverty level, they face problems similar to those of their non-disabled friends and neighbors. Unfortunately, some of the adults who might need a computer most cannot afford the $100 fee.
"We've had a few people who couldn't afford the $100; we've had trouble coming up with that for them. Ninety percent of my clients are low income, many of them very low income," Carrier said.
"One client is blind and wants to be a medical transcriptionist. She is an excellent keyboardist but she needs screen-reading software that visually impaired people use. I am working on getting a computer for her, so she can get training at home and work at home.
"I have another young woman with ADD, who writes. She is an excellent writer. I'm trying to get the money together to get her a computer. She is homeless right at the moment, but will have a public housing apartment next week. So I will be getting her a computer."
When asked if the people who get Computer Banc computers are better off afterward, Carrier's reaction is spontaneous, explosive.
"Absolutely!" she said. "It improves their quality of life. A lot of the people I work with need community resources. They need to have a way to see where they need to go. That's all online.
"The big thing for me is that they can apply for jobs online. I train people how to register online, fill out online applications to apply for positions with different companies. And to research jobs. As an employment specialist, I need them to be doing these things almost on a daily basis."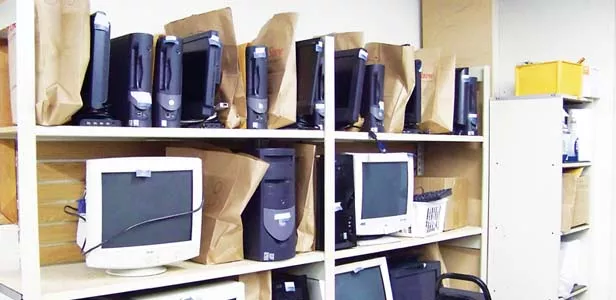 Cheap computers?
Fowler said that recent high-profile sale advertisements create the false impression that cheap computers have finally bridged the digital divide.
"One of the arguments going around is that $50 or $100 isn't a lot of money. Well, yes it is, for the low-income population. The other thing you will see are new computers on sale for $200-$250. First, you are probably getting a low-quality computer. Second, some of those deals require money up front with the rest sent as mail-in rebates. Our clients can't wait 30 to 60 days to get the difference refunded. Those $200 offers are not as good as they look.
"But, finally, if somebody is having trouble finding $100, $250 is the opposite end of that world," Fowler added. "Out of the question."
Fowler said college students are calling Computer Banc in need of laptop computers.
"A college student can't take his CRT into the classroom," he said and laughed. "At the moment we don't have laptops. It's been a void. I am looking at a grant for some seed money to start a laptop program. A laptop, for instance, is a requirement for accounting classes, just to walk in the door. If there is any new program I feel a sense of urgency for, it's that… and the grandparents raising grandchildren program. I think there are a lot of businesses out there with laptops they could be donating to us."
Although Computer Banc already works closely with social service agencies, a recent development should cement that relationship: As of July 1, the nonprofit became a United Way member agency.
"I think that speaks to the credibility of the organization, when you are recognized as a valuable service, as a footprint, in the community," Fowler said. "We have had a number of other member agencies as well as the director already offer their services, expertise and advice to help us jump-start fundraising. We want to work with other agencies, give them computer labs, and they can provide the training to their clients, and referrals.
"The United Way feels strongly about our 10-year history in the community. We had been on track to give away 600 computers this year … it's very encouraging to the board and this organization to be part of the United Way, both mentally as well as financially."
In times of economic uncertainty, government funding tightens and many families must forgo "luxuries" in order to pay for "necessities." But as the rules for survival change to meet the demands of the digital age, the definition of what's necessary might need to be re-evaluated.
"We debate this question internally. How to put this tactfully? We appreciate that funds need to go to food and clothing and shelter but you have to feed the brain in order to break the cycle of illiteracy and poverty," said Fowler.
"That is part of the digital divide that Computer Banc can eliminate through education. We feel we are a player in breaking that cycle."
Click here to read about how the Computer Banc almost had to close it's doors.

Contact Rick Wade at waderick23@yahoo.com.
Contact Computer Banc at 528-9506 or go to www.computerbanc.info.