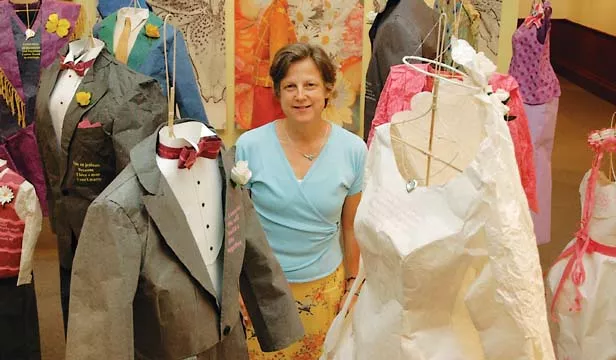 During the Middle Ages, the church used art in its cathedrals to draw the eyes of worshippers toward the heavens. Today, art is at the center of an effort to resurrect a blighted urban area once known as the "Jewel of Springfield."

"The Springfield Art Association is one of the anchors of the Enos Park neighborhood, so we will play a big part in supporting and leading the way for the revitalization plan," said Betsy Dollar, SAA executive director. "There are some pretty impressive nationwide statistics that show when you bring artists into a neighborhood, it turns around. … The plan itself shows a very different footprint for the SAA, a new building perhaps. It is a little premature to address all the issues of how we hope to use and complement the plan, but we hope to make some changes to our campus."

Dollar refers to the effort by the Enos Park Neighborhood Improvement Association, which hired The Lakota Group, Chicago-based urban planners, and Mansur Real Estate Services of Indianapolis to develop a long-term strategy to restore the area to its former glory.

"I just can't blurt out too much of what we hope is in the offing here, but there are some exciting things on the horizon," Dollar said. "It all takes community engagement and money. I am doing my best to offer strong programming to build that engagement. I trust that once we grow our membership base, a lot of the other things will fall into place."

We asked her to be more specific. "Coming in as an outsider I immediately saw that Springfield does not have the resources to support multiple visual arts organizations who are duplicating efforts," she said. "I am currently working to bring the visual arts organizations back together to examine what each organization does best and how we can work together, perhaps under one roof, as The Springfield Community Visual Arts Center. There is a lot of history that could make this impossible, but I am willing to examine the possibilities."


The Enos Park neighborhood is just north of downtown Springfield, and encompasses 36 square blocks of residential and business properties within the confines of Third and Ninth Streets and Carpenter and North Grand. According to EPNIA's website, Enos Park is home to "a plethora of diversity. Its tree-lined streets are filled with Victorian, Italianate and Queen Anne style homes that date well back into the early nineteenth century."

But the neighborhood has its work cut out for it. According to planning documents, of 602 residential properties, about 8 percent are boarded up or appear vacant, 32 percent (191) of the homes are considered in poor condition and about 44 percent (268) appear to be in fair shape. Only 24 percent (143) appear to be in good condition.

The Art Association's role in the redevelopment hinges upon the fact it is housed in the 1833 Edwards Place at 700 N. Fourth St, the oldest house in Springfield still on its original foundation. This was once the home of prominent 19th century Springfield citizens Benjamin and Helen Edwards. Their daughter donated the house to the Amateur Art Study Club in 1913. The organization was later renamed the Springfield Art Association.

Over time, the SAA expanded into an art center encompassing seven separate structures on five acres of tree-shaded grounds. In addition to operating Edwards Place as an historic site, the association offers an art gallery, art library and art school.


What SAA does now
Likely its most visible program is Art Outreach, now in its 36th year. Art Outreach has more than 70 portfolios to be checked out, each delving into a particular artist or movement in art history, or theme, using prints and artifacts.

Portfolios typically include 10 to 12 prints, slides or artifacts, and an information packet, which contains the background data of the presented work and its artist, and also highlights potential reading suggestions and research points, along with discussion questions. There is sometimes a supplementary craft project.

Dollar said parents or local groups, such as sororities or fraternities, check out the portfolios, and conduct the presentations or lectures in local schoolrooms for children of all grades.

"It's completely free to the schools and the portfolios are correlated to the public schools' curriculum standards," says Dollar, who took over leadership of the art association in October 2009. "Art Outreach is all volunteer-led, no teachers."

SAA offers an array of art classes held during the day, on weeknights and Saturdays, and small and seasonal art workshops throughout the year. Adult art school classes include ceramics, jewelry making and enameling, drawing and painting, photography and papermaking. The extensive lending library of fine arts books has a reading room available as well. And there are the popular summer art camps for young people.

The SAA hosts historically accurate activities, such as Victorian afternoon teas, in the fall. The 22nd annual Fine Arts Fair, featuring juried fine art and artists and craftsmen from around the country, was just held Sept. 18-19.

There will be Haunted Nights of History (which feature "ghosts" of 19th century Springfield citizens sharing the macabre and tragic stories of their lives and deaths) and a pumpkin-carving workshop in October; a Victorian séance; an international film festival in January; and a Victorian Christmas Tea. Holiday Hall is a seasonal sale of art by local artisans.

Holiday craft workshops sell out almost immediately, said Dollar. "We had grandmas bringing in grandkids to make gingerbread houses, or spend a couple hours making ornaments. Extremely popular. We're trying to do more of that. Twice a year we do family art nights, when families just come and make crafts and play games."

Dollar said the art gallery just closed its successful June-through-August run of "Play Ball: The Art of America's Favorite Pastime." Now through Oct. 1, the gallery features "Pulp: Fact, Fiction and Fantasy," a juried show that celebrates papermaking and the 2D and 3D art made from it. Artists from around the nation are participating, as well as an exhibit by Betsy Dollar herself, titled "Wedding Day." "I work my butt off trying to find unique art exhibits for the gallery," she said. (For more details about SAA's programs, go to www.springfieldart.org.)

Another high-profile SAA event is the Beaux Arts Ball. The SAA threw its first Beaux Arts Ball in February 1930, as a way to honor volunteers and financial supporters. It continues today as a black-tie gala, replete with a royal court, fancy dresses and magic in the air. This year, the 79th Annual Beaux Arts Ball, "One Romantic Evening," will be Nov. 27.

According to SAA's website, activities at post-war balls have all included a presentation of the court and coronation and may have included a musical or dance performance, art auctions and dancing. Some balls have served only refreshments while others have hosted full sit-down dinners.

What the future holds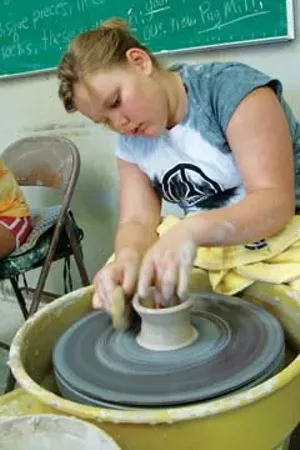 Besides keeping up and improving quality programs, Dollar hopes to bring the organization into the 21st century.

"I'd like to turn this rather big office of mine into a computer lab, where students could use the latest software to learn digital graphic design, drawing and animation. I would like a six-station Mac Lab with a smart board and all that good stuff."

Another idea Dollar calls essential: creation of a pre-kindergarten program.

"It's so important for really little kids to be given materials and be allowed to explore with those materials. Make things. The educational research all supports the notion that self esteem is built via hands-on learning," Dollar says. "I really don't want the kids to be restrained by the notion of making a mess, and getting dirty. This is a safe place for them to do that."
With her first year behind her in the job, Dollar's biggest challenge remains overcoming the information gap about the 97-year-old arts organization among the people of Springfield.

"The art association is about to turn 100 years old in September 2013. We are going to have our big centennial celebration. Unfortunately, a large portion of the Springfield population only knows the art association for the Beaux Arts Ball," Dollar says.

"I was actually blown away in the first month that I was here … people would look at me (and say), 'Oh, you guys throw that ball with the funny name.' I had no idea the ball was the prevailing image of the art association. I came to Springfield on my first visit and saw all these grand things here. I wonder, 'How could people not know it's here?'"

Dollar called the art association "a huge wealth of opportunity, information and fun that is dismissed by some as being this group of crazy aristocrats. Most people assume they are not rich enough to participate, which is not the case."

Rick Wade is a freelance writer and lifelong central Illinois resident. He currently lives in Jacksonville, with his wife, two dogs and a cat. He may be contacted at waderick23@yahoo.com.
---
Grabbing art with both hands

The hallways echo with chatter and laughter from someplace in the building.

We track the sounds to a classroom where kids wearing blousy paint-splattered shirts are gleefully brush-stroking watercolors on poster boards, in groups clustered here and there on the floor, or in studied solitude at a table. Older girls, teenagers probably, bustle purposefully about, helping kids, cleaning up spills, giving instructions.

Meanwhile, in yet another building, a bevy of uncharacteristically quiet teenage girls sits at electric potter's wheels. Their eyes are riveted to the spots between the wet, spinning clay and their muddy hands where, miraculously, vases begin to form.

In another house on the property is Dollar's not-quite secret hideaway where she works at one of her favorite passions: making paper.

Dollar uses the paper she makes to create art, some of which is on display in October as part of a new exhibition in the art gallery, "Pulp: Fact, Fiction and Fantasy," a juried show that celebrates papermaking and the 2D and 3D art made from it.

Dollar came to Springfield about a year ago with an impressive resume; she holds a master's degree in fine arts from University of Colorado, taught art at all education levels and in workshops, managed galleries, was co-founder and president of Optical Illusions, Inc., an audio-visual production company, served as administrative director of a private preschool-through-fifth-grade school and exhibits her own work in juried art shows.

Dollar said she teaches a hands-on approach to art. "I have a strong background in alternative education, and I am pretty serious about giving people stuff to learn with their hands. People learn in a variety of ways, and sitting and being talked at is not always the best way to take in information and process it," she explains.

"To do art, I always start kids moving around, even if it's just learning the amazing proportion of their own bodies and how those observations carry over into the world. (For instance) your hand is basically the size of your face. I have them stand up and test: What is a hand length? How many hands tall am I? If they can physically feel it, they are more likely to draw in accurate proportion. If they can't find those experiences in the traditional school setting, I love offering them here, where sort of anything, within reason, goes."

When asked how she is able to handle a job with such diverse duties, she laughs heartily.

"Strangely enough, with the SAA being a sort of little five-ring circus, with the historic property, the gallery and the school, the various fundraisers and events that flow through here, it all seems to utilize my rather strange list of abilities. So here I am.

"It's this sort of wild mix of one week I am coordinating for the art fair, then I am doing the schedule for the gallery and looking at artists' work, then maybe I am judging work for another art fair, then we're trying to design new classes to attract new people into the school, then maybe we're brainstorming what will be the next art outreach portfolio we want to develop."

As she walks back to the main building, Dollar pauses and nods toward the large garden where vegetables are growing. The field is neatly tended. "I would like to see people in the neighborhood use this area for growing food, so they will feel ownership in this place," Dollar says.

All the bright colors of summer – green, yellow, red – and the pink mansion with the green shutters stand in stark contrast to the gritty, black and gray streets that seem to constrain the five-acre oasis.

Clearly, Betsy Dollar has a vision for these aging buildings along the busy streets where cars zip by. Dollar said she just wants the people inside the cars to stop, and look at what is available here for their benefit.

During a time when public schools are balancing budgets by slashing extracurriculars such as the arts, places like the SAA will be needed more than ever.

Dollar said she believes critical learning skills get lost among educational methods that encourage students to parrot back information without processing it. That's where SAA programs come in, providing hands-on exercises for increasingly complex minds.

"Every form of art, no matter how simple, requires a consecutive series of decisions … of where that line goes, what will lie next to it, what comes after that. Those skills are absolutely critical to lifelong learning and processing information and being in touch with your environment.

"The arts are important," she added, "whether a child grows up to be a rocket scientist, a house painter or a philosopher."
–Rick Wade

---
Plans for this old house

There is some big news for the oldest house in Springfield that still sits on its original foundation.

The Springfield Art Association at Edwards Place recently received a Jeffris Foundation matching grant for renovation of the historic Enos Park home to restore it to its appearance during the Lincoln era.

"They are giving us $20,000 to create a revitalization plan for the interior of Edwards Place, a plan where each piece of furniture, window coverings, floors, and furnishings, room by room, will be analyzed as to what needs to be done to repair or restore it, or leave it alone, put a ribbon over it so nobody touches it, or which pieces may not be period appropriate," said Betsy Dollar, SAA executive director. "One staff member already has been researching family letters and papers, to figure out which pieces go in which rooms, for instance. We have a much stronger historic interpretation of the house at this point. Now it's just a matter of getting the rest of it visually up to snuff."

To pay for the plan's recommendations, SAA has created the new 1913 Centennial Fund, a capital campaign. "It is going to be a pretty big capital campaign to do what that plan lays out for Edwards Place. I'm hoping as well that we can fund a computer lab, do some other work on the various studios, upgrade lighting, and really give us a nest egg to move forward into our next 100 years as a great arts location here in Springfield."

Edwards Place, the home of Benjamin and Helen Edwards from 1843 to 1909, is an elegant Italianate mansion once a center for social activity in Springfield. Prominent citizens and notables, such as Abraham Lincoln and Stephen Douglas, were entertained at lavish dinner parties and the grounds played host to many summer picnics and political rallies. It is said that Lincoln courted his future wife, Mary Todd, at Edwards Place.

The 4,200-square-foot Italianate mansion and five-acre grounds was donated by the Edwards' daughter, Alice Edwards Ferguson, to the Amateur Art Study Club in 1913.

Dollar is using the history of the place to attract visitors. One tool for that is a new brochure with a map that points out that Edwards Place is only a short walk from the Lincoln Presidential Museum. It's open for guided tours from 11 a.m.-4 p.m., Tuesday through Saturday, and by appointment. Suggested donation is $3. Located at 700 N. 4th St., SAA is two blocks north of Carpenter Street.

"We're getting Edwards Place more into that historic loop in Springfield. We're between the museum and Lincoln's tomb. We are only six blocks from the museum, and people act like we are up here in the hinterlands. It's a nice walk," she said.


–Rick Wade