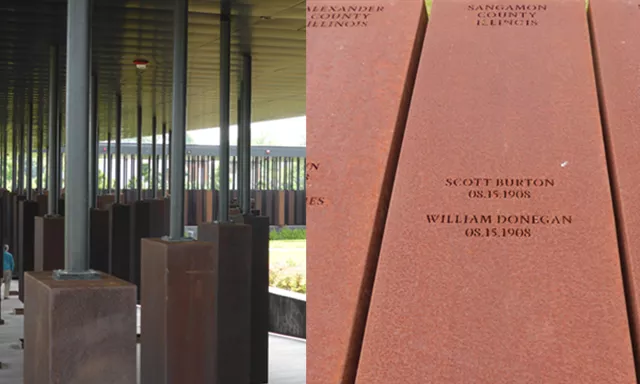 It was the panels. Row after row after row of hanging panels, shaped to resemble coffins, with name after name after name inscribed.
That was where my mind went last week after Donald Trump insensitively claimed he was the victim of a lynching by impeachment investigators. Several critics suggested Trump should visit the National Memorial for Peace and Justice in Montgomery, Alabama.
Indeed, he should. There he would find the nation's first memorial dedicated to victims of racial violence. At the nearby Legacy Museum he could learn our nation's sordid racial history and perhaps realize why throwing around the term "lynching" is a bad idea.

I doubt Trump will ever visit the sites. But the rest of Americans should, especially we northern whites, who sometimes think this chapter doesn't apply to us.

When I toured the museum and memorial last spring, I was disheartened to realize Illinois had 56 documented lynchings from 1877 to 1950. St. Clair County had the most with 40, but Sangamon County had two, associated with the 1908 race riots. Deep southern Illinois counties had lynchings but so did Cook, Macon, Marshall and Vermillion. So did such states as Oregon, California, North Dakota, Michigan and Trump's native New York.
And those are just the documented cases. The Montgomery-based Equal Justice Initiative (EJI) works continuously to document other race-based killings.
In the small McLean County farming community where I grew up, I had limited interaction with people of color. I thought my school district had provided me with a good background to understand the wider world, but Jim Crow laws and lynching didn't warrant much attention in my history books. After all, those things happened in states farther south, so it was easy to feel it couldn't have happened here.
I later learned how pervasive racial violence was, especially after studying the life of Ida B. Wells, a pioneering African-American journalist who made the fight against lynching her life's main work. I've seen postcards glorifying lynchings and read books telling how families sometimes picnicked while watching victims sway from trees.
Still, I was unprepared for the emotional jolt I got in Montgomery when I walked under those hanging coffins, perched on a hill and arranged by county. More than 800 steel monuments represent the 4,000-plus African-American men, women and children lynched between 1877 and 1950. The memorial's grass-filled center suggests a lynching site.
Looking up at all those names and trying to imagine the terror they must have felt shook my core. Docent Rick Black reminded me that, while the memorial looks at the past, racial terror had struck just two weeks earlier when a 21-year-old student was hanged in Ft. Wayne, Indiana.
That is why the EJI's work must continue. The Legacy Museum does a powerful job tying together slavery, Jim Crow laws, segregation and the disproportionate sentencing of African-Americans. One of the most memorable displays is a wall of jars with dirt collected from lynching sites.
The EJI wants communities to acknowledge their own violent histories. To one side of the memorial's hill sit identical monuments for each county with at least one hanging. Counties can claim those monuments when they have suitable spots for displaying them. Sangamon County's remains unclaimed, but efforts to bring it home are in the works.
In the meantime, everyone should plan a trip to Montgomery to pay their respects to all the victims. Most of all, Trump should.

Mary Bohlen, who often writes about travel for the IT, spent 30 years on the faculty at the University of Illinois Springfield. Students in her graduate seminar on women and the media studied significant women journalists, including Ida B. Wells.