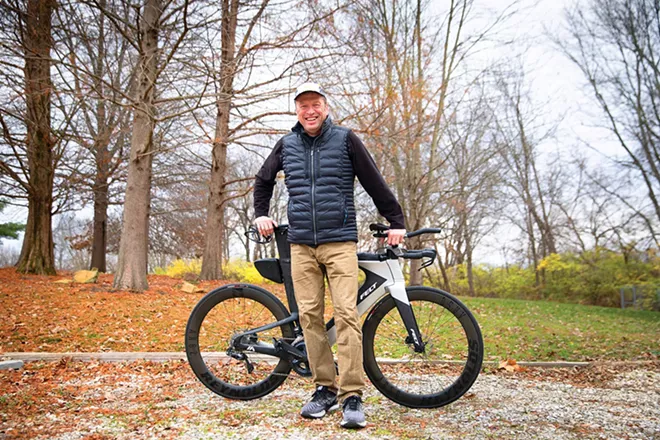 Getting older, getting better. That is how Steve O'Connor, 57, of Petersburg approaches life and his passion for triathlon competitions. Triathlons vary in length, but all include swimming, biking and running, in that order. The Ironman is a grueling 2.4-mile swim followed by biking 112 miles and then running a marathon (26.2 miles). O'Connor has entered 11 Ironman events, completing 10 2/3, setting personal records in his last two.
"I have finishing times that prove to me that a middle-aged, middle-of-the-pack triathlete can get faster with age by continuing to learn, train, ask questions and try harder and smarter."
At the July 2018 European Championship in Frankfurt, Germany, O'Connor knocked an astonishing 1½ hours off his previous best time, finishing in 12 hours, 34 minutes. This was five months after breaking his leg in an accident unrelated to his sport. One year later he shaved more minutes off his time at the Challenge Roth Ironman in Germany. There "you get to race with over 4,000 of your closest friends, all trying to get to the same place fast...while 250,000 line the streets cheering you on," says O'Connor.
His non-triathlete friends think he is crazy. His triathlete friends love that he keeps competing and hosting local races. He describes his passion as a socially acceptable addiction.
Growing up, O'Connor played a variety of traditional youth sports and raced bicycle motocross and motorcycle motocross. He competed all over the U.S., claiming the title of first president of the Springfield BMX club at the ripe old age of 13.
At the age of 40, O'Connor began long-distance competitions, running several marathons in 2003. His first foray into triathlons was the "Try the Tri" in 2004. He swam a hundred yards in a pool, biked five miles and ran 3.1 miles. He was totally spent – but hooked. In 2006 he pursued longer and longer distances, competing in Sprint, Olympic and half-Ironman triathlons – all in one summer.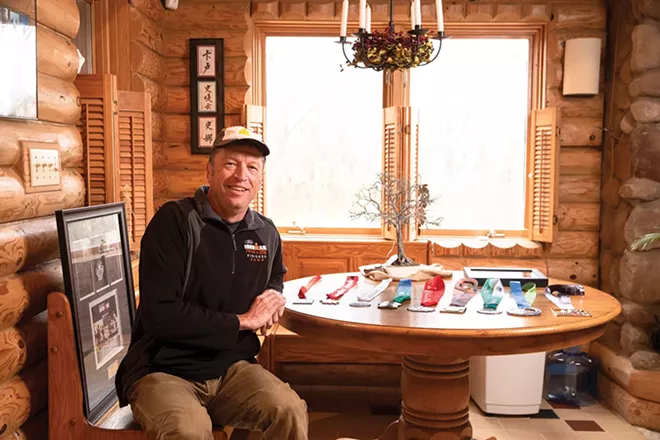 At his first half-Ironman, he won an entry to the sold-out Florida Ironman taking place a few months later by raising his hand first when an announcer asked who breathes on the left side while swimming. He self-trained, and at the age of 43 barely finished in the cutoff time of 17 hours. Then, he was one of only 20,000 to finish a triathlon. Thirteen years later, he is about 4½ hours faster, and approximately 500,000 men and women finish an Ironman annually. The growth in the sport propelled his desire to continue competing and to grow Springfield's triathlon scene.
His second Ironman at Lake Placid, New York, "didn't go well." That's an understatement. He had a mechanical problem with his bike, no experience biking in mountains and his body was under distress. While transitioning to the run, the medical director intervened and sent him to the medical tent. O'Connor required multiple IVs. After recovering, he learned he was one of 12 who didn't finish. He vowed that would never happen again. It hasn't.
He returned to Lake Placid the following year to finish what he had started. He completed an Ironman every year from 2006-2016 and competed in the World Half Distance Triathlon in Austria in 2017.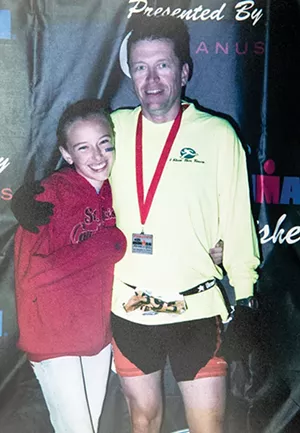 O'Connor wanted to improve and needed a coach. He tried unsuccessfully to recruit Mark Allen, the most decorated Ironman World Champion. Ironically, his determination to compete in Frankfurt in 2018, five months after breaking his leg, was the impetus for Allen to agree to be his coach. O'Connor had his best race ever in Frankfurt. In 2019 he was fortunate to land an entry in the highly coveted Challenge Roth in Germany, the world's largest Ironman.
Now he is focusing on half-Ironman distances – a mere 70.3 miles instead of 140.6 total miles. He plans to compete in the North American 70.3 Championship in June 2021 with a goal to qualify for the Ironman 70.3 World Championship in New Zealand in 2022.
Why does someone choose to undergo week after week of grueling training, jump off a boat a hundred yards from Alcatraz to swim over a mile in the freezing San Francisco Bay, and spend large sums of money for entry fees, travel and training? All to put your body through tremendous stress for 12 or more consecutive hours?
He is inspired and rewarded by the sense of accomplishment and knowing he has completed what some consider the world's toughest one-day endurance event. "There is no other feeling in the world like standing on the beach about to embark on a journey few will ever contemplate, let alone complete, and knowing it will be a long day and no matter the planning, something will go wrong and you must and will prevail," says O'Connor.


GUIDE TO TRIATHLON DISTANCES
Sprint: 300-yard swim, 12-mile bike, 3.1-mile run
Olympic Distance: .9-mile swim, 24.8-mile bike, 6.2-mile run
Half Ironman (70.3): 1.2-mile swim, 56-mile bike, 13.1-mile run
Ironman (140.6): 2.4-mile swim, 112-mile bike, 26.2-mile run
He says it is inspiring to help others reach their goals. O'Connor points out that triathlons are a rare sport where men and women compete at the exact same time on the exact same course. Triathlons are a great equalizer – no one usually excels in all three events.
O'Connor is also a race director and organizes local triathlons. He is one of a few nationwide who are race directors certified by both USA Triathlon and Road Runners Club of America. Springfield has a 30-plus-year tradition of hosting triathlons, and early on hosted one of only three qualifying races for the Ironman World Championship in Kona, Hawaii. Now, Springfield hosts mini, Sprint, Olympic and half-Ironman distances, with O'Connor directing many of these.
O'Connor competes, trains and directs while also working a full-time job. He's been a construction project manager for the state of Illinois for 32 years. Previously he was project manager overseeing construction of mental health hospitals. Now he is a capital construction project manager for the University of Illinois at Urbana-Champaign. O'Connor has a master's degree in project management from George Washington University.
O'Connor plans to retire from the state in September 2021 and retire from race directing in November 2021. Afterwards he intends to race around the world for pleasure.
O'Connor says his competitions are a microcosm of life – the more you put in, the more you get. Although triathlons involve grueling physical training, on race day it is all mental. O'Connor demonstrates that it's possible to get better while growing older – with commitment, determination, passion and hard work.


Family and friends help make dreams possible
Many people have helped O'Connor along his journey. Chris Martin from the Springfield Running Center and Dr. Diane Hillard-Sembell encouraged him to Try the Tri. He consulted with local Ironman finishers Dan Dungan, Patty Shafer and the late Dr. Dan Adair while training for his first Ironman. Mark Allen, the medical team at PhysioTherapy Professionals and Dr. Diane Hillard-Sembell helped him get to the finish line in Frankfurt five months after breaking his leg. Amateurs, experts, Olympian triathletes and several Ironman World Champions all contributed to his interest and success.


O'Connor's wife, Carol, has always been there for him, spending countless hours waiting for him, volunteering and cheering him on. So has his daughter, Sierra. Through injuries, challenges, the expense and more, they have supported him. O'Connor cites the joy of his daughter crossing the finish line with him at his first Ironman, and his wife crossing the finish line with him at his last.
Karen Ackerman Witter ran two marathons, 12 half-marathons and now participates in CrossFit. She cannot imagine doing an Ironman and has tremendous admiration for Steve O'Connor.